Summer Camps - 2023
It's that time of year when registration is opening up for the upcoming summer camps around Billings. And they fill up quickly!!! Here's a list (with links... you're welcome!) with most of the options we could find to help you fill up some your kids' free time this summer and keep them active and exploring!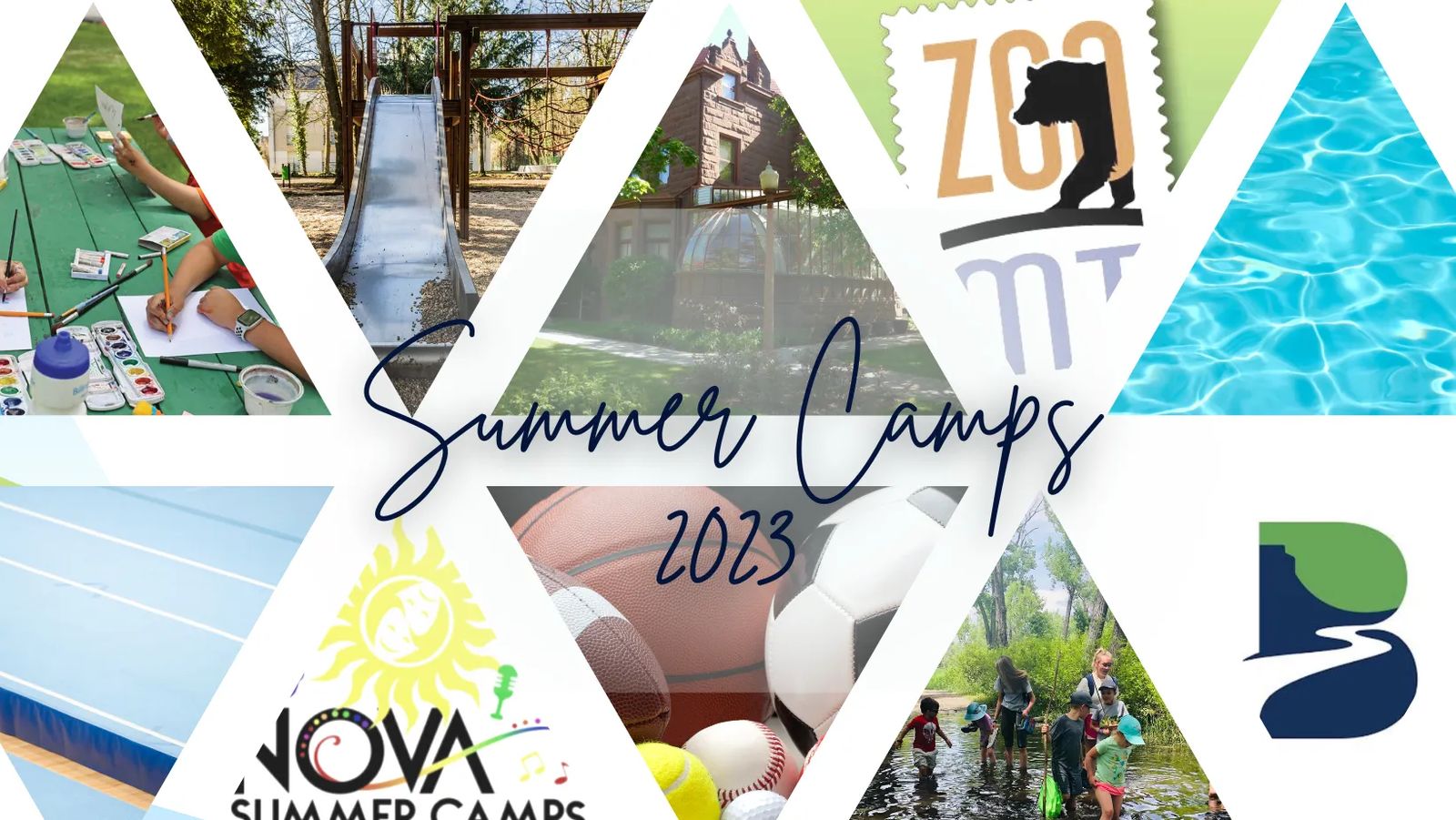 There's tons to choose from here! Click here for the digital guide or click above to link you directly to their website to learn more or begin registration.
Sports Camps (golf, basketball, soccer, volleyball, cheer & dance, martial arts, flag football, and racquet sports)
Aquatics (aquanutz camps, swimming lessons, scuba classes, lifesavers & lifeguard certification)
Special Interest (character design, intro to aviation, kids in the kitchen, rocket camp, babysitters camp, pioneer playhouse, magic city camp, adventure camp, youth cycling, and others)
Music (rock band camp, keyboard camp, drum circle)
Wise Wonders Discovery Museum: Camps for Littles (ages 4.5-7) & Camps for Middles (ages 8-12)
ZooMontana: Including "Home Sweet Habitat" camp (ages 4-5), "My Animal Planet" camp (ages 6-8), & "Operation: Conservation" camp (ages 9-12)
Montana Audubon Center: educational & discovery camps throughout the summer for three age groups: Littles (entering K-2nd), Middles (entering 3rd-5th), and Older (entering 6th-9th) Full brochure here
Billings YMCA: Again, lots to choose from and explore here including:
Ten weeks of different preschool camps (including artful antics, Hawaiian hullabaloo, and more!)
Ten weeks of different kinder camps (including animal planet, wacky sports, and more!)
Ten weeks of different traditional camps for grades 1-7 (including county treasure hunters, summer cool off, and more!)
Specialty Camps such as Cheer & Baton Play, STEAM Genius, art camps and more
Sports Camps for volleyball, basketball, soccer, football, t-ball, track & field, gymnastics, and tennis
Moss Mansion: Super Hero summer camp, Jedi Training summer camp, and Harry Potter summer camp. Plus fun single event activities happening!
Yellowstone Art Museum: Summer Art Academy Camps, YAM Camps, and Summer Art Studio Classes
NOVA Center for the Performing Arts: June camps ages 6-8 are Itty Bitty Camp: Animal Kingdom and Itty Bitty Camp: Pure Imagination. July camps ages 9-14 are ACTING CAMP: Romeo and Juliet, MUSICAL CAMP: Tuck Everlasting, and R.O.C.K. Camp. August camps ages 14-18 are Electives camp and ages 6-8 Itty Bitty Camp: Pirates and Mermaids and Itty Bitty Camp: Fairy Tale Creatures
Rocky Mountain College: camp offerings include basketball, soccer, football, volleyball, and aviation as well as swimming lessons.
Granite Health and Fitness: Nine week-long sessions for ages 4-12 including options like sports camp, around the world, arts and crafts, lost in space, and more!
Billings Gymnastics School: In addition to gymnastics sessions and swimming lessons sessions, there are week-long day camp sessions built for 1st-6th graders that include gymnastics, swimming, field trips, arts & crafts, and more! (Click on the top tab "calendars and schedules" to see the different options.)
Oasis Waterpark: Swimming lessons available all summer long!
Camp Invention: Wonder; a week-long camp held at Big Sky Elementary focusing on STEM with problem solving, creativity, persistence, and entrepreneurship.
Montana Ballet Company: Dance camps available including open ballet classes, "Little Mermaid Summer" (ages 4-6), "Mini Dancing Under the Big Sky" (ages 7-10), and "Dancing Under the Big Sky".
Magic City Gymnastics: Ten weeks of summer adventure camps including Superheroes, Ninja Warrior, Survivor, Blast Off to Outer Space, and more!
We hope you find this list helpful! We are so ready for summer fun and adventures! Are you part of a local business with a summer event you want to see on our calendar? Email us at info@billings365.com or submit here