Complete Halloween Event List 2022:
All of the Celebrations to Enjoy During this Spooky Season of Fun!
After two years of not being able to have as many events, this year there is a lot to choose from! Fun for the family and the thrill-seekers alike; may all of your celebrations be full of delight and fright!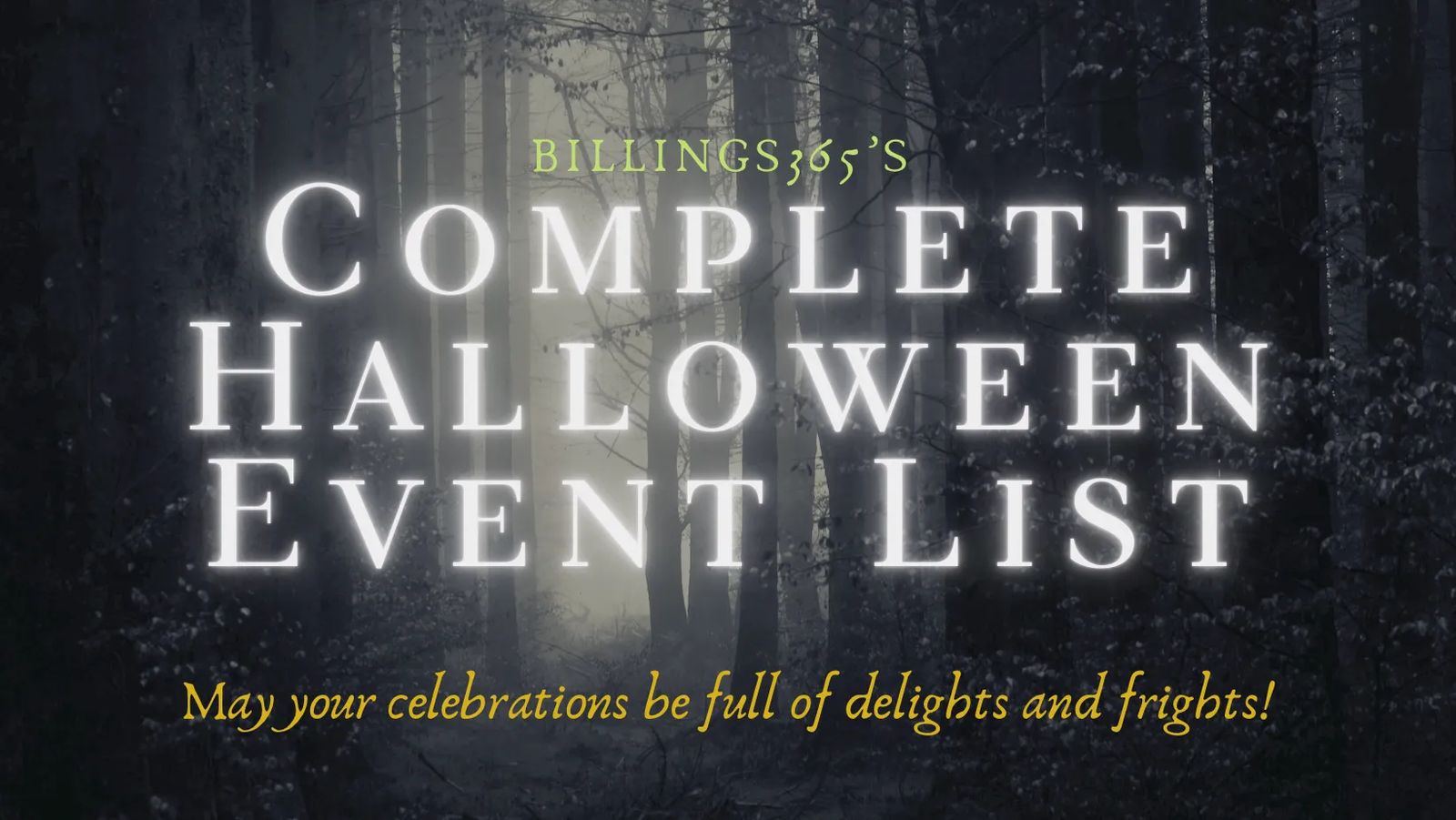 Moss Mansion:
Friday, October 14th & Saturday, October 15th: "Booze Clues" You are invited to an immersive cocktail experience that combines a little bit of murder, a little bit of intrigue, and a whole lot of Clue-themed fun. Come find the clues and talk to the characters to see if you can crack the case! As you sleuth your way through the house you will enjoy a series of lovely cocktails to keep up your energy – then once you solve the mystery, you can gain entry to the Moss Speakeasy where you can enjoy a brew and brag about being one of Billings' best detectives! Your $45 per person reservation includes tastings of 4 Clue-themed cocktails (non-alcoholic options available as well), a craft beer, and a wickedly fun experience in the 1903 mansion during its spookiest time of year. ID is required and a wristband issued for "fully spirited" beverage service.
Wednesday, October 12th & 19th: "Mysteries at the Moss" The villains you love to loathe have found their way to the Moss Mansion, and they have run amuck! There are "magic words" that have been locked away by these infamous baddies, but you can help! Come and explore the mansion while looking for clues and solving puzzles – all to retrieve these magic words and set the world of magic right again! This adventure is part escape room, part detective work, and a whole lot of magic! We recommend it for super sleuths ages 6+. Players will receive a detective clipboard and will use their reading, math and reasoning skills to unlock each puzzle, making it a special Moss experience for young and old! (Adults – we know you love magic too! When purchasing admission, you have the option to sign up and receive your own player pieces to participate with the kiddos or you can forego being an official game player and provide puzzle solving assistance if needed.) Once a time slot is booked, it closes it out. If you want multiple people in your group and want them to pay separately, please contact us at 406-256-5100.
Thursday, October 6th, 13th, & 20th "Flashlight Tours Bring a friend and explore the spooky mansion by the glow of a flashlight! You'll see the mansion as it really is at night, and decide for yourself who, or what, haunts the home at the center of Billings legend and lore. Admission is $15 per person. Arrive between 5pm and 8pm for this unique tour.
Thursday October 27- Monday, October 31st: "Haunted Moss" The monsters have been lurking in the shadows all year, waiting to come out and play for Halloween! Bring your besties and hold on tight – nothing will please them more than screams of fright. The curtain will rise on the maniacs inside, but will you make it out alive? Five nights they'll be sneaking around in the dark – so pencil it with an X as the mark. The Curse of the Slumber Party plays out among the rooms of the Moss Mansion and you are invited! Sleepovers can really go wrong, and this one has all the creepy characters of your nightmares causing an uproar. Tickets are $20 per person at the door (no presale or reservations). Tickets on sale at 6pm, first group enters at 6:30 pm. More monsters are running around outside – waiting for you to come through the maze so they can hear your screams. Can you get back out? Give it a run if you dare! Tickets are $10 per person at the door (no presale or reservations). Tickets on sale at 6pm, maze opens at 7pm dark. [On Halloween Monday we'll open up the maze for the littles – no live monsters or loud sounds – for $2 per person from 4pm to 6pm.] Know before you go: Strobe lights will be in use both inside and outside. Groups of 15 will be allowed in the mansion every 10 minutes. Groups fill quickly, so come early! Snow, ice, and lots of rain might close the maze – we will announce cancellations on Facebook and our website
Click here for more information on Moss Mansion Halloween Events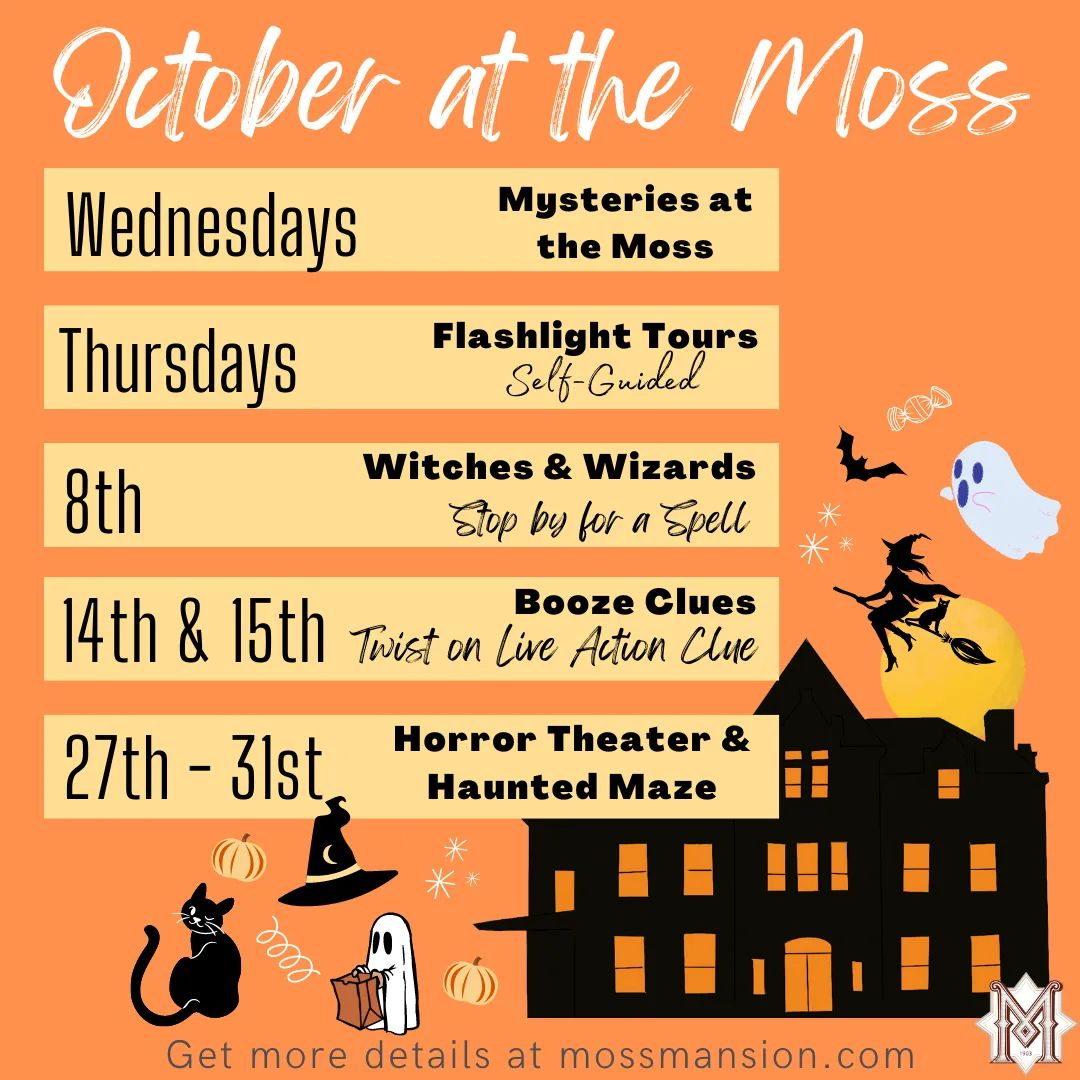 Boo At The Zoo!
Saturday, October 29th 10:00am - 4:00pm
It's back! After an 2-year, COVID hiatus, Billings' favorite family Halloween event is back to provide the safest trick-or-treating in town! Fun activities, animal enrichments and candy galore! Come on out and enjoy this always fun event from 10am-4pm on October 29th.
Please, no masks for adults. Regular admission prices. Free for zoo members.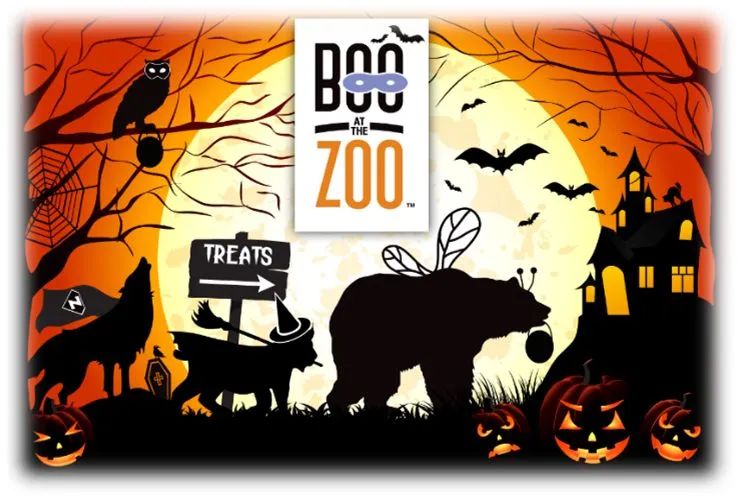 Masquerade at the YAM
Saturday, October 29th at 8:00pm
The most creative and awe-inspiring Halloween party in town, Masquerade at the YAM, is back Saturday, October 29, 2022 with another night of entertainment, live performances, dancing, mystics and so much more! Guests will enjoy cocktails, local brews, and creative appetizers by Raven's Café D'Art as they show off their costumes in the beautiful, historic (and maybe haunted…) Yellowstone Art Museum.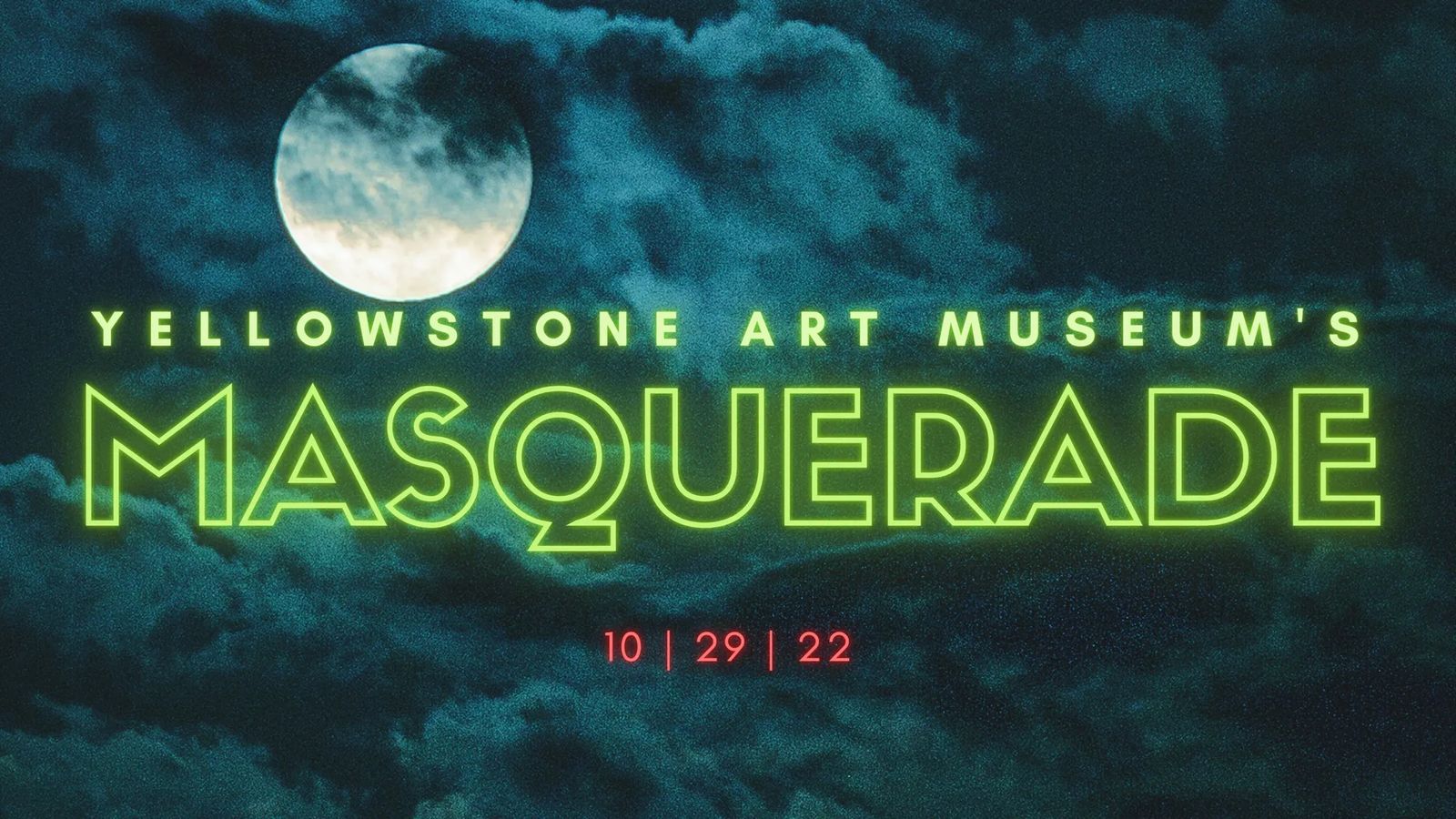 Purgatory: The Upside Down
October 29th, 2022 at MetraPark Doors at 7pm
18+ for admission.
We are Montana's largest and most notorious Halloween party. Purgatory is growing each year attracting nearly 2,500-3,000 people and party goers to each event. We feature some of the most talented DJs in the northwest and boast the largest stage production in the state of Montana.
Presale tickets: $20.
Day of $30
VIP tickets. 21+ only for VIP. $299. More info/tickets here
Included
Your own bar in your own lounge.
4 free drink tokens per person.
Free access to the Purgatory pre-party on Oct 28th. Location TBA.
Your own entrance point and personal guide in.
No waiting in lines.
Lounge area on risers. Lounge area sponsored by Aaron's Furniture.
2 waiters/waitresses in your area.
Free water access in coolers.
TOPZ Sandwich Company providing free food to all VIP members only.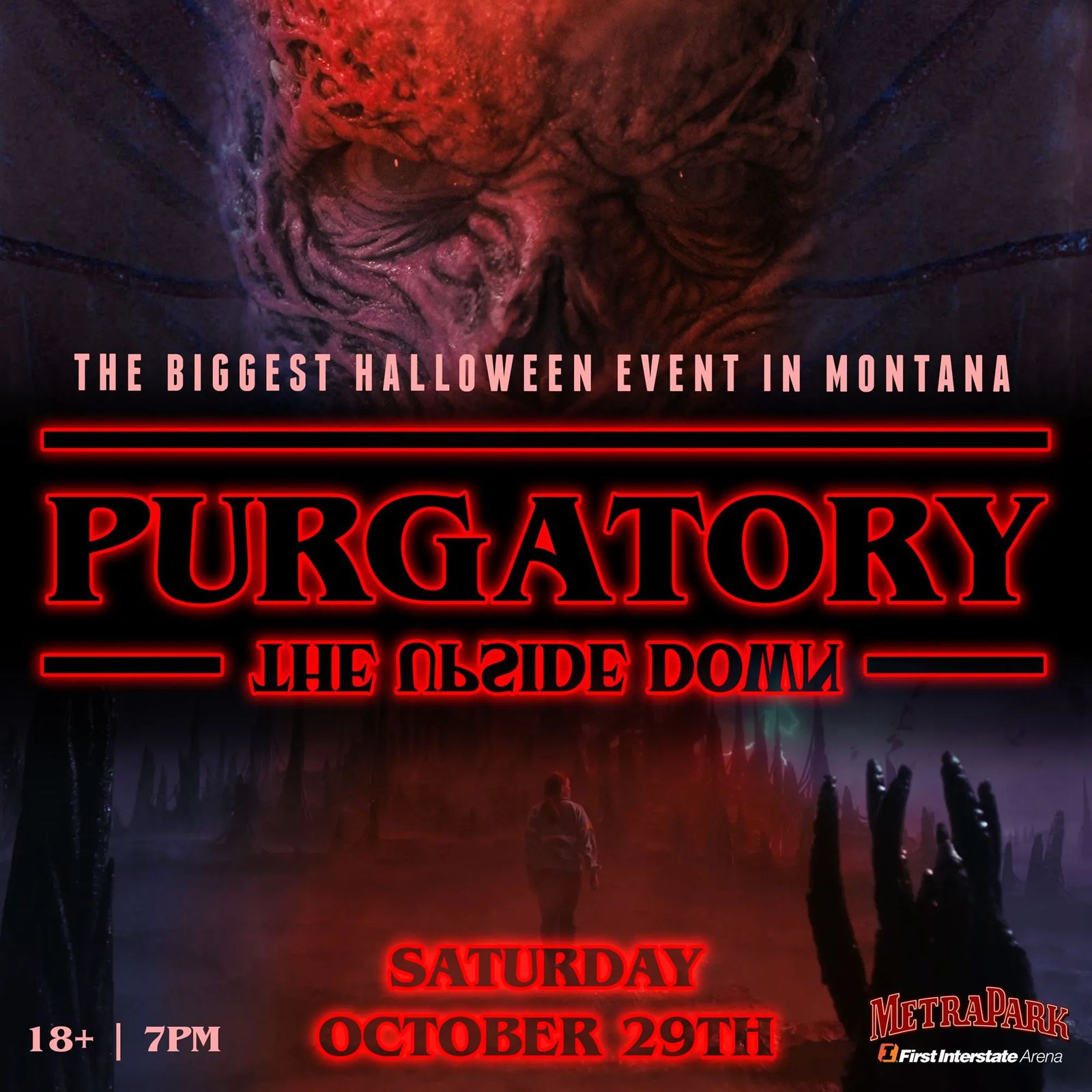 Haunted Hallows
October 28th, 29th, & 31st | 7:00pm - 10:00pm | Two Moon Park
Are you afraid of the dark? Haunted Hallows is a 1 mile walk through Two Moon park in Billings Heights. Filled with scares around every corner, you're sure to run into zombies, clowns, and maybe a spider or two. Be sure to keep your eyes open, and your feet moving to ensure that you make it out alive!
As a non-profit organization, the Billings Jaycees look to community events to raise funds to help us make a positive impact within the Billings community. Over the past five years, Haunted Hallows has been our largest fundraising effort, and with the help of the community, we have been able to give $60,000 back to local organizations, as well as work with community partners to improve our city. Haunted Hallows is our largest fundraiser to date! Funds from this project allow us to support our Holiday Giveback projects, support TOYS FOR TOTS, St. Jude's donation, and start new projects within our chapter itself. More here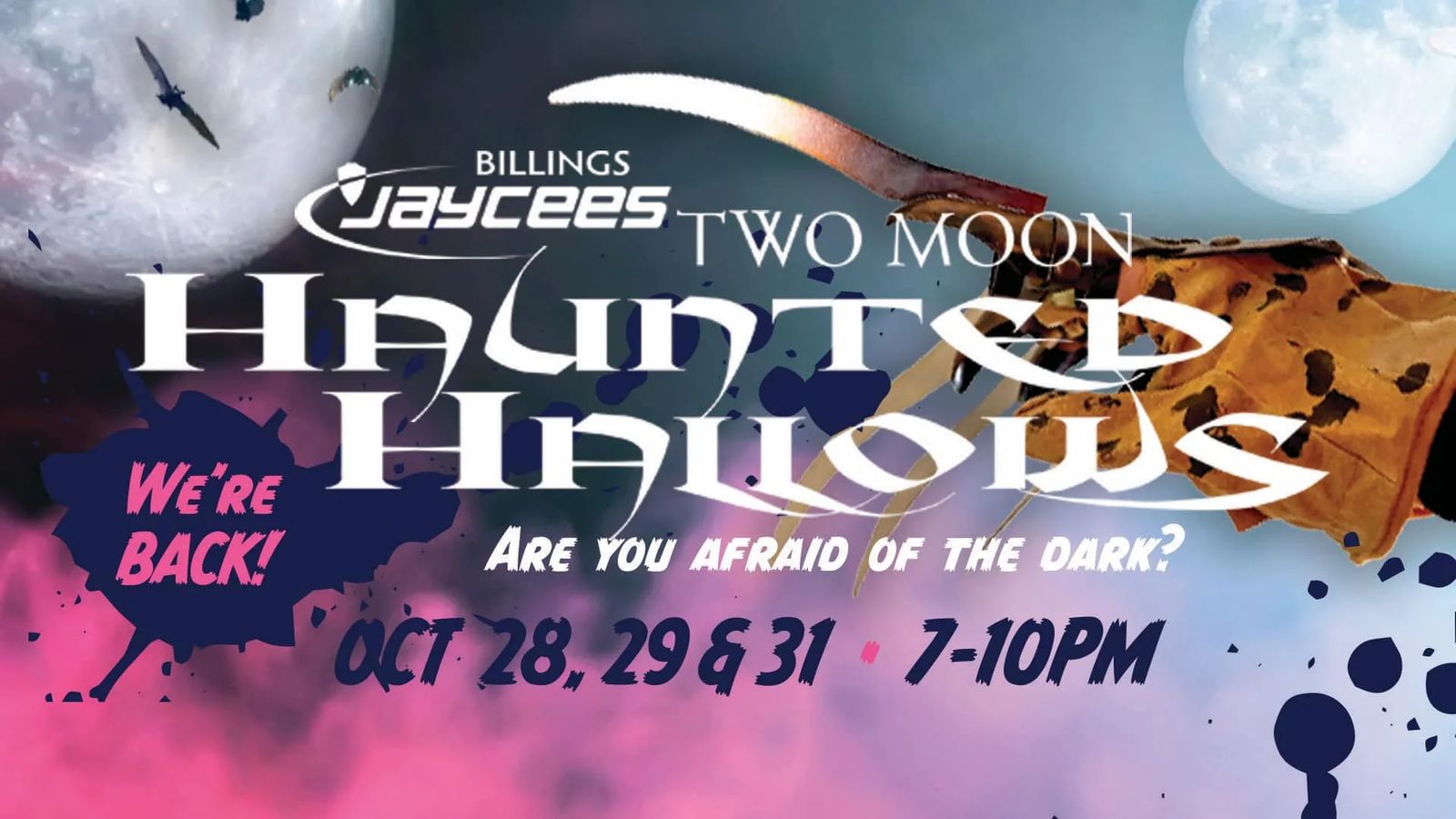 Downtown Trick-or-Treat 2022
Friday, October 28th from 12:00pm - 4:00pm (FREE community event!)
Downtown Trick-or-Treat, is hosted by the Downtown Billings Alliance, and has been a popular and safe Halloween alternative for the Billings' community for 20 years. This free community event brings thousands of children in costume downtown to trick or treat at over 60 participating businesses that offer candy, healthy treats, and unique Halloween themes or activities.
This fun event has grown over the years and has become a popular event for day cares, schools, and families.
The Downtown Billings Alliance office at 116 N 29th St., Suite A operates as headquarters for the event and provides maps of the route and trick or treat bags for the children. Click here for a digital map that will be uploaded the week of the event.
All children must be accompanied by a parent or guardian.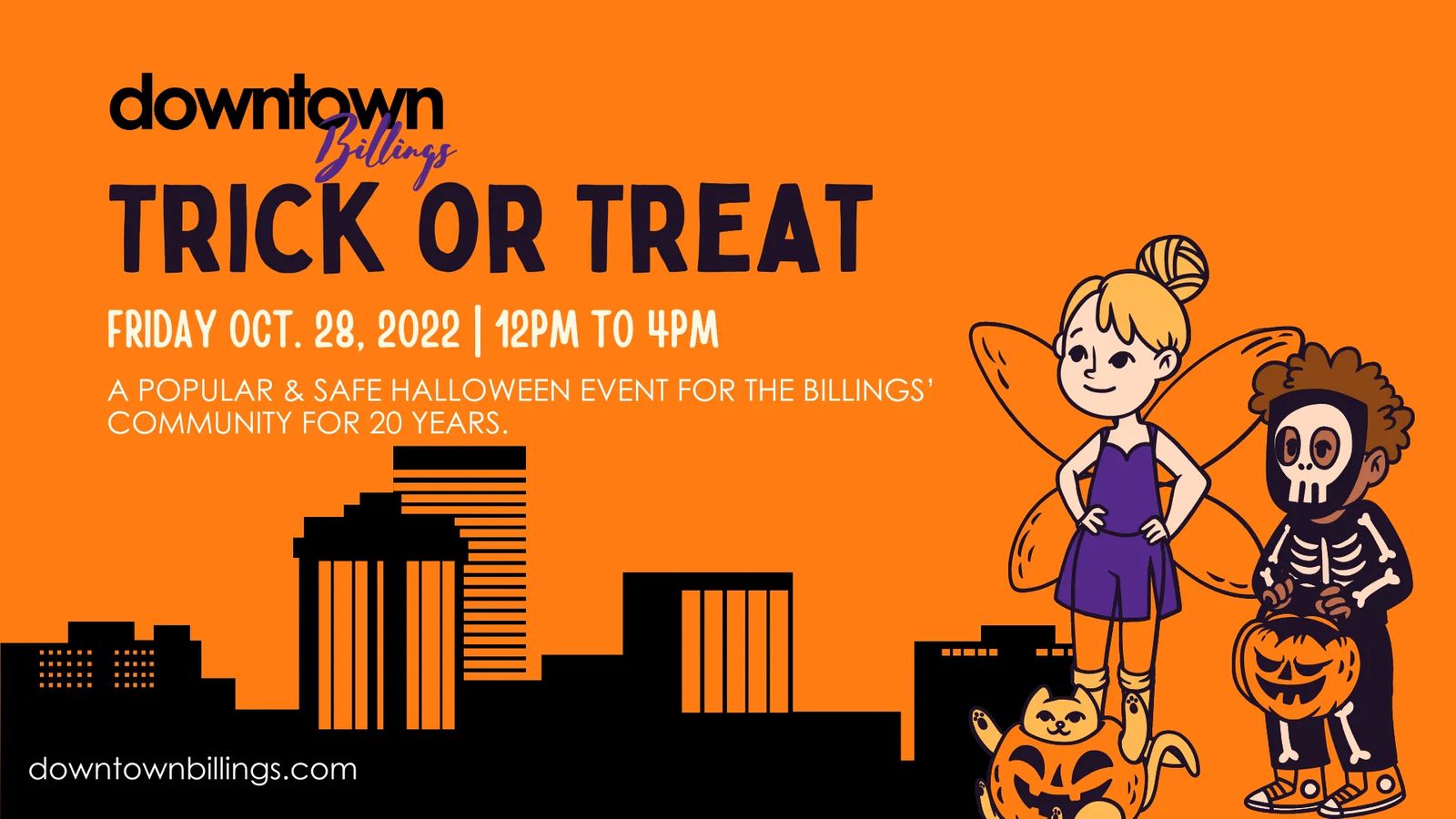 The Monster's Ball in Red Lodge
Date: Saturday, October 29th, 2022
Time: Doors open at 6:00pm
One Legged Magpie
17 Broadway Ave North , Red Lodge
Cost: $15 adv $20 at the door
Website: www.oneleggedmagpie.com/events-2
Phone: (406) 445-3322
Alright Red Lodge!! It's almost Halloween and we are coordinating a pretty epic party on our main floor (with the help of Lizzie Graham, planner aficionado)!
First Show: Maxwell and the Headchange
Second Show: Desperate Electric
There will be a killer photo booth run by Arianna Skog! Tickets are $15 in advance/$20 at the door- tickets will be limited for code reasons- so grab them ASAP! Prizes for best dressed!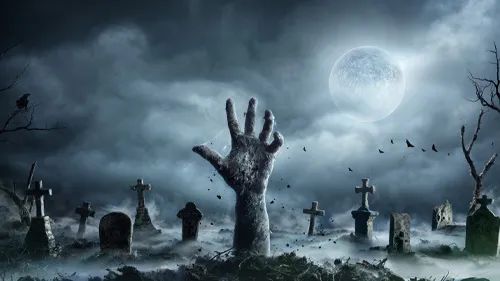 "The Rocky Horror Picture Show" at the Babcock
Saturday, October 22nd • 9PM | Late Night presented by Purple Cow at The Babcock Theatre
$10 Tickets
"I Remember, Doing the Time Warp!"
The event some of us wait all year for is back at the Babcock for one night only this year! The Rocky Horror Picture Show is the ultimate Late Night film that has it all! Bring your friends, your props, your costumes, and make the annual mecca to Transexual Transylvania for the wildest movie event of the year!
Please note: Be kind to this old theater and please no tossing food or water
Also showing at the Babcock Theatre this month:
"Creepshow" October 26th • 7PM | Singh Contracting presents Nostalgia Night at The Babcock Theatre An October treat for anthology horror fans, Creepshow is turning 40 this year! Bringing together the macabre minds of Stephen King and George A. Romero, this star-studded collection of spooky stories was inspired by the EC comics of the 1950s (like Tales from the Crypt) and is fun blend of monsters, murder, and mystery. An easy-to-swallow Halloween horror film that is just the right amount of fright for your night!
John Carpenter's "Halloween" October 29th • 7pm at The Babcock Theatre This October brings the conclusion to the new Halloween trilogy in Halloween Ends, but where did it all begin? Join us at the Babcock for one night only as John Carpenter's original Halloween lights up the big screen! An essential horror classic that introduced us to Evil in the shape of Michael Myers, a disturbed maniac that escapes a sanatorium and goes on a killing spree on Halloween night as Dr. Loomis tries to track him down.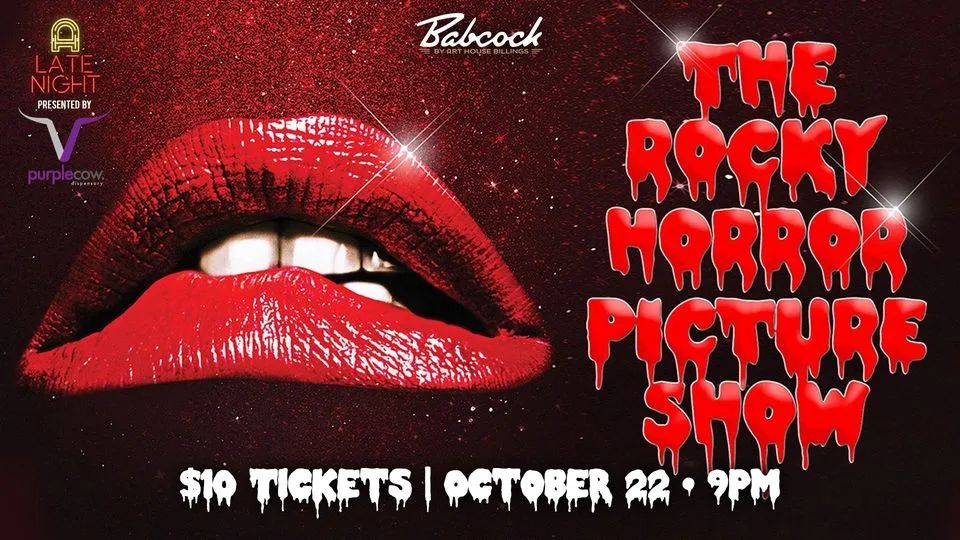 4th Annual Scarity Haunted House "Apocalypse"
At Oscar's Park | 3740 Wise Lane; Billings, MT 59101
$20/person
All proceeds go to Big Brother Big Sister & other local Charities. Its the biggest & scarriest unique interactive haunted house around. This year we have 8 nights of Scarity!!!
October 20-23 and 27-30. Check our website for start and end times.
Get your tickets now as we expect to sell out most nights.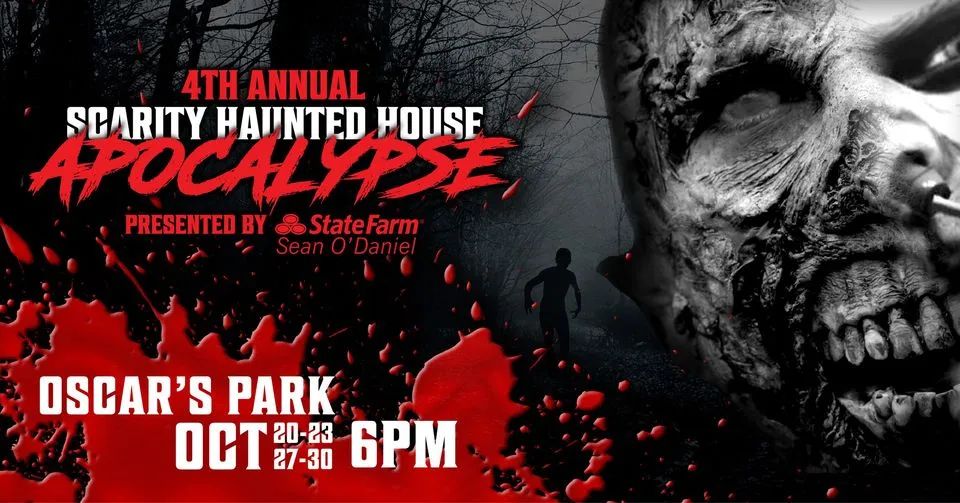 Wild Rose Zombie Hunt:
This year, the fun doesn't end with the Zombie Hunt!! Laser Tag * Miniature Golf * Splat Attack * Archery Tag * Be a Zombie!!
Book your group for the hunt online at WildRosePaintball.com
You can try the new VR and Sword Battles with the Chest Plates at the indoor Splat Attack Battle Arena, however, we will not be able to do that at the Zombie Hunt due to current field set-up.
You DO NOT need an appointment for any of the other activities other than the Zombie Hunt.
Located at: WILD ROSE PAINTBALL
6601 MAINWARING RD
ACTON, MT
406-200-8955
WEST ON HWY3; ONLY ~10 MINUTES FROM THE TOP OF ZIMMERMAN TRL