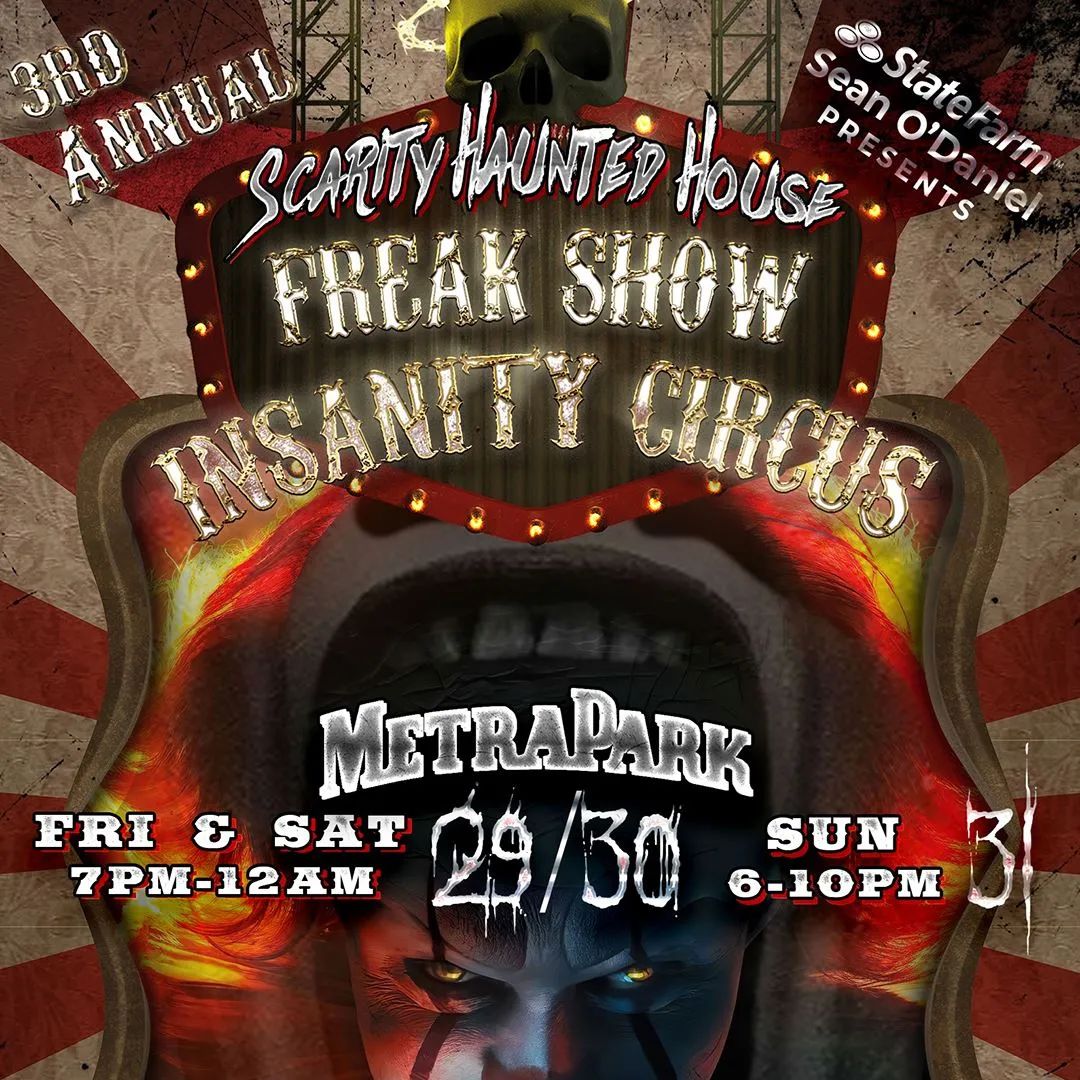 Freak Show Insanity Circus
various dates 2021
Tickets are on sale now at:
This is by far our best and biggest Haunted House we've created yet. In only 3 years we have tripled in size and this will definitely by our best yet!
We have been meeting with our committee for the past 5 months putting it together and we couldn't be more excited for everyone to see it! Between the characters, storyline, visuals, make-up, set design, vendors outside and the attached Purgatory dance party on Saturday night on the 30th. People in Montana and surrounding areas are in for something mind blowing! So if your not planning on being at the Expo center on one of these nights, your truly going to miss one of the biggest events to end 2021.
4000 sq feet will be the Scarity Haunted House. You have to sign a waiver to go through it but don't worry we do have a G-Rated version too. But if you are brave enough to go through the X-Ray Version & you like getting scared 2 death, than bring it!!!
This year we celebrate Halloween with Freaks, killer clowns, creepy circus sideshow freaks and a crazy atmosphere you haven't seen before. Get your picture taken also with our characters.
Check the event page too: Scarity Haunted House - Freak Show-Insanity Circus We are going to be doing TONS of contests, giveaways, and make a lot of announcements on there in the coming weeks! Oct.1st tune in for a special announcement.
A special Thanks to everyone helping us make this happen. Please remember all proceeds go to Big Brother Big Sister & The Phoenix.
Also shout out to our major sponsors because without them we wouldn't have been able to pull this off!
Wegner Roofing and Construction, RAE Contracting, Wayne Wilcox Realty, High Horse Salon, CK Tech, Alpha Omega, Keller Williams Yellowstone Properties, TO Jones Construction, The Agency, Goosehead Insurance, Mobile Grimm Control, Keenness Auto Body, Jersey Mike's, Blaze Pizza, Magic City Productions, Auto Glass Specialist.