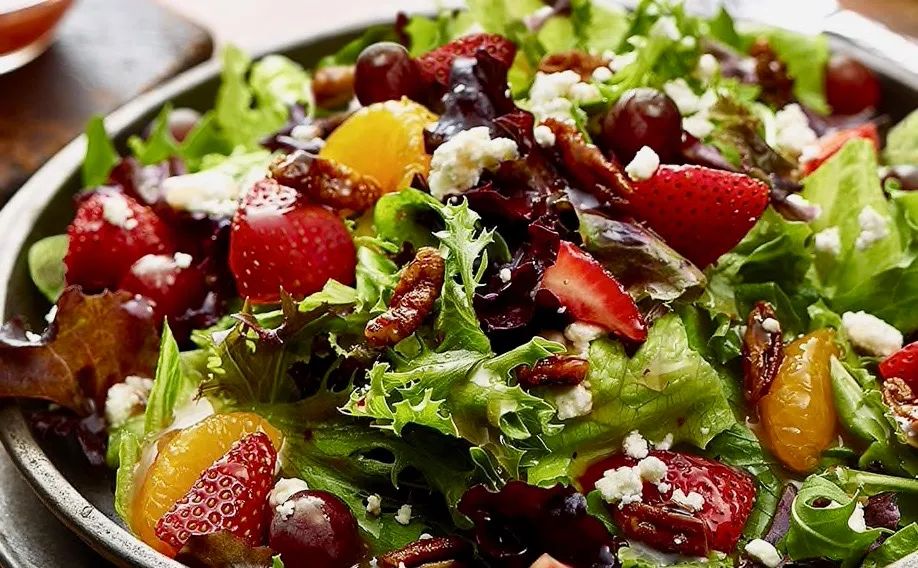 Our Favorite Spring Salad
The sporadic sunny days we've been having lately have us in the mood for Spring...it can't come soon enough! In the name of Spring blossoming soon, here is our favorite Spring Salad Recipe. We hope you enjoy it as much as we do!
ingredients:
Salad: (Feel free to add more or less of any ingredients!)
· 1 (10 to 12 ounce) bag spring salad mix
· 1/2 pint strawberries, sliced
· 1 1/2 cups grapes, halved
· 1 small (7 ounce) can of mandarin oranges, drained, save the juice
· 1/4 red onion, thinly sliced
· about 1/2 cup candied pecans
· 2 to 3 ounces Feta cheese, crumbled
· 4 chicken cutlets, sliced and divided among the servings
· 1 recipe Raspberry Vinaigrette
For the Grilled Chicken:
· 2 large chicken breasts, cut in 1/2 horizontally, lightly pounded if needed
· 1/4 cup of the juice from the mandarin oranges
· 2 tablespoons oil
· 2 cloves garlic, crushed and minced
· 1/2 teaspoon salt
· 1/4 teaspoon pepper
For the Raspberry Vinaigrette:
· 1/2 cup olive oil
· 2 tablespoon raspberry jelly or jam
· 1/4 cup white wine or white balsamic vinegar
· 1/2 teaspoon dry mustard powder
· sugar, salt to taste
instructions
For the Raspberry Vinaigrette:
Mix all ingredients together. If using a jam that's chunky, dressing may be blended. Thin with a bit of water if needed. Taste and adjust, adding salt and pepper to taste, making a bit sweeter or a bit tarter if needed. Store in the refrigerator until ready to use. Pass the dressing at the table so everyone may add as much or as little as they wish.
For the Grilled Chicken:
When ready to cook, heat your grill to high for 15 to 20 minutes.
Pound each chicken breast between sheets of waxed paper or plastic wrap with a rolling pin or a mallet to 1/4-inch thickness. Add to a Ziploc bag and add the rest of the ingredients. Marinade for at least an hour and if time allows, marinade longer. When ready to cook, remove chicken, discard marinade and pat chicken dry.
Place chicken on the grill, smooth side down and grill for 2 to 3 minutes or until nice grill lines show. Turn and continue to grill until golden brown and just cooked through.
Place each chicken cutlet on a large plate as they're done and allow to rest, lightly covered for several minutes before slicing and dividing among the salads.
If making indoors, heat a large skillet with a tablespoon or two of oil over high heat, proceed with the recipe as stated above, watching the heat level and turning down if necessary.
Enjoy! Tag us @Billings365 with a pic of your finished product!!!