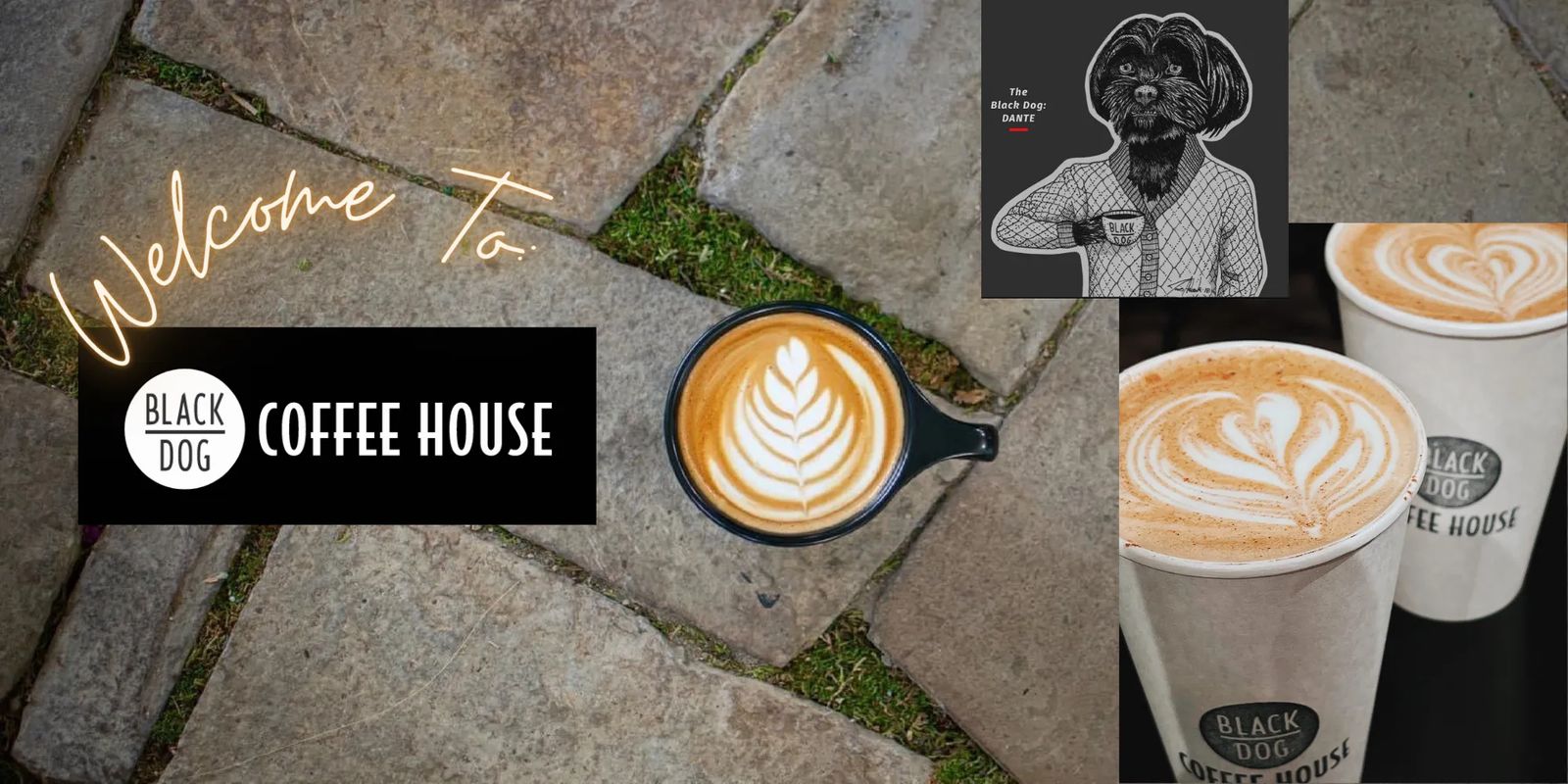 WELCOME TO BLACK DOG COFFEE HOUSE
Written By Ethan Cullingworth
Owned by Rob and Mariah Carpenter — who opened the store over a mutual love of dogs and good coffee — Black Dog did not get its namesake in the same vein as the Led Zeppelin song, where they sat for ages trying to come up with a name, saw a black dog wander past them, and decided that was it. Rather, Black Dog got its name in honor of Rob and Mariah's life partner and friend, Dante, the Lhasa Apso.
For as long as he lived, Dante inspired and comforted them. He sadly passed away late last year, at age 15. The team got to experience his energy, too, while he was around in the three years we've been open — and we carry on, with his lovely self still running around the store in spirit and likenesses scattered around the lobby.
Culture, community, and coffee
Attempting to create an environment that people find comfortable and inviting at Black Dog can be difficult — a space that allows each person's energy to feel at home. Coffee houses tend to do a pretty good job of creating such an environment, simply by serving the warm, encompassing beverage itself, but Black Dog has always wanted to be and do more. At Black Dog, we seek to set ourselves apart as a distinct entity with it's own purpose and vibe, but also to cement ourselves in the coffee world and culture. One way we choose to do this is by partnering with Stumptown Coffee Roasters and Revel Coffee Roasters.
Bringing culture, wisdom, and experience from over twenty years of being in business (leading the game for a large part of those twenty years) is Stumptown. The team that side is absolutely phenomenal. They have been forerunners from the get go in sustainability and genuine partnerships with their farms, and sourcing ethically and honestly, showcasing an awareness for the community and bigger picture as a whole — which we hold in high regard at Black Dog. On top of that, I don't think there's such a thing as bad coffee from Stumptown. With over 120 years of roasting experience between the current team there, and more Q graders than is necessary (think of Q graders as the guys who taste and score the coffees before we read about and taste them ourselves), their quality of cup is without question.
We always have their Hairbender blend on espresso, and a couple of single origins on hand for our brew bar. Hairbender is an all-time favourite on spro (espresso), consistently handing out big punches of citrus and dark chocolate, making it an easy choice for milk-based drinks.
The single origins chosen by the team never disappoint, and over the years we have narrowed down the choices to a few staples we find to be worth going back to again and again.
Tantalizing all 1,000 taste buds, Revel Coffee started as a little kiosk on the West End, and has grown into a world-renowned name. Born and bred here in Billings, Montana, Revel Coffee sources some of the best beans out there and roasts them to perfection. Consistently placing very high scores in Coffee Review, and supplying coffee houses across the globe, the company is but one man. Gary himself is a humble, intelligent, and friendly human being.
Always showing up in person to deliver coffee or answer questions, help with equipment or ideas, Gary makes serving (especially his) coffee worth every single second.
Then there's the team. We pride ourselves on being a group of people who make your coffee ritual better with us being involved. If you're having a good day, or a bad one, you'll find a team member with some words of encouragement handed to you along with your coffee. We see some of you daily; hearing about your lives is something we often treasure.
You know when you're at Black Dog; it's hard to misplace. We feel these communities mentioned above are a big reason why.
DOGS. We love dogs. Might sound like a given, what with our name and all, but it's — in my opinion — taken a bit further here. Dogs are our companions. Friends. Partners. They support us, love us, and care about us unconditionally. In some ways they're better partners than humans. It's easier to leave them at home most of the day. I don't know about you, but I hate leaving my dog, Huxley, at home when I leave. At Black Dog we understand this. Rather than deprive you of your companions, we hope you bring them along so we might meet them and spoil them with whipped cream and dog biscuits, while you sit, sip, and relax.
Tying it together, then...
We are a Coffee House, first and foremost. Another thing that sets us apart is how much we care about coffee. About what we're serving, how we're serving it, and what it tastes like. The amount of effort, attention, and care that goes into the drink we make might be more than you think. At some point, I'll be diving into the finer grind of how coffee is made, but for now trust me when I say the few movements done to pull that shot of espresso and steam that milk are done very deliberately. They take years to become truly competent at. Though I'll admit putting ice in a cup is something a toddler could do — I'll let you have that.
Hopefully you've gotten a satisfactory taste for what we're about here. We love good coffee, people, and dogs, on top of an aware and thoughtful community. We hope you do to, and that you experience this energy with us, as we do our best to bring all of these wonderful things to you with your cup of magic bean water.
To learn more about Black Dog with Billings365, Click Here
To explore Black Dog Coffee House further, Click Here