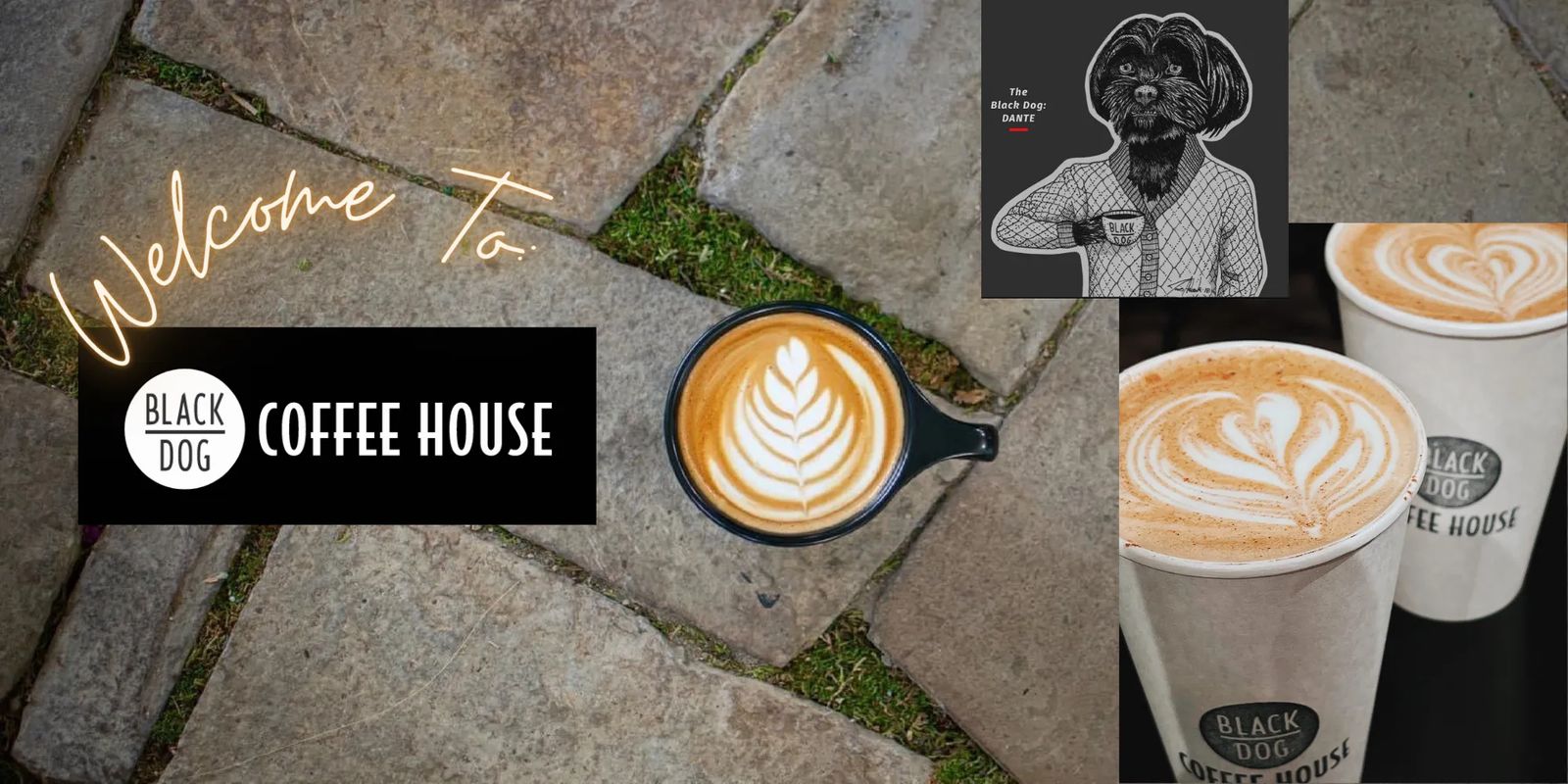 WELCOME TO BLACK DOG COFFEE HOUSE
Coffee & Community
Since 2017, they have nestled ourselves in the community as a Billing neighborhood coffee shop. They love good coffee, people, and dogs, on top of an aware and thoughtful community. Their specialty coffee and tasty bites have become a local favorite. They strive to not only deliver an unforgettable cup of coffee but also a warm welcome from the kindest baristas.
Black Dog Coffee House strives to bring the feeling of community coffee shops at each location. It's a place to feel comfortable while meeting friends, working, or just enjoying some downtime during the day. It's the feeling of being in a neighborhood and the bond with the people around you who are also enjoying the simple pleasures of coffee, bakery items, and much more.
Each location is nestled in a Billings neighborhood with a unique feeling. The original location on 24th Street (north of Grand) is next to Joy of Living and Sanctuary Spa. Here, you will find many people meeting friends, family, and co-workers stopping to catch up over their coffee or taking a break from walking their dogs. The next location on Poly is inside Roots, where you will find many people coming together to enjoy all of the peace that comes with taking in the seasonal plants, flowers, and featured artists. Their newest location on 10th Ave N (in the previous Harper and Madison location) is a much beloved area for neighbors to come enjoy coffee and bakery items while catching up. The beloved bakery items from Harper and Madison are sent to the other locations to be enjoyed as well, however the downtown location has the largest variety to choose from each day, as well as caramel rolls on Fridays!
You know when you're at Black Dog; it's hard to misplace. They feel these communities they are a part of are a big reason why.
Partnering with Stumptown & Roasters
Black Dog proudly serves coffee from Stumptown. What makes their coffee so much better (beside the amazing taste)? They have similar values in being a B Corporation. This means that they must follow strict operating standards with the highest values both socially and environmentally. They treat the farmers and the land with great respect and must continually prove that their practices are not only organic but also meet strict rules of sustainability. To be a B Corporation, they must continually requalify and show that they meet the expected standards constantly.
To learn more about Stumptown and the difference they are making in sourcing coffee click below:
https://www.stumptowncoffee.com/pages/our-story
https://www.stumptowncoffee.com/pages/impact
https://www.stumptowncoffee.com/blogs/news
NEW Location! Plus Harper and Madison Bakery!
Black Dog opened their third location in June of this year with the Harper and Madison bakery with the goal of honoring the amazing past of this amazing neighborhood shop. You'll find many of the beloved bakery recipes along the beloved coffee unique to Black Dog. This location also offers the option of renting out the space for private events such as bridal showers, baby showers, holidays, celebrations of life.
On their menu, they include the famous coconut cake, caramel rolls on Fridays, and the giant quiche. Additionally, you can order whole food items for you to enjoy at home or your own event!
Stop in and check out this wonderful location and newest environment!
Tying it together, then...
They are a Coffee House, first and foremost. Another thing that sets them apart is how much they care about coffee. About what they're serving, how they're serving it, and what it tastes like. The amount of effort, attention, and care that goes into the drink they make might be more than you think. Essentially, they hope you experience the same energy with they do, as they do their best to bring all of these wonderful things to you with your cup of magic bean water.
To learn more about Black Dog with Billings365, Click Here
To explore Black Dog Coffee House further, Click Here