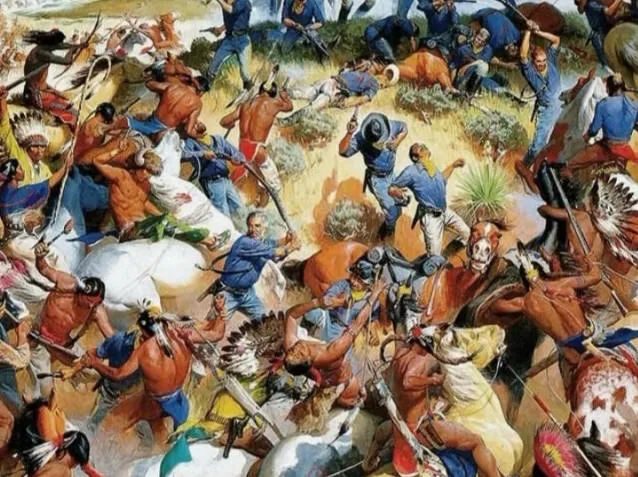 The Battle of the Little Bighorn - 146th Anniversary
In Montana, we have a strong heritage from the "settling" of the American West as people moved from crowded areas to less-populated, rural areas filled with openness and possibility. Of course, the people moving westward were not the only people who wanted that land. Many tribes of Native Americans were already living in the West, and they (very understandably) were not going to stand aside and give up their way of life and the places they had called home for generations simply because newcomers discovered how wonderful it was and decided they wanted it as well. This led to several deadly clashes between U.S. soldiers and the tribes with their warrior protectors. One of the most famous of these clashes happened less than sixty miles from where we live today, near the Little Bighorn River on June 25 & 26, 1876. This particular battle is especially remembered because the entire 7th U.S. Cavalry (led by Lt. Col. George Armstrong Custer) was defeated and died in the clash against the joined Lakota, Cheyenne, and Arapaho warriors; namely Crazy Horse, who led the band of over 3,000 fighters. (Side note: Crazy Horse is one of the most famous Lakota Sioux warriors and is also considered one of the greatest warriors of American history. Sitting Bull--another very famous Lakota Sioux--was supreme leader of his people as well as "Wichasa Wakan" (holy man), stayed behind to protect the rest of his people that were living not far from where the battle was happening.)
There is currently a National Monument over the area that this battle took place. It is only about an hour's drive from Billings (almost entirely interstate), so I highly recommend anyone to visit and learn more about this history; painful though it is. The monument includes several grave areas and memorials, a visitor center with an impressive accumulation of the history, and more to explore. They set the stage of the factors that led to the clashes between the two cultures as a whole, as well as this clash in particular, and the fallout that followed. I truly believe it is a must-see and must-experience for anyone in our area.
Every year around the anniversary of the battle itself, a reenactment is hosted on the banks of the Little Bighorn River, just south of Crow Agency, MT. This is a massive event and undertaking that includes thousands of participants and is truly incredible to experience. This year it will take place (beginning) at 1:00 on June 24th, 25th, and 26th.
If you go:
Plan to arrive early for the best seating and to have plenty of time to experience everything offered. Be prepared to be outside in many different weather conditions, (as we often experience in Montana, you may want a coat for wind or rain, or you may need a gallon of sunscreen in order to be in direct sun!), and feel free to interact with the re-enactors and tour the vendor tents and other areas set up & take as many pictures as you wish. But please remember to be respectful of the history and individuals who are participating, and note that neither dogs nor drones are allowed anywhere at the National Monument. Also, it is a good idea to have some cash with you in case you want to park in the area of private property where allowed.
For more information on the re-enactment, please visit: http://www.littlebighornreenactment.com/ Or click on the picture below.