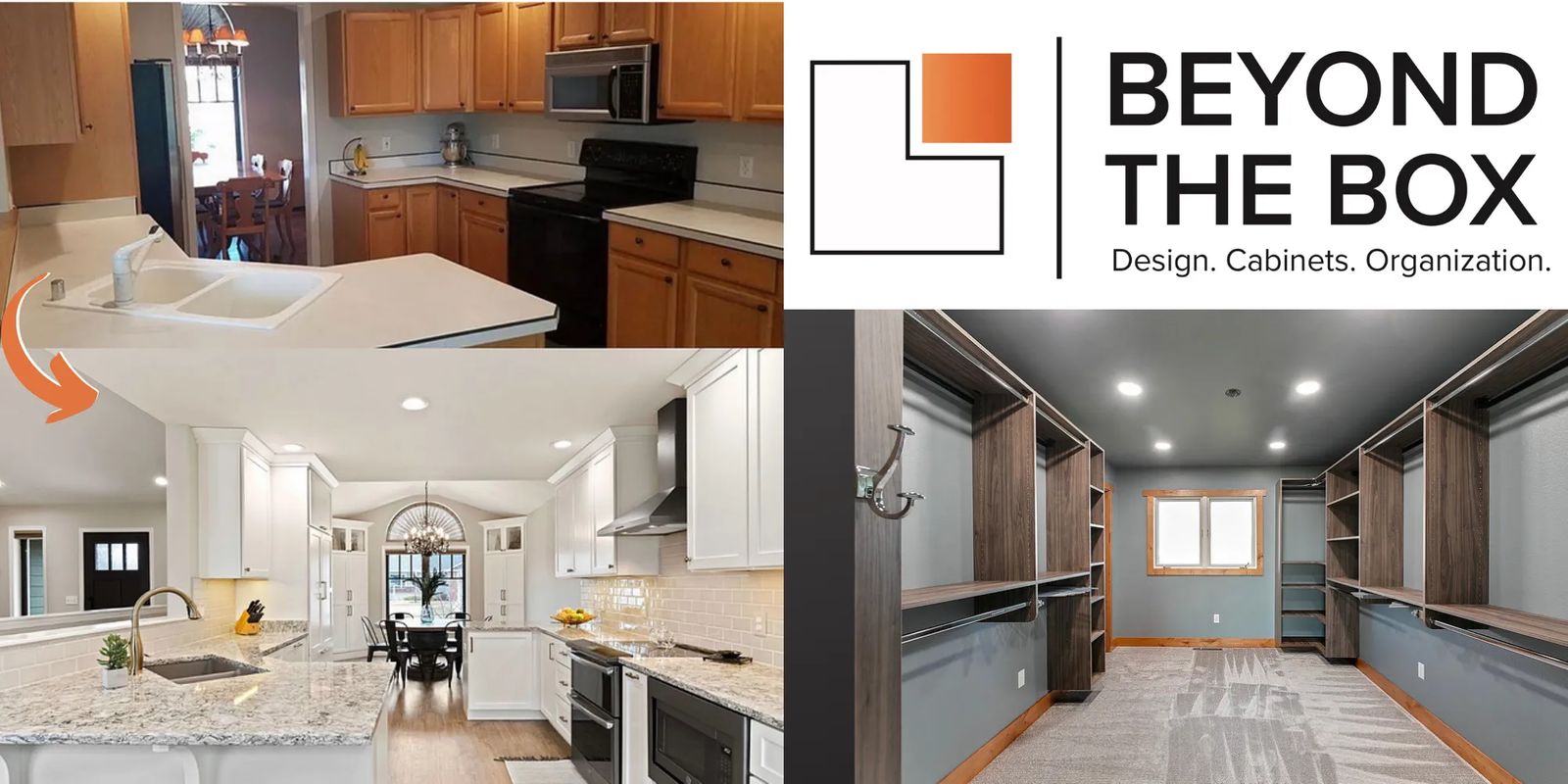 Getting To Know Billings' Best: Featuring Beyond the Box, Inc.
We are so excited that we have a new sponsor for Billings365: Beyond the Box, Inc.
This locally-owned and operated business that is dedicated to helping their clients fall in love with their space. They work on a huge variety of spaces, from kitchens to bathrooms to closets to outdoor spaces while helping with function and organization while making it beautiful. If your space needs a facelift or you have a new construction project, this is the right place. Beyond the Box is made up of a talented group of professionals who are fully committed to providing each client with the space they truly need. Whether it's designing a new office, kitchen or bathroom, we listen to each client in order to fully understand what they need, whether it is comfort, functionality, or a combination of both.
Meet the Team:
Kristy Ferguson Owner/CEO
Kristy Ferguson is a co-owner and the CEO of Beyond the Box. Construction has always been a part of both Kristy and her family's life. Throughout her life she had the opportunity to see the challenges and needs that went unmet in the construction world. Kristy, born with an entrepreneurial spirit saw a need for design services in Billings and decided to take the plunge to open BTB in 2014. She has used her thirst for knowledge, dedication to her community, and her drive for constant improvement to propel Beyond the Box to the reputable company that it is today. Kristy believes in forming a relationship with each and every person that walks through her doors. She leads by example by going the extra mile to bring resolution, enthusiasm, and commitment to each project she oversees. No project is too big or too small for Kristy's attention and she enjoys being able to be a sounding board for her design team in order to assist them in making dreams a reality!
Debbie Ferguson, AKBD, CLIPP, Owner/Designer
Debbie, along with her daughter Kristy, is the original designer of Beyond the Box. When the decision to start BTB was made, Debbie jumped into the design world with both feet. She now proves her expertise with her experience and industry certifications. She is both a CLIPP and a NKBA certified designer. She pairs her attention to detail and determination with her dreamer personality in order to unite beauty, function, budget, and value. Debbie enjoys the challenge and uniqueness of remodeling existing spaces. It is important to Debbie that she take time and use her creative mind to make each and every space feel like home to her clients. Debbie excels in traditional, transitional, and craftsman designs. She loves taking these timeless designs and incorporating new products that make each corner of the space easy to use and functional. All it takes is one look at Debbie's flower beds to realize that her aptness to create beauty is apparent in both her professional and personal life. She loves to be outdoors with her family camping, boating, and even wake boarding right alongside her grandkids!
Angie Mills AKBD, CLIPP, Designer
Angie Mills is a NKBA certified designer, who has been in the industry for 16 years. Beyond the Box was lucky enough to bring Angie on board in March of 2018. Even as a child, Angie enjoyed creating unique décor and designs for her personal space, although it wasn't until she built her first home in 2002 that she knew designing was what she wanted to do with her life. Angie truly loves working with all types of people and clients because she believes learning to work with all personalities gives her the ability to grow as a designer and a person. Angie intertwines her love for nature, honesty, and precision into each home and project she is a part of. Her favorite style of design tends to be contemporary with clean lines and earthy natural textures, along with very detailed organization. She is drawn to balance and simplicity. In her free time Angie enjoys exploring the beautiful state she lives in, exploring the endless rivers and mountains. She loves to travel and learn from each experience and adventure that she immerses herself in- from the cuisine to the culture to the architecture, experiencing new places fuels her imagination and drive for life! She is here to help you design spaces you love and want to live in!
Megan Reed, AKBD, CLIPP, Designer
"It does not do to dwell on dreams and forget to live." Megan's favorite quote says so much about her in more ways than one! Megan has been a designer for Beyond the Box since May of 2018. She is described by her clients as hardworking, considerate, and quirky. For Megan, her daily work at Beyond the Box is not just a job. Each project is much more than just a number to Megan as she becomes incredibly involved and attached to each home that she gets to be a part of. Megan works best when she is able to bond with her clients on a deeper level and is able to use that connection to bounce ideas back and forth with the homeowner. Megan's design niches are modern farmhouse, mountain modern, bungalow, and craftsman. Megan's favorite thing about working at BTB is the unconventional environment that breeds opportunity and relationships for each employee. Megan spends her free time with her dogs and family, reading, and doing macramé. If you have a dog, please make Megan's day and bring them to your showroom appointments so they can enjoy her stash of top shelf dog treats!
Ragan Yetley AKBD, CLIPP, Designer
Ragan brings cheer and life to our office! She is motivated, organized, and passionate about the world of design. Ragan received her Associates of Applied Science degree in interior design from MSU Gallatin College in May of 2019 and started her career at Beyond the Box immediately after. Ragan lives by her favorite quote, "This too shall pass", and uses it to drive her through life's unavoidable challenges. When Ragan looks at a space, she immediately starts working through space saving solutions and strives to make every corner of your space useable and functional, without sacrificing an ounce of beauty! Ragan is a bit of a perfectionist and makes sure to take her time working through each of her projects to ensure it is done right the first time. Ragan's favorite part about working at BTB is who she works with- from her coworkers, to her clientele, to her fellow industry affiliates. The community around Ragan and BTB share the same values which creates an incredible culture to be a part of!
Billings365 is grateful for all of our community support and is especially grateful for the local businesses that put as much love into the Billings community as we endeavor to do! To find out more about Beyond the Box, click here!