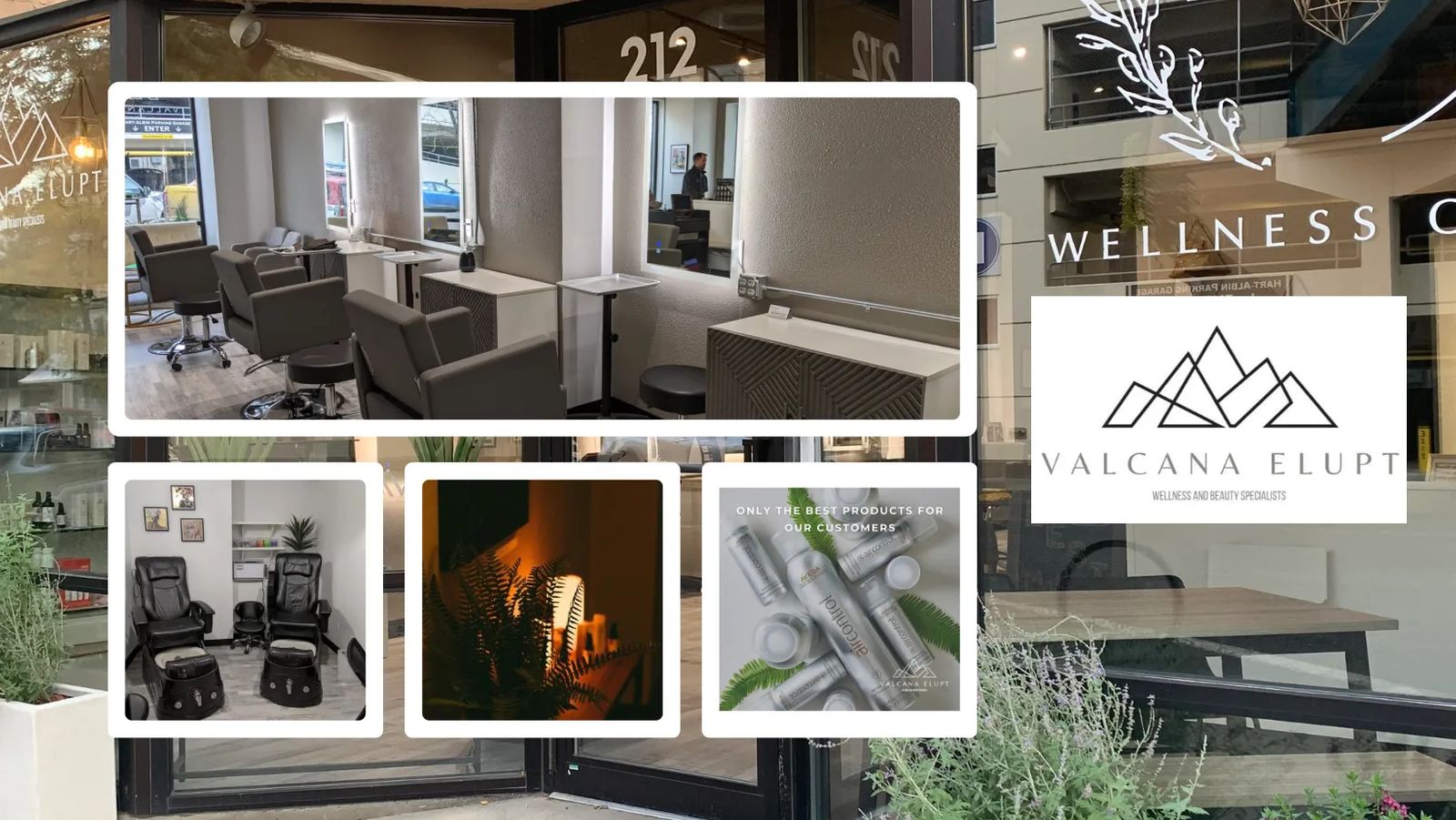 Valcana Elupt – Wellness Spa, Salon and Café
Are you looking for a whole new experience?
Who is your authentic self? It's never too late to find out.
We can provide holistic healing, for the whole body in a nurturing and accepting environment at Valcana Elupt. Here we believe in enhancing your natural beauty by bringing attention to our three main focuses. What you put on the body, what you put in the body and what you do with the body.
What you put on the body:
We hand-pick our products specifically because we a care about how they are crafted, sourced, and that they are made with clean ingredients. Not only does this have you feeling great about the products you chose to use, but you also leave looking great! The aromas of these product lines enhance your experience and relaxation during your spa or salon services. In our Salon, we mainly use Aveda products because they guarantee quality satisfaction like no other brand. We keep hearing from our existing clients that their hair has never been happier and healthier. Aveda is 94% certified organic, natural, and vegan, starting with their home care, all the way to their professional services. We can also provide other resources and product recommendations to help you become more aware of the products your using on your body. In our spa we use a combination of brands to coincide with each clients skin and body type. We customize each experience specific to each persons needs and desired results. Stay tuned for more Blogs about our specific services, because you'll never experience this type of nurturing anywhere else in Billings.
What you put in the body:
Our wellness café is a benefit to everyone visiting Valcana Elupt. We love that we can offer recharging smoothies, lattes, tea, and/or wellness shots before during or after your services. These wonderful superfood options provide an extra boost to your mood, energy, and can help you feel even better and more confident about your day. You'll never leave our facility feeling unbalanced; we want you to get back to your roots and feel grounded. Stay tuned for our new items we will be offering: wellness ciders, tinctures and elixirs.
What you do with the body:
We work to complete the holistic approach of healing and giving your body everything it needs to thrive mentally, topically, and internally. We suggest trying some of our other wellness collaborations and options we offer in our facility. We participate in several events through out the downtown Billings community that help you and us stay connected and networking with new and existing resources and people who seek wellness just like you. One event we participate in is the art walk. Currently on display in our wellness facility we have Jon Lodge. Make sure to check out his beautiful unique art at your next visit or look for the next upcoming art walk to view any new pieces we've added to his collection. Another inhouse event we offer is our Blow Dry Bar. This event is for everyone but is specifically great to make connections with other ladies having a good time. Our Blow Dry Bar event is every week and available to you for special occasions, night out, date nights, or even just for the relaxing head massage, wash, and style, because you deserve it or plainly just need time away to relax. We have two more events that help you focus on loving yourself and taking care of your body. Our Yoga Hour will be back soon as summer events begin to slow. Please stay tuned for our next yoga session, practicing mindfulness and physically strengthening your body is a must to feeling good. Lastly, we have a special new PopUp Collaboration with Wild Roots IV Hydration and Wellness. We will be offering IV Therapy popup events to help you balance out vitamins and minerals in your body. We believe these sessions are important to rehydrate and recharge your body.
For more information on these events please visit our website or call us at 406-839-2033 and please remember:
Nourish your health, enhance your lifestyle, define your reality. YOU have a choice.
Valcana Elupt is located in Downtown Billings at: 212 N 29th St.