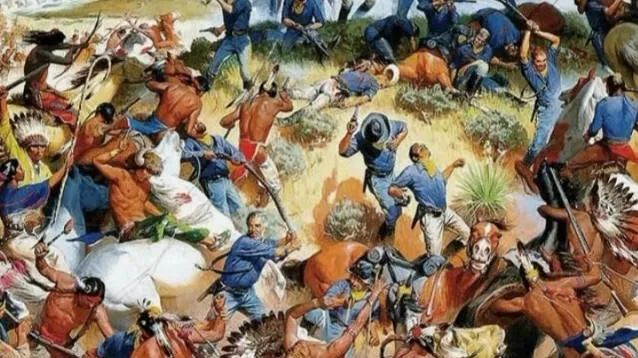 Battle of the Little Bighorn Re-Enactment (145th Anniversary of the battle)
june 25, 26, 27, 2021 at 1:00 PM
This Battle has also been called Custer's Last Stand and the Battle of the Greasy Grass.
Hosted by the Real Bird Family, the 29th Annual Battle of the Little Bighorn Re-enactment is held at 1 pm on the 25-27 June 2021 on the 145th Anniversary of "Custer's Last Stand". Learn and experience the historic struggle for control of the West by visiting the amazing Little Bighorn Reenactment firsthand - where the Sioux Nation was encamped. The Reenactment is located just south of Crow Agency, MT and between the historic points of Custer's Last Stand Hill, Reno's Charge / Retreat, and Reno - Benteen Battlefield. Held at Medicine Tail Coulee and Minneconjou Ford, this is where Custer's Battalion was closest to the village and where E and F Troops were sent to attack the Indian village. This battle is located between the Little Bighorn National Park/Museum and Garryowen/Custer's Battlefield Museum. While the re-enactment begins at 1:00, you will want to arrive before then so you don't miss the beginning while parking or walking.
If you go: plan to arrive early for the best seating and plenty of time to experience everything offered! Be prepared to be outside in many different weather conditions, (as we often experience in Montana, you may want a coat for wind or rain, or you may need a gallon of sunscreen to prepare for a couple hours in direct sun!), feel free to interact with the re-enactors and tour the vendor tents and other areas set up and take as many pictures as you wish. But please remember to be respectful of the history, and note that neither dogs nor drones are allowed anywhere at the National Monument.