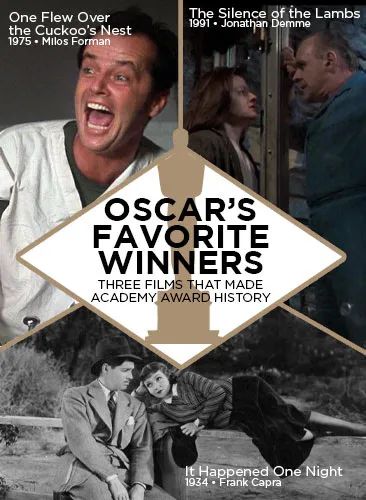 Oscar's Favorite Winners at the Babcock Theatre
We've got Oscar fever here at Art House, so we're bringing three of the Academy's biggest winners to the Babcock! In Oscar's 92 years of cerebrating films, these three are the only one to win all five top prizes (Best Picture, Best Director, Best Screenplay, Best Actor, Best Actress)!
And, if you purchase a ticket for February 9th's THE OSCARS AT THE BABCOCK event, you can attend all three of these classic films FOR FREE!
THE SILENCE OF THE LAMBS
dir. Jonathan Demme
R | 1991 | USA | 118 MIN
Fri 1/17 - 7:00


IT HAPPENED ONE NIGHT
dir. Frank Capra
NR | 1934 | USA | 105 MIN
Sun 1/19 - 3:00


ONE FLEW OVER THE CUCKOO'S NEST
dir. Milos Forman
R | 1975 | USA | 133 MIN
Sun 1/19 - 6:00
Oscar's Favorite Winners at the Babcock Theatre
Sunday, January 19, 2020
10:00 PM— 10:00 PMUTC
Oscar's Favorite Winners at the Babcock Theatre
Saturday, January 18, 2020
2:00 AM— 2:00 AMUTC
Oscar's Favorite Winners at the Babcock Theatre
Monday, January 20, 2020
1:00 AM— 1:00 AMUTC