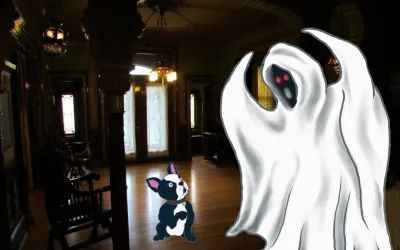 Mysteries at the Moss: Scooby Doo(TM) Christmas Edition
Zoinks! Scooby and the gang need your help! Someone has stolen all the ornaments off the Mini Moss Mansion Christmas Tree! Explore the passageways and corridors of the Moss while looking for clues, meddling in museum affairs and solving puzzles – all to unmask the culprit. This adventure is part escape room, part detective work and a whole lot of nostalgia. We recommend it for super sleuths ages 6+. Kids will use reading, math and reasoning skills to unlock this mystery and may need your assistance, making it a special Moss experience for everyone! A detective book, map and puzzle are supplied to aid in the investigation and a reward is in store for those who bring the thief to justice…that is if it isn't a ghost!
$12 per player, $5 per chaperone – we recommend you book in advance. Reservations are not refundable but are transferable – call 406-256-5100 to make adjustments to your booking.
Know Before You Go: Per state regulations we ask that you mask-up and physically distance while solving the mystery. Please note that staff will monitor attendance and adjust start times as need to maintain safety for guests and volunteers.
Enter at the basement/gift shop stairs out back.