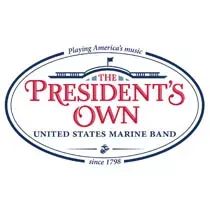 United States Marine Band at the Alberta Bair Theater
Tickets at the window or by phone
FREE community concert. Limit of FOUR tickets per request.

Established in 1798 by an Act of Congress signed by President John Adams, the United States Marine Band is America's oldest continuously active professional musical organization. The band made its White House debut on New Year's Day, 1801, and has performed at the inauguration of every President since Thomas Jefferson, who is credited with giving the band the title, "The President's Own."

From the earliest days of our nation, the Marine Band's primary mission has been to provide music for the President of the United States and the Commandant of the Marine Corps. Performing for State arrival ceremonies, dinners, receptions, and accompanying famous entertainers, Marine Band musicians appear at the White House more than 300 times each year. Additionally, the Marine Band participates in more than 500 public and official performances annually, including concerts and ceremonies throughout the Washington, D.C., metropolitan area and across the country during the fall concert tour.
In 1891, the band's legendary 17th Director, John Philip Sousa, led the Marine Band on its first concert tour. As a result, for more than one hundred years, the Marine Band has toured throughout the country performing in communities both large and small. Marine Band concerts offer a unique blend of traditional concert band and contemporary wind ensemble music suitable for people of all ages and musical tastes.
Dates and Times
Tuesday, October 9, 2018 – 7:30 PM