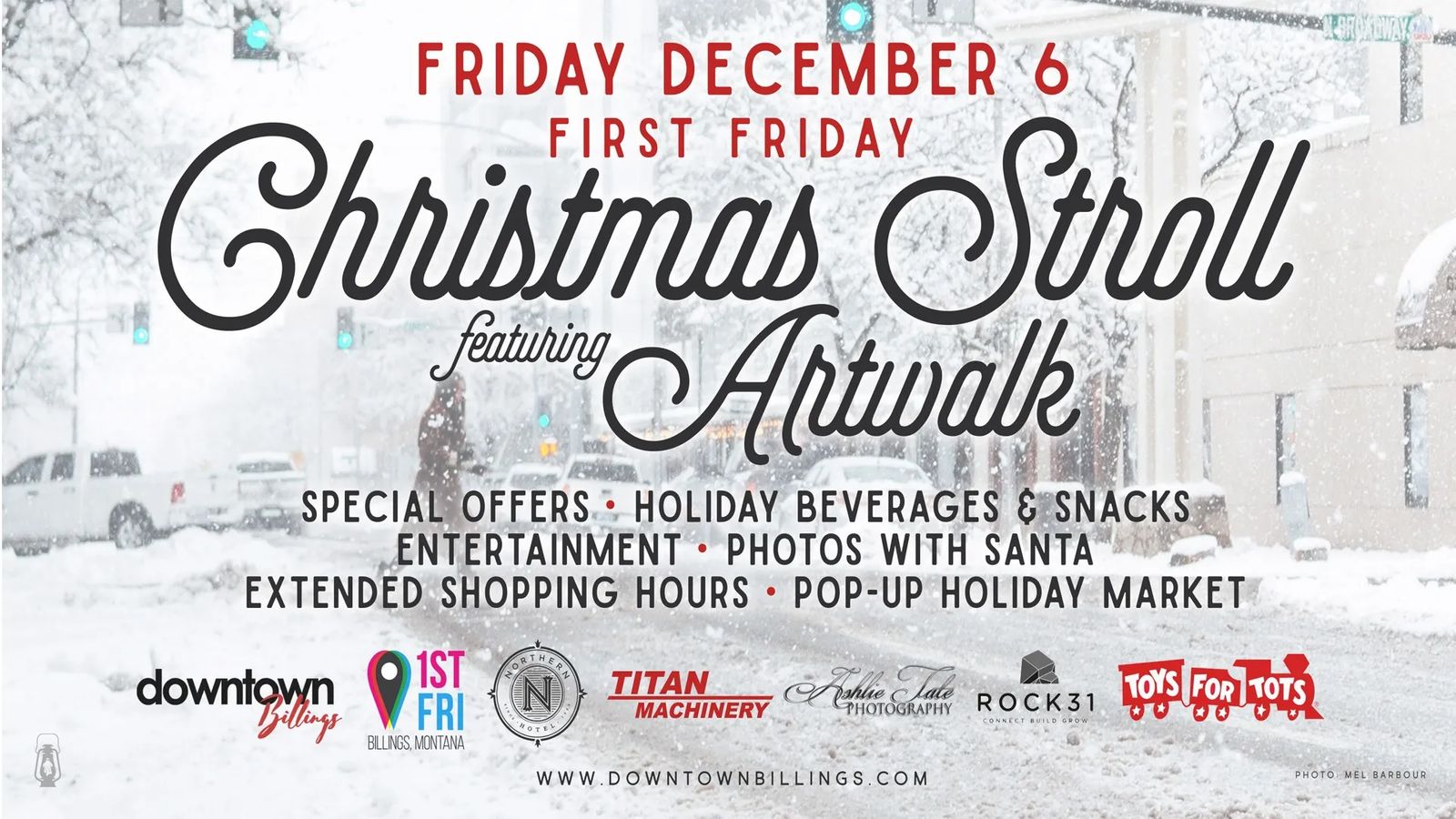 First Friday Christmas Stroll Featuring Downtown Artwalk
The First Friday of December brings something special to the Billings community. Local downtown businesses & hot spots offer special holiday-centric programming between 5pm and 9pm.
Local shops extend their shopping hours, offer special holiday deals, serve holiday beverages and snacks, and ooze holiday cheer.
The downtown Billings Christmas Stroll has been a downtown tradition for over 17 years and annually coincides with the December Billings Artwalk with over 40 ArtWalk locations displaying regional and local fine art for purchase. Christmas Stroll is a family favorite with plenty of fun for kids and adults alike. This community event is free to enjoy.
- Photos with Santa take place in the lobby at the Northern Hotel, Billings Montana, photos provided by a volunteer photographer, Ashlie Tate Photography, donations are appreciated and go toward helping kids in foster care.
- The Billings Depot Polar Express will take place at the Billings Depot
- The Billings Special Olympics Polar Plunge will take place this year on the Depot's grounds.
- Senior & Skyview High School students and Rock31 & The Northern Hotel, and Downtown Billings will host a Youth Entrepreneur Market in the old Montana Bank Building just under Skypoint, at 201 N. Broadway. With live music from Who We Are in that space.
- The 2nd Annual pop-up Holiday Market will be open until 8pm inside the current vacant space at the corner of 2nd Ave N and N. 29th St. (address: (2821 2nd Ave N, Billings MT 59101). The Holiday Market will be filled with great holiday gift vendors.
- Wise Wonders Children's Museum will be open and offer free admission (at their new awesome location on 2nd Ave N).
- The DBA Office (116 N. 29th St) will house two different make and take holiday classes: cookie decorating class taught by Sweets by Sam and a wreath making class offered by Mac's Floral. Class registration required and located on Sweets by sam and Macs Floral websites.
- The Yellowstone Art Museum will have special holiday programming and free admission to current exhibits.
Holiday ArtWalk
Nearly 40 art galleries, studios, museums, professional offices, a downtown church and other locations welcome artists and their work to downtown Billings for a festive celebration of creativity and community. More information and a map at www.artwalkbillings.com, plus images and gallery notes on Facebook@billingsartwalk. Free.
Dates & Times
First Friday Christmas Stroll Featuring Downtown Artwalk
Saturday, December 7, 2019
12:00 AM— 4:00 AMUTC