Sam & Friends Meet & Greet at the ZooMontana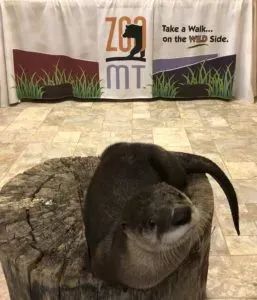 How would you like the opportunity to meet Sam the otter up close and personal? Well now you can, with the Sam and Friends Otter Meet and Greet! Enjoy a 30-45 minute program that includes an otter training session, interpretive program and a visit from 1-2 of Sam the Otter's best friends! Limited to 10 guests and held on Sundays at 11:30am.
$30 per person and includes admission ($20 for members)
Participants must be at least 4 years old to participate. All participants under 16 years of age must be accompanied by a participating adult. Guests under the age of 18 must have a program liability waiver signed and dated by their parent or legal guardian.
Reservations are available on a first come, first served basis and times are subject to change. Reservations are required.
Please check-in to the Admissions desk by 11:15am for the Meet & Greet. The program will begin promptly at 11:30am.
ZooMontana does not guarantee the length of this meet and greet, it is up to the animal's and the trainer's discretion.
Photos are permitted during the session and all attempts will be made to get a group photo.
Guests must remain seated throughout the encounter.
Otters are sometimes too curious for their own good, so for your own safety, please wear closed toed shoes to the meet and greet.
Petting of the Otter is prohibited.
ZooMontana reserves the right to modify, cancel and/or reschedule the program. Reasonable accommodations will be made to reschedule guests as effectively as possible or provide refunds.
Guests with special needs must call prior to making a reservation at 406.652.8100. Reasonable special needs accommodations can be supported on a case-by-case basis with prior notification.