Safety While in the Montana Backcountry
Safety While in the Montana Backcountry
Dress Right, Be Prepared, Know How to Survive
When you're out exploring the backcountry, you generally have a good understanding of how to stay safe. But there are those times when you are caught off-guard and a situation can turn from a fun afternoon in the woods, to a deadly night out. Staying warm starts with the right gear. Even if you don't get stuck in the woods overnight, properly fitting footwear can make a big difference on the adventure.
Replacing 17 Year old Boots
In the winter of '99-2000 I bought a pair of snow boots. They were the last pair in stock and about a half size too small. They fit reasonably well, not too tight to be uncomfortable, made by a quality brand, and I desperately needed something to wear while out in the snow. For the next 17 years they served me well, going on dozens of adventures, hiking up mountains, hunting for deer and elk, and providing warmth while sledding in town. Eventually, however, they wore out. I needed something new that will (hopefully) last me another 17 years.
I would have preferred to have a boot that was more of a snow boot (instead of a hunting boot), but Cabela's makes some great clothing and footwear (my first pair of hiking boots were Cabela's brand, I literally wore the soles off of them over the course of 10 years). The best part is that their own line of clothing and footwear are significantly cheaper than other brands, yet built just as well. While I liked many of the other brands in the store, I couldn't bring myself to spend $300 on a pair of winter boots.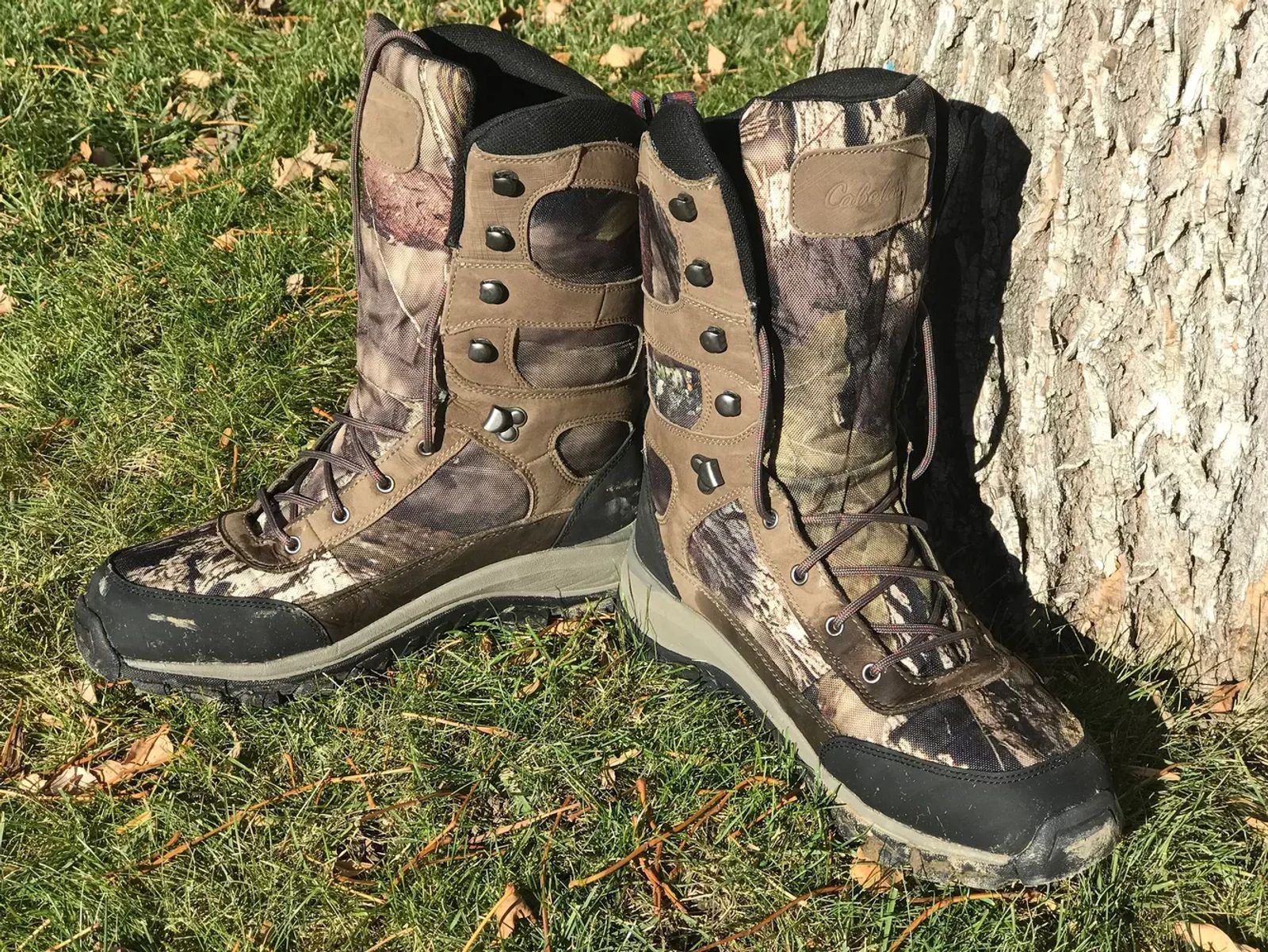 After trying on a few pairs, I opted for the Rush Creek Hunting Boots. These 10" tall insulated boots got put to the test the next few days. Hiking miles upon miles through dry terrain, wet terrain, muddy, snowy, rocky, steep, and flat, I couldn't be happier with them. No hot spots (where blisters are forming), and no cold toes due to proper fit.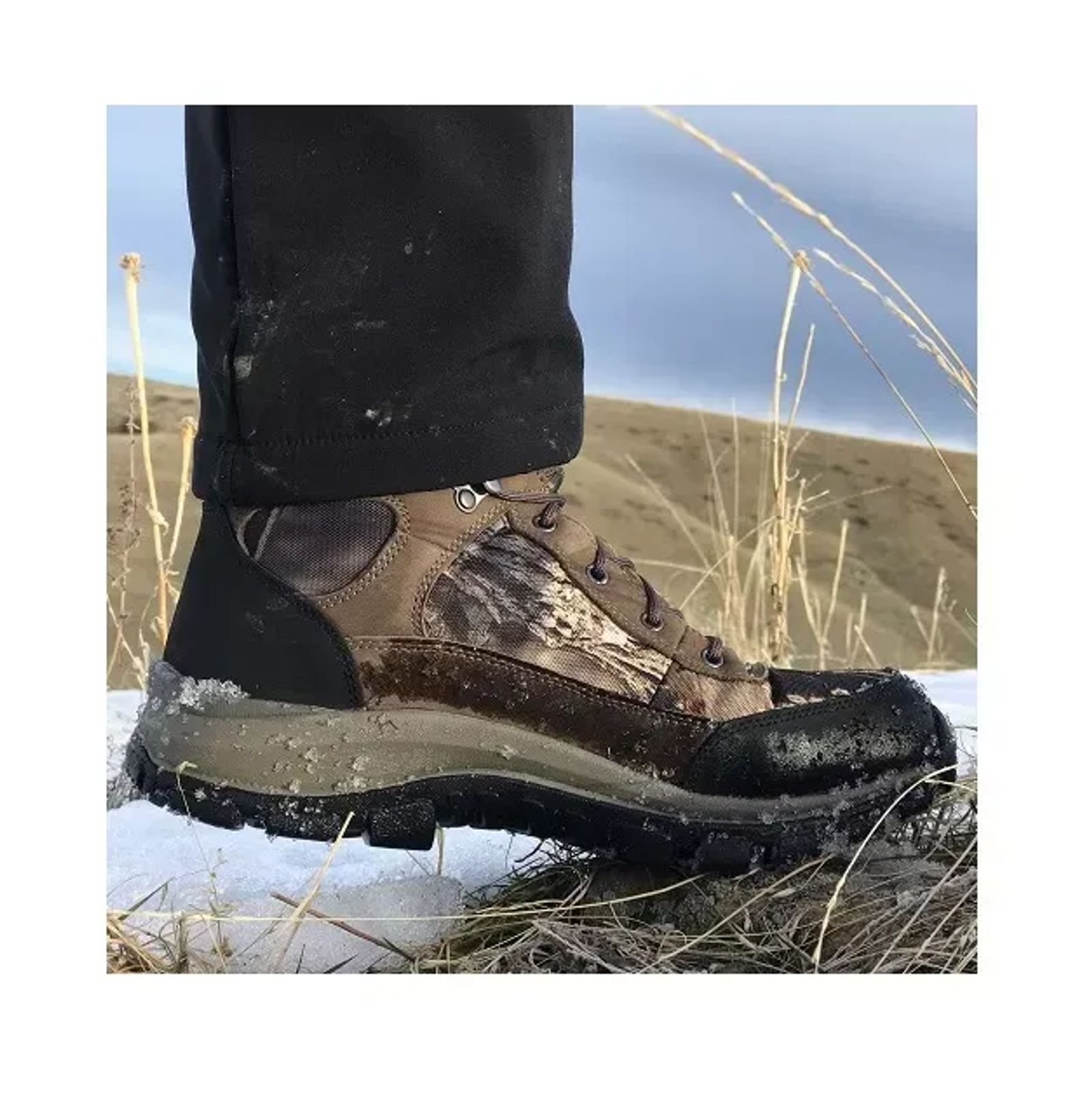 Finding Boots that are Right for you
When you're looking for boots, there are a few things to keep in mind: thickness, size, and fit. The right boot will mean the difference between a great trip, and a miserable one.
Thickness has to do with insulation, and is measured in grams. A regular hiking boot will be a 0 gram, or more commonly referred to as un-insulated. The next step up is a 400 gram boot, then an 800 gram boot, a 1,200 gram boot, and finally a 2,000 gram boot (different brands may have different levels; these seem to be the most common). The thicker the insulation, the more comfortable your feet will be in the cold, with 2,000 grams rated for temperatures below 0 degrees.
The size of the boot refers to the height. In the summer, when trail hiking, you want a lower cut on your boot. Look for one that is still above the ankle to provide support, but not up the calf for the added warmth. In the winter you want something a bit taller, these generally come in 8", 10" or even 12" sizes. The larger the boot, the less mobility, but when you're trekking in the snow you need that protection more than flexibility.
Finally the fit is important. A very well insulated boot will still cause cold feet if the boot is too tight. But if the boot is too loose, you will rub and end up with blisters and sore feet. A little extra room around the toes to allow air circulation will keep your feet warm and blister free. Don't settle for a half size small because they're the last pair in stock; it's the difference between a good trip and a great trip.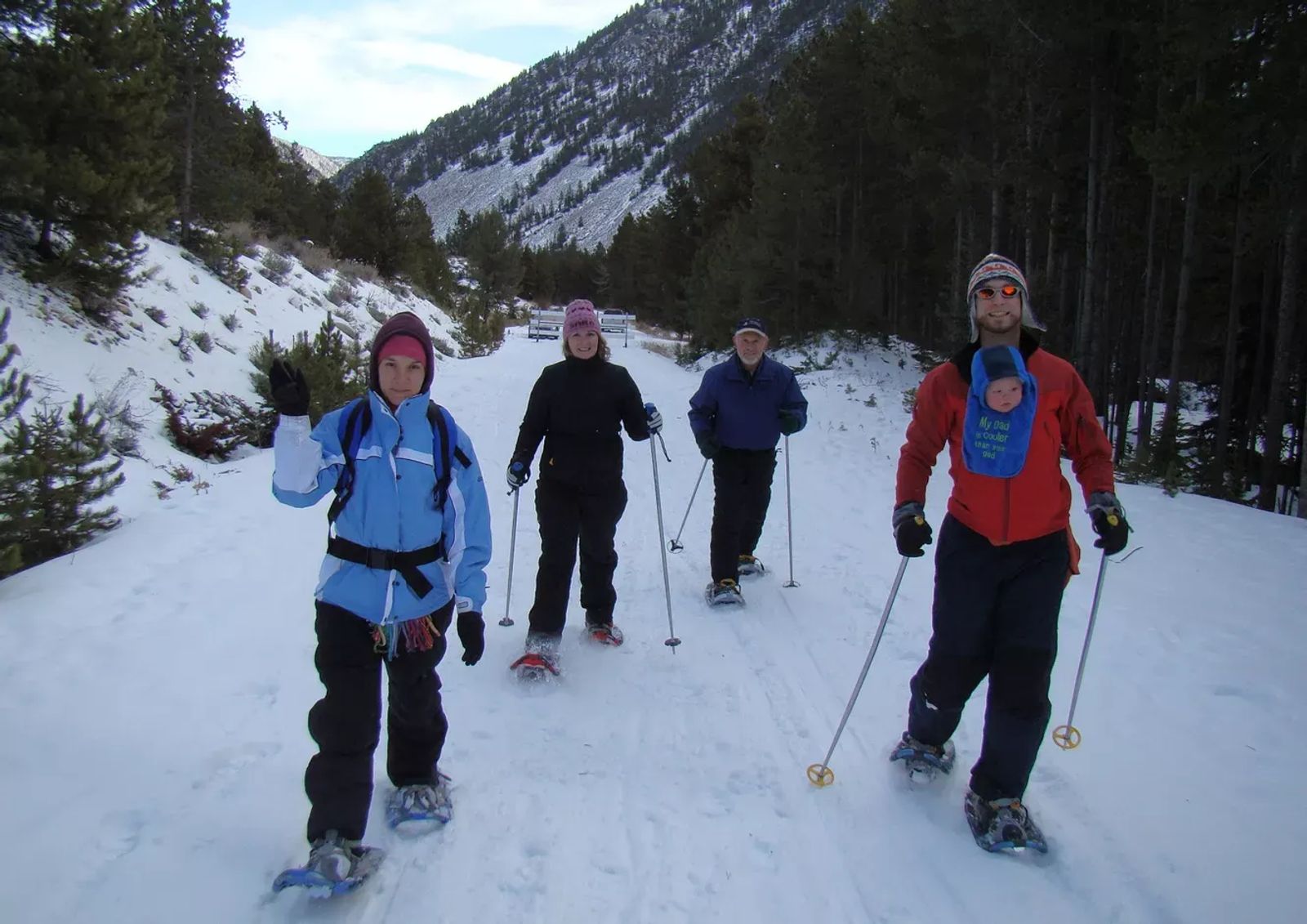 Be Prepared
Dressing appropriately goes far beyond the feet. The proper layers, and extras in your pack, will keep you warm and dry (not just from rain, but from sweat). But the weather can change quickly when you're in the mountains. Basic survival skills are essential, including how to find shelter if a sudden thunderstorm or snow storm causes you to have to stay the night in the wilderness.
Are you prepared?

by Scott Sery
Scott is a writer, outdoor enthusiast, beer snob, and woodworker. When he is not out exploring all of the wonders around Billings, he loves to sit down for a frosty brew at one of the many great breweries we have available to us. You can read about most of his adventures, and many of the fine brews he has sipped right here. Find out more about Scott at ScottSery.com