Recipe: Stuffed Peppers with Parker's Hangover Tonic
sponsored
June 26, 2017
Parker's Hangover Tonic is back with another incredibly delicious recipe and this time they're putting a twist on stuffed peppers. You're going to want to dig in to the creamy deliciousness that is Parker's Stuffed Peppers!
Watch our latest #b365video to learn how to make this delicious dish at home.
Here is the recipe:
Parker's Stuffed Peppers

4-6 green peppers
1 lb. pork sausage (or a meat of your choosing)
2 T. olive oil
1 T. minced garlic
1 C. brown rice
1/2 C. onion, diced
1/2 C. green chiles (fresh, canned, or dried)
1 can whole kernel corn (or corn off the cob if you have it)
1 can diced tomatoes with chiles, onions, and cilantro
1 C. mushrooms, diced
1/2 C. grated parmesan
1 1/3 C. low sodium chicken broth
1/2 C. heavy cream
1/2 C. Parker's Hangover Tonic

Cheese topping of your choice

Preheat oven to 375 degrees. Heat olive oil in a pan and add the garlic. Stir for a few moments until you start to smell the garlic, then add your pork sausage. While browning the sausage start to add the onion, green chiles, corn, tomatoes, and mushrooms. By this time your sausage should be mostly cooked, so add the rice, chicken broth, and Parker's. Continue to cook on medium heat for 20 minutes. Now add the heavy cream and parmesan, mix thoroughly and remove from heat.

Take your peppers and slice the tops off as close to the stem as you can and remove the seeds. Lightly spray or brush the inside of each pepper with olive oil and sprinkle with salt and pepper. Stuff each pepper with the mixture and top with your favorite cheese. Put in the oven for 30-35 mins. Enjoy!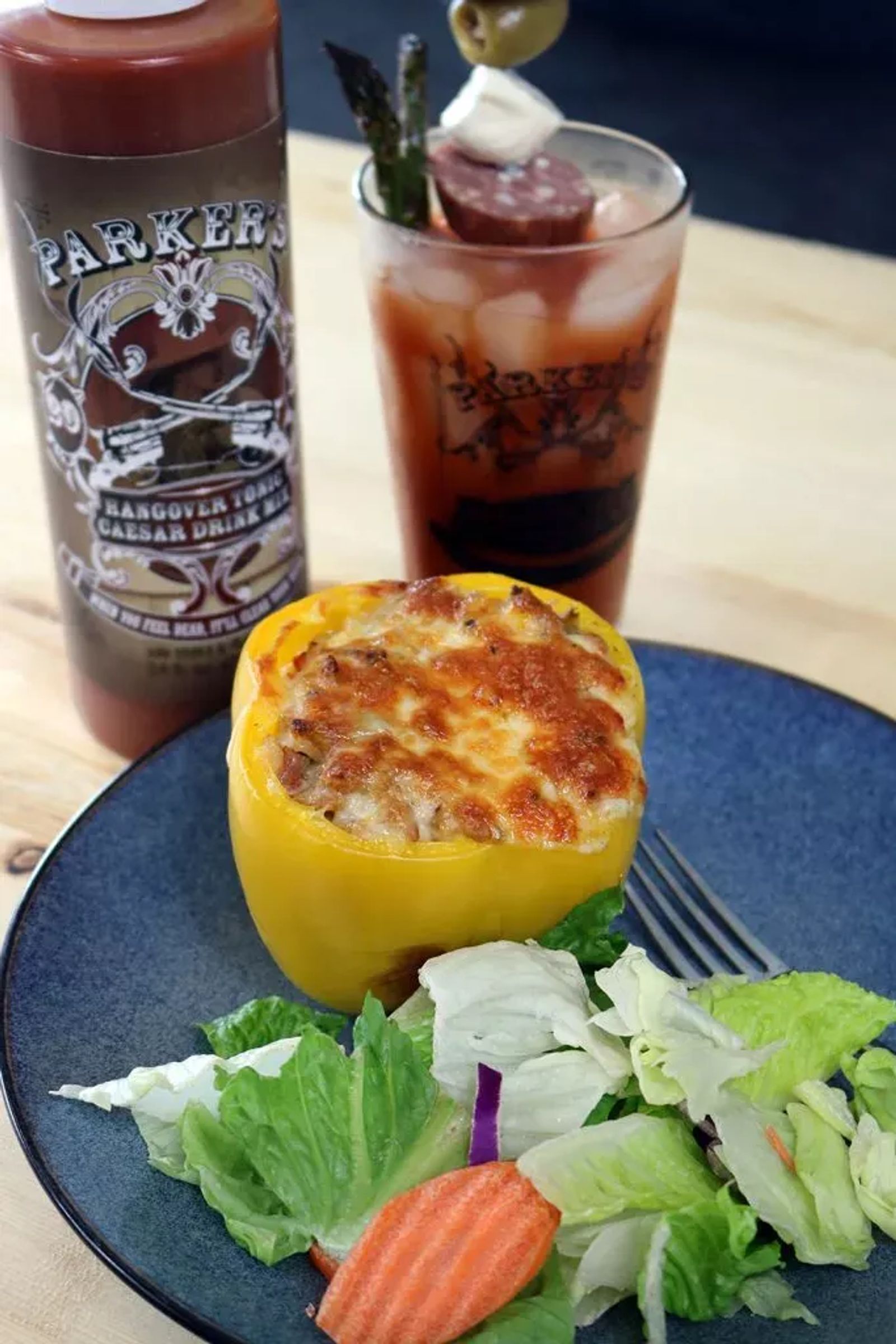 I've eaten plenty of stuffed peppers in my day and absolutely none of them have tasted this delicious!
(Sorry mom!)

The parmesan and heavy cream make this recipe's "stuffing" crazy yummy!
Parker's owner and master mixer, Amy, suggests using this mixture to make an amazing breakfast burrito. She also suggests cutting the entire mixture-filled pepper in half before reheating. She says this ensures a thorough reheating without burning the outside mixture in an attempt to heat the cold center.
One more suggestion from all of us at Billings365 — don't hesitate to pivot from using the standard green peppers. Amy brought us orange and yellow peppers to try and we absolutely loved their sweet taste!
Make sure to get a bottle (or three) of
Parker's Hangover Tonic, either online or at these locations.
Check out Parker's Hangover Tonic on Facebook for more info about their product.