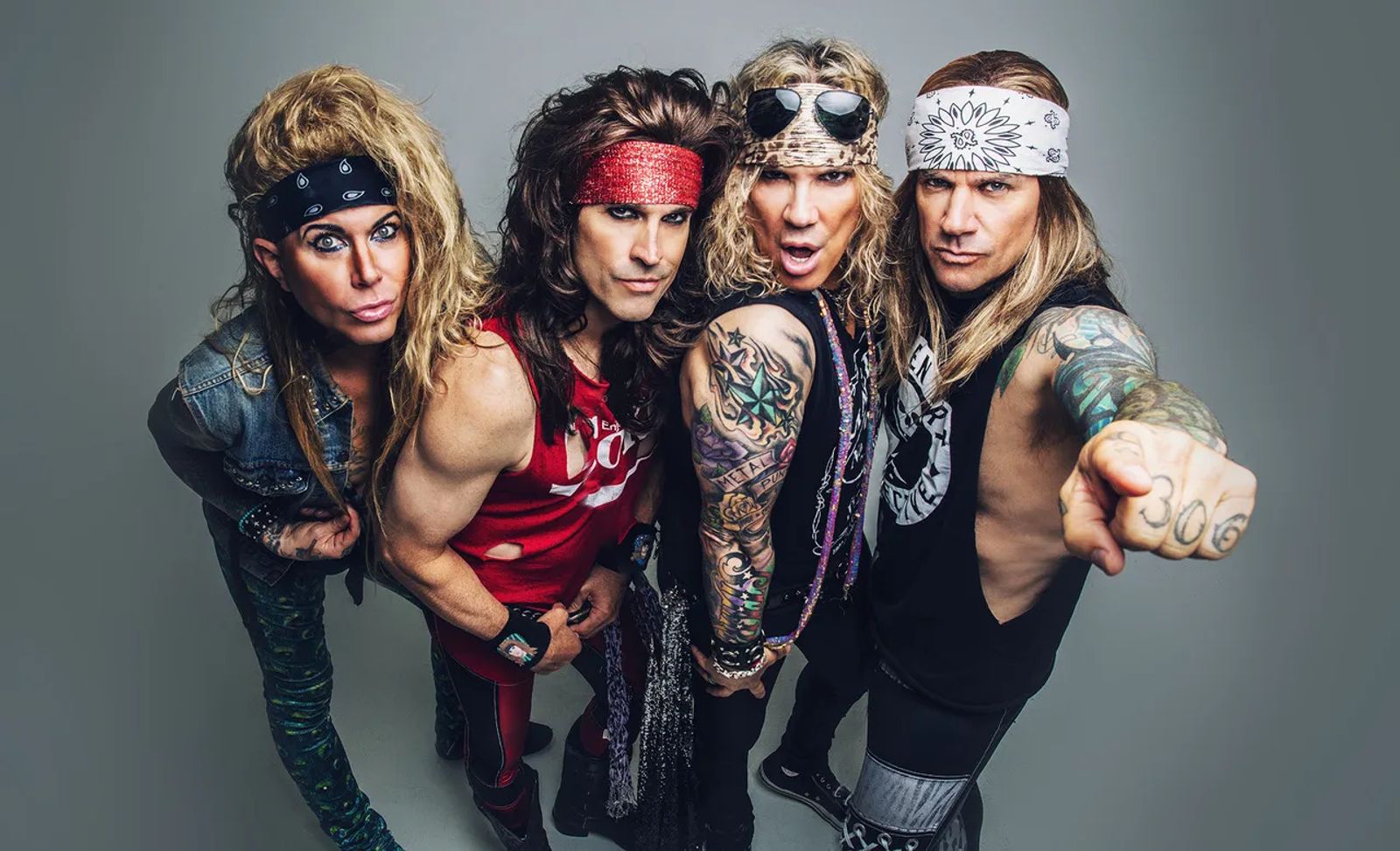 Pub Station Presents Steel Panther – Heavy Metal Rules
As political correctness suffocates and squeezes the last drop of fun from popular culture, four men boldly plant their flag (and maybe another appendage) into the ground in the name of heavy metal…
Now, Steel Panther—Michael Starr [lead vocals], Satchel [lead guitar], Lexxi Foxx [bass], and Stix Zadinia [drums]—have certainly waved the flag for sex, drugs, and metal to the point of keeping this holy trinity alive since emerging in 2000. However, they fulfill (i.e. engorge) this mission to its fullest potential on their fifth full-length, the aptly titled Heavy Metal Rules. The solos screech louder, the vocals soar higher, the drums hit harder, and the bass throbs mightier than ever before.
"You're going to hear something familiar, but you're also going to hear something new," says Michael. "We grew as musicians and as people. The core values stay the same: Heavy Metal Rules and hot chicks are fun."
"Heavy Metal Rules is the perfect phrase to describe how we feel," explains Stix. "It's not just music; it's a lifestyle. We've been able to create an environment for ourselves where nothing is off limits. There are no boundaries. We push it, because we like to push it. In this day and age, people are open to pushing it, because everything is so politically correct. We are the last bastion where you can go if you want to get your freak on. We're the most truthful band on the fucking planet."
The planet continues to welcome them time and time again.
2009's full-length debut, Feel The Steel, brought the balls back to rock as Balls Out let them fly free in 2011 as Nickelback's Chad Kroeger, guitar god Nuno Bettencourt, and Dane Cook joined in on the madness. Three years later, All You Can Eat arrived to a 4-out-of-5K review from KERRANG! and kudos from Slipknot and Stone Sour frontman Corey Taylor who described it as "top to bottom so damn good." 2017's Lower The Bar earned praise from Metal Hammer and Classic Rock as the group's cumulative streams surpassed 100 million and views leapt past 100 million by 2019. Along the way, they shook stages alongside everyone from Aerosmith to Alter Bridge and Stone Sour and incited flashing from crowds at Download and countless sold out headline gigs.
In 2019, they hunkered down in Lexxi's mom's garage alongside frequent collaborator and regular producer Jay Ruston [Anthrax, Stone Sour] to cut Heavy Metal Rules.
"I can't play what Satchel does, so we got a fucking Bitchin' studio musician to do the bass," states Lexxi. "The studio musician killed it. We had one of my strongest photo shoots, because I had some Botox and got my highlights done right before. I'm still staying with my mom. If this goes well, I'll be able to get my own apartment."
"The lead guitar is really in-your-face," adds Satchel. "We left out a lot of the rhythm guitar. It's easier to hear the solos. They don't suck either."
"What Jay got out of the record sonically is our best," Stix elaborates. "There are hooks all over it. It's the perfect Steel Panther album."
Look no further than the first single "All I Wanna Do Is Fuck (Myself Tonight)." A thick beat gives way to a gang vocal backed by heavy riffs and a message of self-empowerment…
"You want to fuck yourself, because you can't find anybody hotter," the frontman goes on. "When you see a band on stage, the first thing you notice is what they're wearing or what they look like. If you're getting ready, you want to make sure chicks want to fuck you, but you want to fuck yourself. Once people are attracted by the look, they get trapped by the fucking infectious music of our songs. Looks are the most important thing. It's what's on the outside that really matters."
Acoustic guitar builds towards a lovelorn lamentation on "Always Gonna Be A Ho," which, as Michael Puts it, "Is about this one chick who had a problem fucking everybody I know" He adds, "All of the guys in the band are attracted to strippers, because we basically have the same lifestyle. We perform for people who want to fuck us, but we also do it for the love of fucking being on stage. Girls just want to get laid too. Some girls say, 'Oh, Steel Panther are a bunch of whores.' Well, the reality is so are you!"
The thunderous climax on "Gods of Pussy" details the burden of "getting as much pussy as Steel Panther gets." Meanwhile, "Fuck Everybody" rails against injustices of "some dick going 20 miles in the fast lane" or "having to wait at Starbucks."
"Heavy metal rules," reiterates Stix. "You don't like it. Suck my dick."
If things keep going as well as they are, you'll have to get in line…
"We're going to write about sex, drugs, and all of the Bitchin' shit from the 80s we love," Satchel leaves off. "It's a great feeling to be in this band. We have a blast. We love each other. We've been through a lot together. We'll keep on rocking until one us breaks a hip or some shit."
"We really do love heavy metal and performing," Michael concludes. "We're going to fucking conquer the world the Steel Panther way. Heavy metal is coming back. Pretty soon, everyone's going to have long hair and wear spandex."
"Can I just say we all look fantastic as well?" interrupts Lexxi (as everyone else leaves). "We're doing our part to bring heavy metal to the messes. Do some occasional drugs to keep yourself okay on the inside, fuck as much as possible, and oh yeah, Heavy Metal Rules."
Tickets available at thepubstation.com, Pub Station Box Office (2502 First Avenue North), or by calling (919) 653 - 0443
Pub Station Presents Steel Panther – Heavy Metal Rules
Wednesday, May 6, 2020
1:00 AM— 4:00 AMUTC