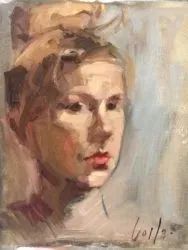 Oil Paint a Self Portrait with Coila Evans @ The Yellowstone Art Museum
// 10:00-4:00 // 12 spaces
Cost: Members $60.00   Non-members $80.00
Complete supply kit costs $128.00 and needs to be ordered through John Armstrong at Q's Art & Frame Shop by January 12, 2019, 406-248-1102 or qsartshop@gmail.com.
Experience with drawing and oil paints recommended

Learn to paint the self-portrait with a limited palette, referencing photos from a phone, tablet or iPad. Class will include demonstrations to explain the process of painting a self-portrait.
When not painting, Coila is busy running her gallery in Roundup, MT. She was recently recognized by the Portrait Society of America for her piece "Portrait of a Family Man."
If you are having problems registering on online please call the Front Desk, 256-6804, Tuesday-Sunday, to register.
Dates and Times
Saturday, January 26, 2019 – 10:00 AM to 4:00 PM