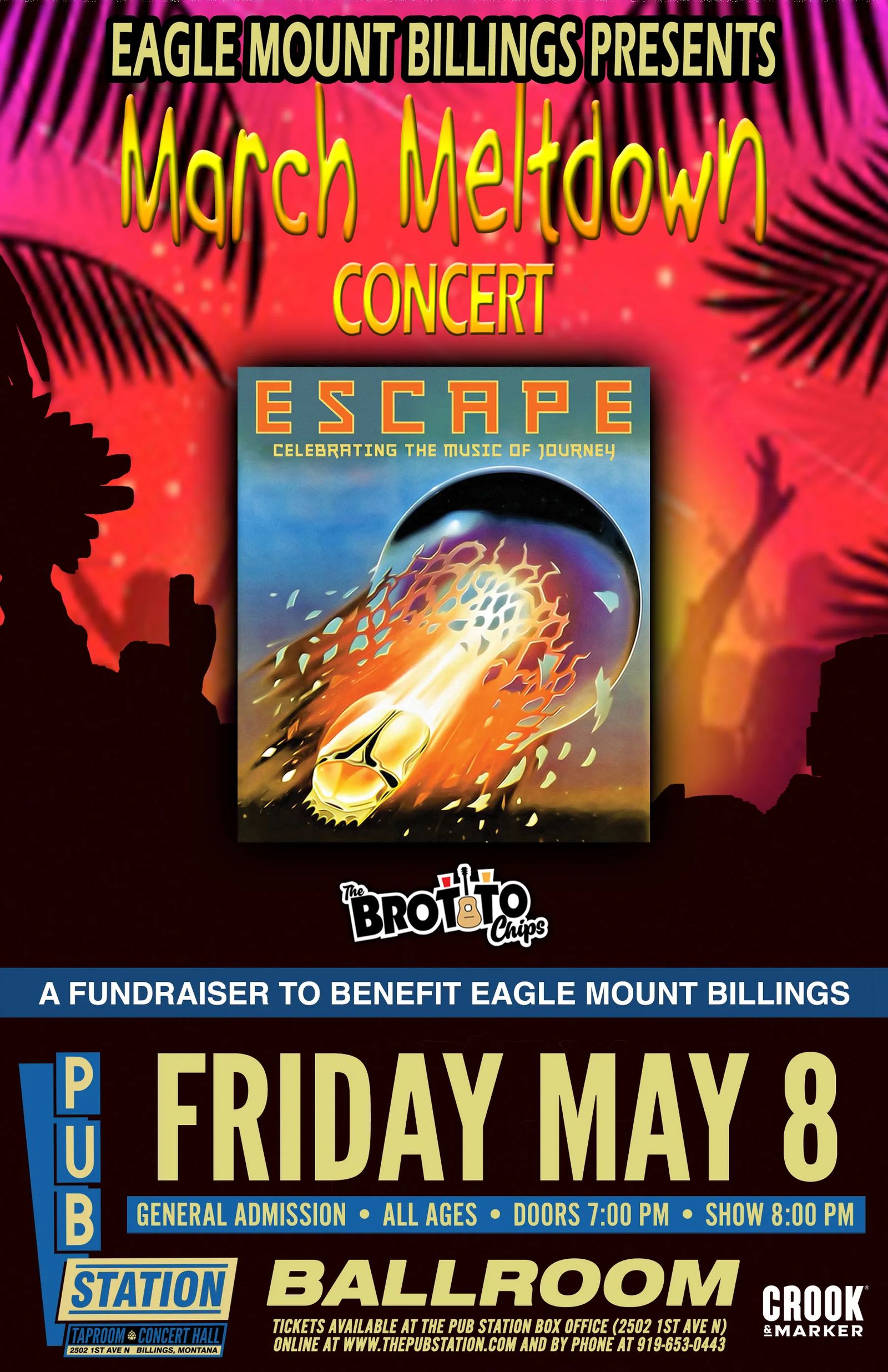 Eagle Mount Billings Presents Eagle Mount March Meltdown – Featuring Escape (Celebrating the Music of Journey)
All proceeds to benefit Eagle Mount Billings.
Escape (Celebrating the Music of Journey)
A Billings-based celebration of the music of Journey.
About Eagle Mount
In 1982, Retired Air Force four-star General Robert Mathis and his wife Greta had a vision of providing recreational activities for people with disabilities. By 1983, they had the support needed to start a ski program in Bozeman, Montana. They began the I Am Third Foundation and then incorporated Eagle Mount as a nonprofit organization. People with disabilities from all over the state went to Bozeman to enjoy the freedom of skiing.
Eagle Mount expanded to Billings in 1988. The first year, 49 individuals from the Billings area skied in the Eagle Ski program. Eagle Mount Billings operated under the nonprofit umbrella of Eagle Mount in Bozeman until 1997 when Eagle Mount Billings was incorporated as a separate nonprofit organization.
Eagle Mount Billings' mission is to provide opportunities in recreation to enhance the lives of children and adults with disabilities. Since 1989, Eagle Mount Billings has added a number of programs including: arts and crafts, bicycling, day camp, equestrian, golf, skiing, social night, swimming, and walking. Our programs are designed, provided and supervised to maximize fun, learning, recreation and safety for individuals with disabilities.
In providing these recreational opportunities, Eagle Mount strives to improve the quality of life both socially and physically for individuals with disabilities. Each participant is encouraged to learn an activity, go out in the community, and participate with able-bodied individuals. Individuals with severe disabilities will always need some assistance and Eagle Mount remains a viable option for these individuals to continue to participate in recreational activities. Eagle Mount serves individuals with autism, Down syndrome, developmental disabilities, cerebral palsy, Spina bifida, muscular dystrophy, multiple sclerosis, paraplegia, quadriplegia, visual impairments, and traumatic brain injuries just to name a few.
Our programs feature adaptive equipment for use by our participants and volunteers. In fact, for many of our participants the assistance of adaptive equipment is the only way they are able to participate in recreational activities. We are fortunate to have several volunteers that have disabilities themselves that teach our participants how to utilize our adaptive equipment. These individuals are some of the most powerful teachers because the participant can look up to them for guidance on the technical aspects of the equipment they are using as well as being able to see the 'can do' attitude they exude. Adaptive equipment is used in our ski, golf, swim, equestrian, bike and other programs where we have smaller, yet helpful devices to accommodate individuals so they can more fully participate in the recreational activities we offer. At Eagle Mount, we accommodate as many individuals with disabilities as we can with the resources that we have.
Eagle Mount programs provide a wide variety of experiences for participants, including recreation, volunteer activities and social events. Those with disabilities acquire skills while gaining friendships and developing positive leisure time interests. While Eagle Mount's programs provide recreational activities as the core purpose, the side benefits of participation include increased learning, skill development, self-esteem building, increased self-confidence, development of friendships with others in a social environment, a strong feeling of belonging and the opportunity to have fun in a safe environment supervised by caring, experienced staff and volunteers.
Tickets available at thepubstation.com, Pub Station Box Office (2502 First Avenue North), or by calling (919) 653 - 0443
Eagle Mount Billings Presents Eagle Mount March Meltdown – Featuring Escape (Celebrating the Music of Journey)
Saturday, May 9, 2020
1:00 AM— 4:00 AMUTC