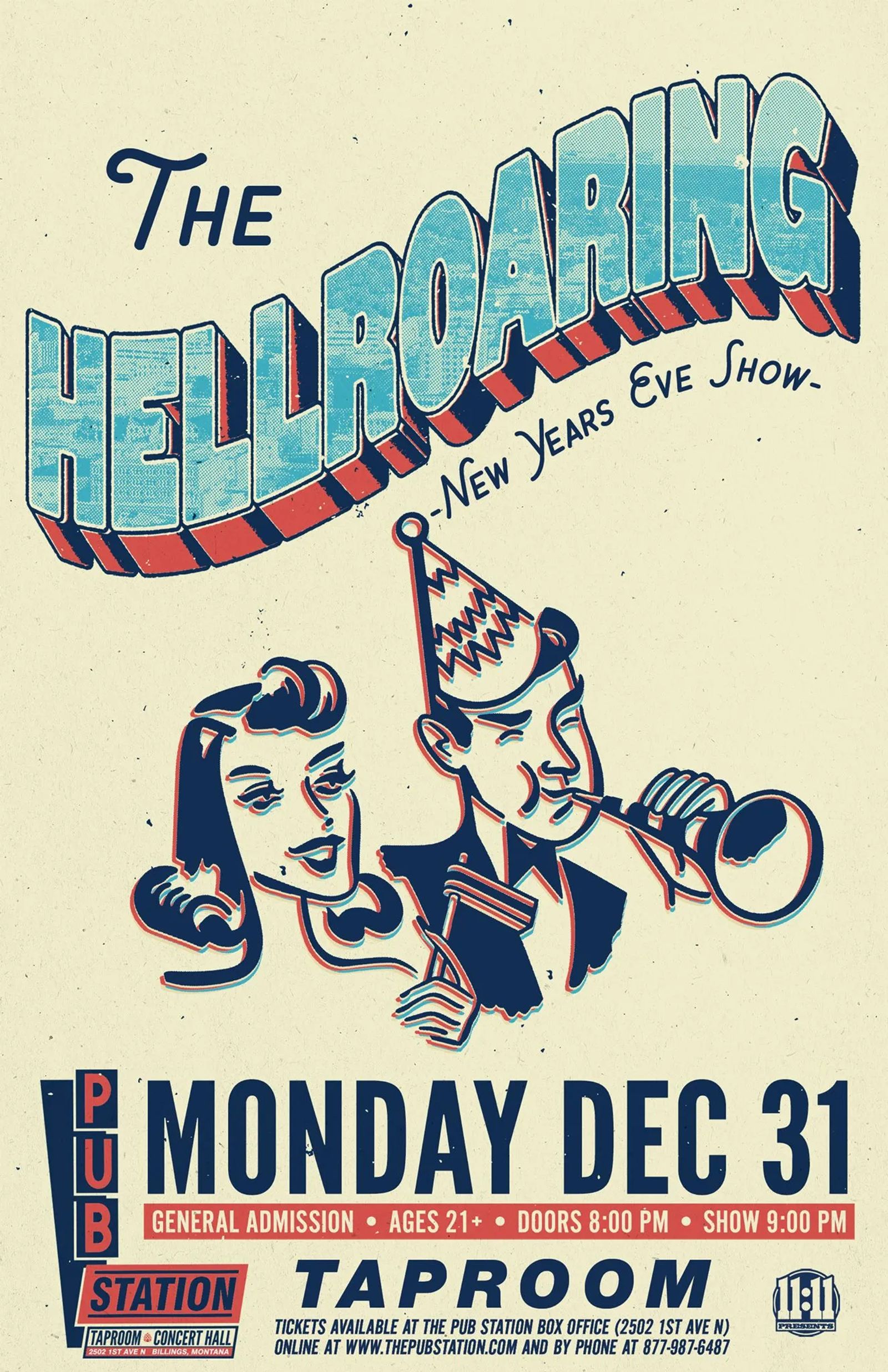 New Years Eve Show: The Hellroaring at The Pub Station
21+/General Admission
8PM Doors/9PM Show
Tickets available at:
• Pub Station Box Office…2502 First Avenue North(on the 25th Street side of the building)…Billings, MT (Mon-Fri 9AM to 5PM)
• Pub Station…2502 First Avenue North…Billings, MT (Mon-Sat 4PM to close)
• 1-877-987-6487
********************
The Hellroaring is an alt/outlaw country band based out of Billings, MT. Composed of some of the region's best musicians, the band brings an edge to whatever they're playing, whether that be a Haggard standard or a Zac Brown tune or a fresh original. Though much of the band specializes in anything but country, all the members come from Montana or Wyoming and have harbored a liking of the genre like it was an old stash of whiskey. Finding a lead singer in workin' man/country music connoisseur Nick Kozub, the group decided to do what any self-respecting group of country men would do--rig up a band. Personnel in the band includes Erik Olson (keys), Parker Brown (auxiliary/lead guitar), Keller Paulson (drums), Ryan Riley (rhythm guitar), and Phillip Griffin (bass). Despite having only played a slew of shows, the band's firepower in terms of personnel and musical prowess has proven fruitful: The Hellroaring have already packed out YVBC, landed a gig at the area's truest-bluest country party, Homesteader Days, and held a spot at Billings' favorite after-work shindig, Alive After 5. In a town lacking a spankin' alt-country band, The Hellroaring found their niche. The Hellroaring are currently recording an album of original tunes and plan to continue to provide a down-home rumble to the Billings scene.
Test Event
Tuesday, January 1, 2030
5:00 PM— 12:00 AMUTC