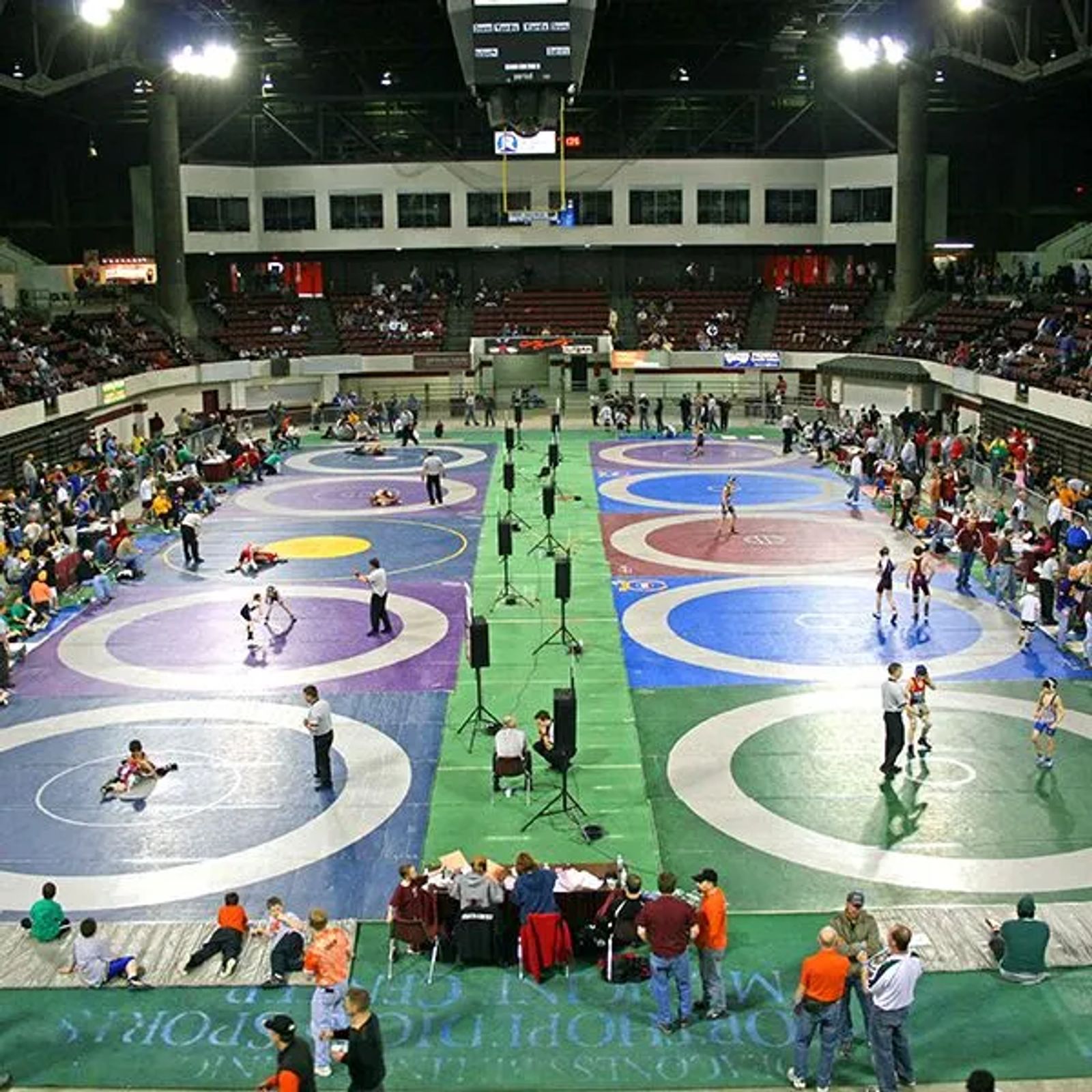 Montana Open Wrestling at MetraPark
FORMAT/RULES:
NO USA OR AAU REQUIRED TO PARTICIPATE!!!
Folkstyle double elimination tournament – True second place
Modified Montana High School Association Rules
Hair code and fingernails will be enforced by referee
Headgear is optional
Double bracketing is allowed but not both in same age group
**ALL REFEREE DECISIONS ARE FINAL**
Girls divisions have been added. Divisions will be determined based on participation.
TIME PERIODS:
6 & Under / 8 & Under 1-1-1
10, 12, and 15 & Under 1 ½ - 1 ½ - 1 ½
18 & Under 2-2-2
**All consolation rounds will be wrestled with 1 minute rounds. Overtime is 1 minute with 30 second tie breaker rounds if needed.
**18&U consolation rounds will be 1 minute first round with 2 minute rounds thereafter. Overtime is as listed above
AWARDS:
1st: Bison Skull, 2nd - 6th places finishers receive
medals. Team trophies for small, medium, and large teams
REGISTRATION/WEIGH-IN:
***ON SITE REGISTRATION WILL BE FRIDAY NIGHT ONLY***
Pre-registration available at www.trackwrestling.com.
Registration and weigh-in will be held at the First Interstate Arena from 5:30pm to 8:00pm Friday night only. Absolutely NO late registration or weigh-in will be permitted as this is a bout system tournament with assigned mat numbers and bout numbers.
Bring: Mandatory Liability Waiver, copy of state-issued birth certificate, singlet.
The ½ pound rule will be in effect for this tournament. Once in the weigh-in area, wrestlers will be allowed to cut weight only if they are within ½ pound. Check scales will be available.
Wrestlers must make weight in their singlets.
**NOTE - A copy of a state-issued birth certificate is required at registration. Additionally, the 18 & Under age group applies to high school eligible wrestlers. A current report card may be requested by tournament director(s) in case of protest.
Wrestlers are allowed to double bracket. However, the second bracket must be in the next older age group. Wrestlers who do this waive their right to any rest time between matches.
TOURNAMENT SCHEDULE:
Friday, March 27th – Registration & Weigh-In from 5:30pm – 9:00pm
Saturday, March 28th – Doors open at 7:00am. Opening ceremonies will begin at 8:30am with wrestling beginning immediately after. Wrestling will conclude at 8:30pm
Sunday, March 29th – Doors open at 8:00am. Wrestling begins at 9:00am
**These times are subject to change**
ENTRY FEES: www.trackwrestling.com
All Wrestlers - $25.00 Entry Fee Online
Lorem $30.00 Onsite
ADMISSION:
Adults - $20.00 2-day pass or $12.00 per day
Students - $10.00 2-day pass or $6.00 per day
Children 4 and under are free.
CONCESSIONS:
Concessions will available throughout the tournament. Per MetraPark rules, there will be no food, drink, or coolers allowed into the building.
COACHES' PASSES:
Coaches' passes will be available for purchase at registration. Passes will be $40.00 per coach which includes access to the hospitality room. Food and drinks will be served throughout the tournament and will be available with a valid coaches' pass.
Coaches' passes cover gate admission, hospitality room, and coaching privileges.
Clubs will be reimbursed 1 pass for every 7 wrestlers attending the tournament. Passes will be reimbursed at $35.00 per pass. The remaining $5.00 goes to the hospitality room.
COACHES' MEETING: Saturday Morning 8:00a.m. Location to Be Announced
GENERAL INFORMATION:
This tournament will be run using a true bout system with assigned mats. It will be important to communicate this to the younger wrestlers and parents that have not been around a bout system. Wrestlers will be assigned to a mat and they will wrestle on that mat all day.