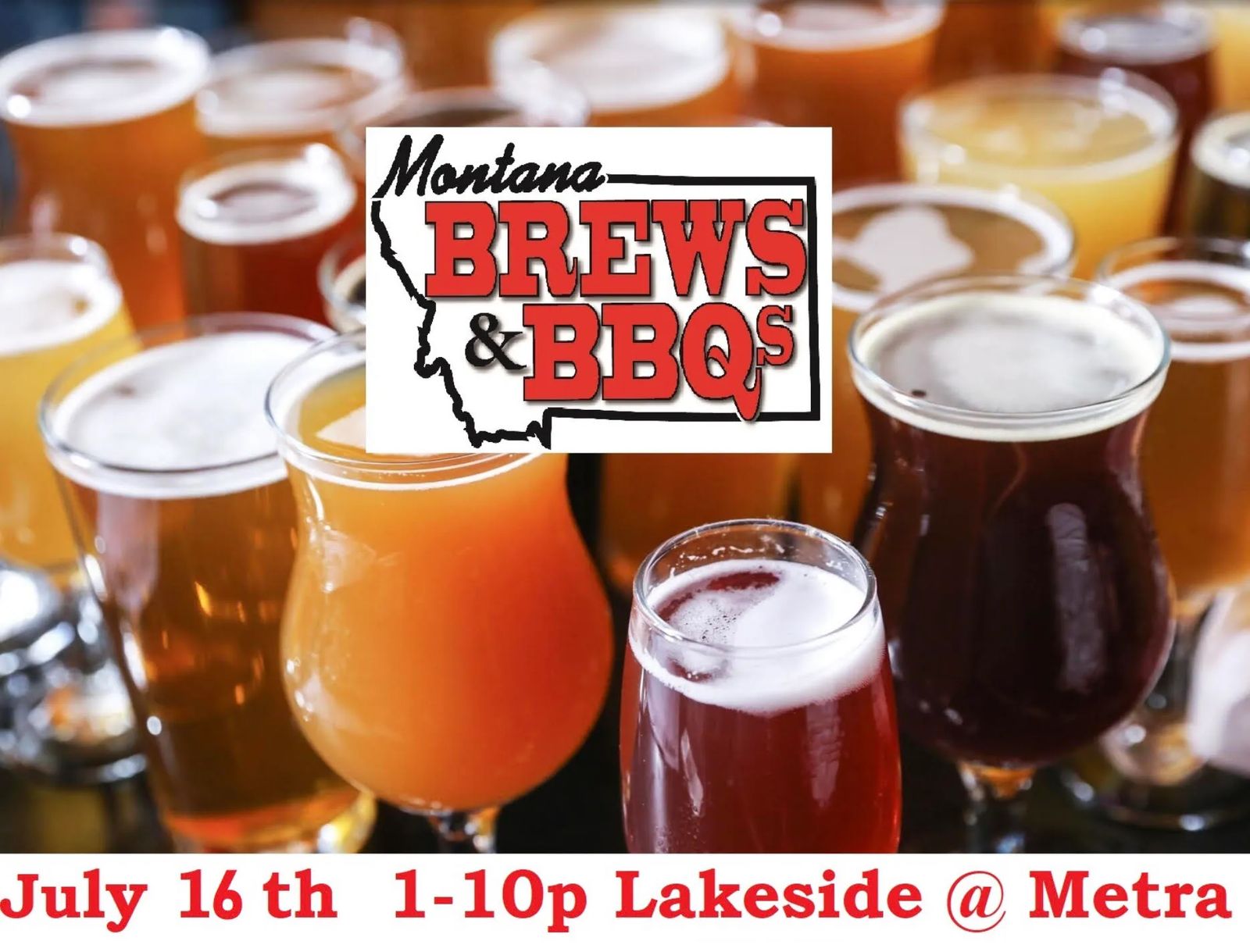 MONTANA BREWS & BBQ
jul 16, 2022 at 1:00-10:00 PM
In its 12th Year the Montana Brews and BBQs has developed a reputation as an authentic brewfest that supports, and showcases, local.
2000 Miles of Montana Beer – Lakeside @ Metrapark July 16th
There is a sense of pride that goes along with being a Montanan. We work hard, play hard, and we enjoy the reputation for the quality in both. In Montana, the craft brewing industry is thriving. What was once considered "bud light or coors light?" has been replaced with a diversity and complexity that is as much science as it is enjoyment. Two thousand miles and thirty days. That's what it would take you to travel the breweries that are represented at this year's MT Brews & BBQ. We are proud to say that this year's MT Brews & BBQ will feature almost 70 flavors representing breweries that hail from every corner of the treasure state, but only, and exclusively, from the 406. It allows our community to delight in breweries, and communities that, without this event, them may not ever be able to experience. Local brewers showcase seasonal creations and beers brewed specifically for this event. By doing so, this event is the only place some of these beers can be experienced. As much as it is about the beer, it allows for our community to immerse themselves in the 406 subcultures that surround each brewery and help define the flavors that they develop for each of their communities. By experiencing these Montana subcultures and the products, especially craft beers, representing them allows us all to further our understanding, and find the heart behind, what it means to be from and to strengthen our bond as Montanans. Come early as we will have specialty flavors you cannot find anywhere else in town. But like all specialty beers, their quantities are limited so come early and experience the diversity of beer you never knew existed. Exclusively kegged, exclusively Montanan. 'Cause Nothin' Beats an Ice-Cold MT Brew!
Presales
Save Time and Money by visiting a presale! Not only will it guarantee your official 2022 souvenir glass but you can avoid the lines and start having fun now! Your glass and 10 drink tokens for only $20. Runs through (7-15-22).
Conveniently located throughout town:
Heights: Shiptons or Cell Phone Repair / Downtown: Thirsty Street Brewing / Westend: Shiptons or Canyon Creek Brewing
Food Trucks Galore
You know that tingly sensation when slow smoked, hand carved, mouth-watering bbq aroma dances through your nose. You can hear the sizzle as it touches the grill. This year's Montana Brews and BBQs will be a foodies delight! Almost 20 of Billings' Best Food Trucks will present an extravagant variety of cuisine. The food truck assortment is as diverse as the beer! Come for lunch and stay for dinner! Regardless of what makes your mouth water, you will find it, ready to devour.
Live Music
What makes Local Beer and Local Food over the top? Live. Local. Music! Billings sensation D'tective will keep your toe tapping all night long!
Free Beer and More
What's even better than Ice-Cold MT Beer? FREE ICE-COLD MT BEER! We are giving away FREE Beer for a Year courtesy of Uberbrew! (2 pints per week for a continuous 52 weeks). In addition to Free Beer, you can come to the event and meet the brewmasters. Ever wonder how your favorite flavor came to be? Brewmasters will be on hand giving out free gear and happy to engage with a thirsty public.
The Cause
The best part of the event is that all Breakfast Exchange Club proceeds benefit their local community partners!
The 12th annual Montana Brews & BBQ's will take place Saturday, July 16th in the beautiful Lakeside setting at MetraPark. What makes this a true "Brewfest" is that it is outdoors and features only keg beers from Montana. Kegs are used because it offers the purest and freshest beer. It is the only true "Brewfest" in the state. All of the local breweries will be there along with many others from throughout the state. Many of the breweries will showcase seasonal brews typically not available year round.
Hours will be 1:00pm to 10:00pm. Admission is free.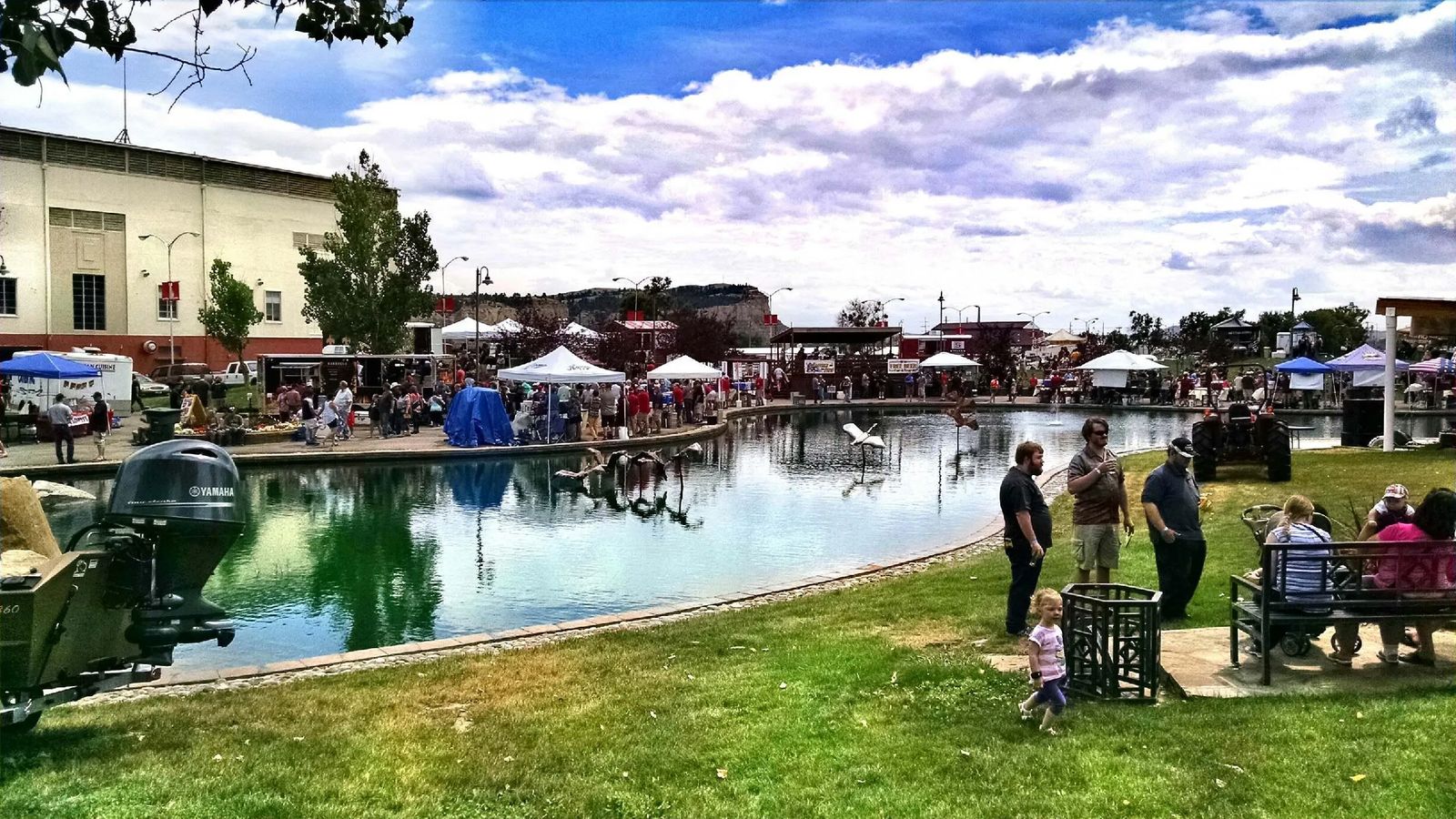 12th Annual MT Brews and BBQ
Lakeside-MetraPark: Exclusively MT made and kegged craft beers - around the lake at MetraPark
Exclusive Presale Opportunity
Includes Official Event Glass & 10 beer tokens for only $20
Presale Locations :
Downtown - Thirsty Street (Both Locations), Westend – Canyon Creek Brewing, Shiptons Big R, Heights – CPR(Cell Phone Repair), Shiptons Big R
Event Glass/Tokens Available all Day at Event - $25
Live Music – D'tective
True Brewfest – 80 Flavors-all MT Brewed kegs, outside, with live music
Meet the brewmasters – Brewers on hand!
Come early- seasonal and event only flavors-limited supply.
Win Beer for a Year courtesy Uberbrew
20 Billings Best Food trucks. Wide variety of BBQ and Ethnic Foods.
(406 Wings, Big Sky Acai, Blue Moose BBQ, Cannoli Bliss, Cotta Catering, Double Barrel BBQ, Funnel of Love,
Grindy's Cheeseballs, Honey Bee Lemonade, It's Roasted, Little Em's Pork Rinds, Montana Melt, OPA Grill,
Oriental Express, Parker's Hangover Tonic, Rollin Ritos, Taste of Asia, The Corn Dog, Co., The Rocky Fork Eatery,
Wagon Wheel Kettlecorn) *Subject to Change
Free Admission/Free Parking
Would take 2000 mile road trip to visit all MT Breweries on hand.
Benefitting The Breakfast Exchange Club Community Partners
Local Beer- Local Food- Local Music- Great Fun
Airconditioned Interior Restrooms (no stinky porta potty's)
…..Cause Nothin' Beats an Ice Cold Montana Brew!!