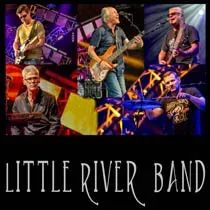 Little River Band at the Alberta Bair Theater
Multi-Platinum Artists
The Eagles founding member, the late Glenn Frey, knew what he was saying when he dubbed Little River Band "the best singing band in the world."
Through the '70s and '80s, LRB enjoyed huge chart success with multi-platinum albums and chart topping hits like: "Reminiscing," "Cool Change," "Lonesome Loser," "The Night Owls," "Take It Easy On Me," "Help Is on Its Way," "Happy Anniversary," "We Two," "Man On Your Mind," "The Other Guy," and "It's A Long Way There."
Worldwide album, CD sales and digital downloads now top 30 million and LRB has set a record for having had Top 10 hits for 6 consecutive years; In fact, they were the very first band to achieve that remarkable status! According to BMI, "Reminiscing" has garnered rare status with over 5 million airplays on American radio, and "Lady" is close behind with over 4 million airplays.
Bassist/vocalist Wayne Nelson joined the band in 1980. Working alongside the founding members on stage and in the studio, he added his voice to the distinctive harmonies that create the unique LRB sound. In 1981, Nelson's voice was recognized by world renowned Beatles producer Sir George Martin while working on the Time Exposure album. Wayne was chosen to record lead vocals on two of the band's biggest hits, "The Night Owls" and "Take It Easy On Me."
Later that same year, guitarist extraordinaire Stephen Housden joined LRB bringing a rock element into the band's sound and helped contribute to their string of Top 10 hits. As band members departed, both Housden and Nelson worked together to bring LRB into the new millennium.
Currently the band's lead singer, Nelson has contributed his vocal and bass guitar talents to 22 Little River Band Albums/CDs. LRB continues to perform to sold out audiences, and Stephen Housden continues to write and participate in all things Little River Band.
In 2004 LRB was inducted into the Australian Recording Industry Association Hall of Fame at the 18th Annual ARIA Music Awards.
Turning the page brings us to the current lineup of Little River Band.
Keyboardist Chris Marion is a Dove Award winning producer. Chris is the creator of all the orchestral arrangements and charts on The Big Box. It is amazing to watch him play, sing, and conduct from his riser!
Lead Guitarist Rich Herring is a highly skilled player, singer, and producer of many Nashville artists, not to mention a great songwriter. He and Wayne have co-produced every LRB project since he joined the band.
Drummer Ryan Ricks has locked down the rhythm section, and rounds out the vocals with his incredible range. Great singing drummers are rare, and LRB is lucky to have Ryan as part of that all-important vocal blend.
Nashville Guitarist Colin Whinnery plays rhythm and lead guitar, and shares lead vocal duties with Wayne. He brings a brand new voice and a fresh outlook to the rhythm section.
Dates and Times
Wednesday, September 26, 2018 – 7:30 PM