How to Fish for Salmon in Deadman's Basin
How to Fish for Salmon in Deadman's Basin
originally posted December 2013
One of the great fishing areas near Billings is just over an hour north of here.  This man-made reservoir is the home to many different kinds of fish, but some of the most fun to catch are the Kokanee salmon that make the lake their home.  Getting the right setup is the tricky part to catching the salmon, so before you go, let me tell you how it is done.
Ice Shelter
If you do not have an ice shelter, you will definitely need one.  The purpose of it is two-fold.  First of all, a shelter will help keep you out of the elements and let you stay warm in the dead of winter.  This is essential especially when the wind is whipping across the lake and freezing your face off.  You can get inside your ice hut, out of the wind and next to a portable propane heater (when I was up there today it was about 10 degrees outside but we were fishing in t-shirts).  Your shelter does not need to be fancy, and even an old tent with the floor cut out will work.  Keeping you warm is one thing, but the real reason you will want a shelter is to help darken the area above your ice hole.  You will want to be able to see down into the water so that you can see when the salmon are close to your hook.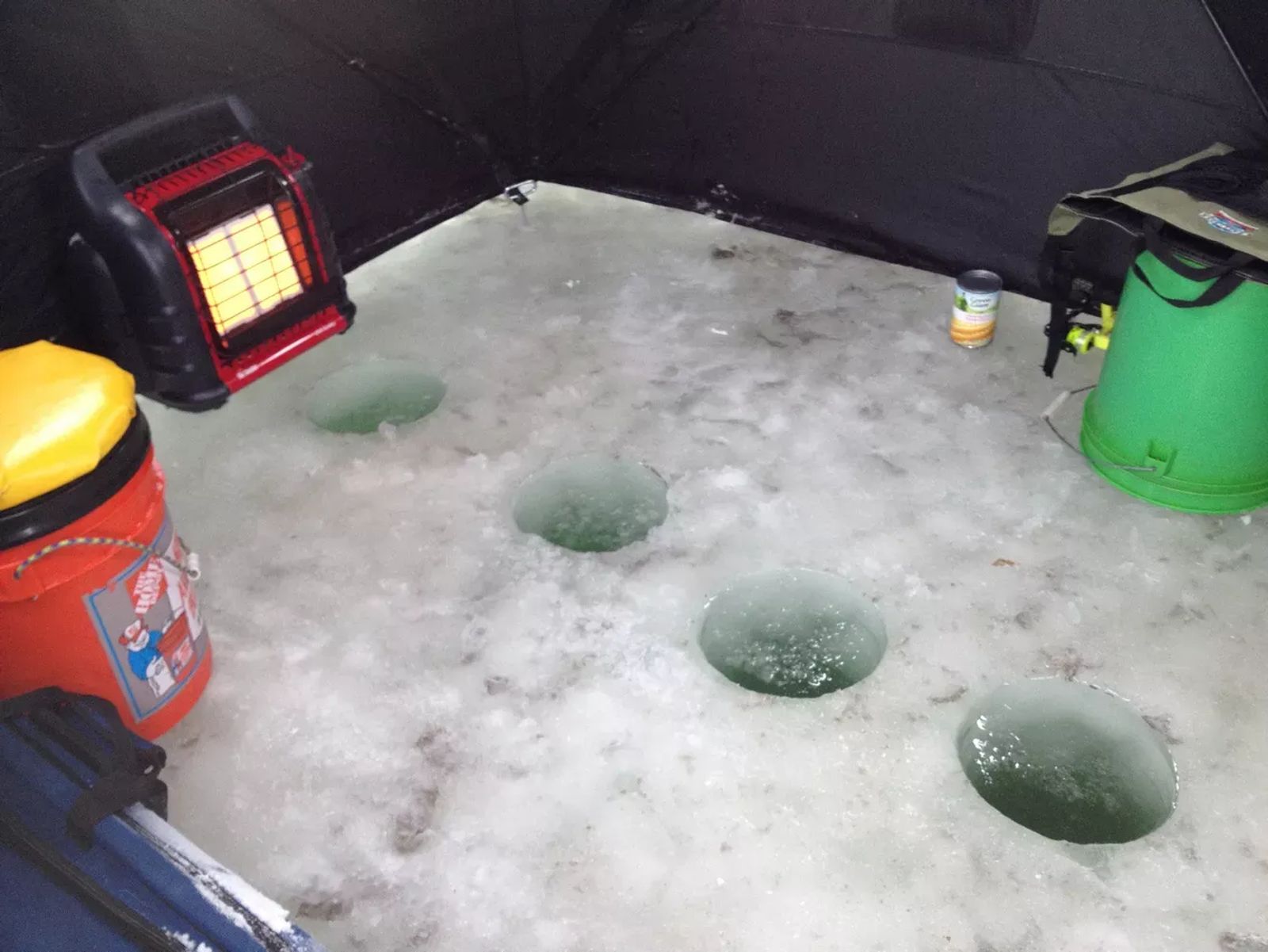 Seeing the fish
Because you will need to see the fish, you want to be fishing in about 3 to 6 feet of water.  At this depth you can clearly see the bottom of the lake, and the light will permeate all the way down there.  You may be wondering why you want to see the fish, and the answer is simple: you don't catch salmon the traditional way; you snag them.  You see, salmon tend to be rather finicky eaters.  You can drop a hook down with a piece of worm, a maggot, or a bite of shrimp on there.  The salmon may take it, but more often than not they will just bump into it.  By using a snag hook, like the one pictured below, you can jerk the line up and snag the salmon when they come to check out what is going on.  Don't worry it is completely legal, and it is actually the preferred way to catch these fish.  Kokanee in Deadman's aren't the great big salmon people catch off the coast, they average about 14 inches long and are around one pound.  But the daily limit in Deadman's is 35 (70 in possession), so you can go crazy pulling them out of the water.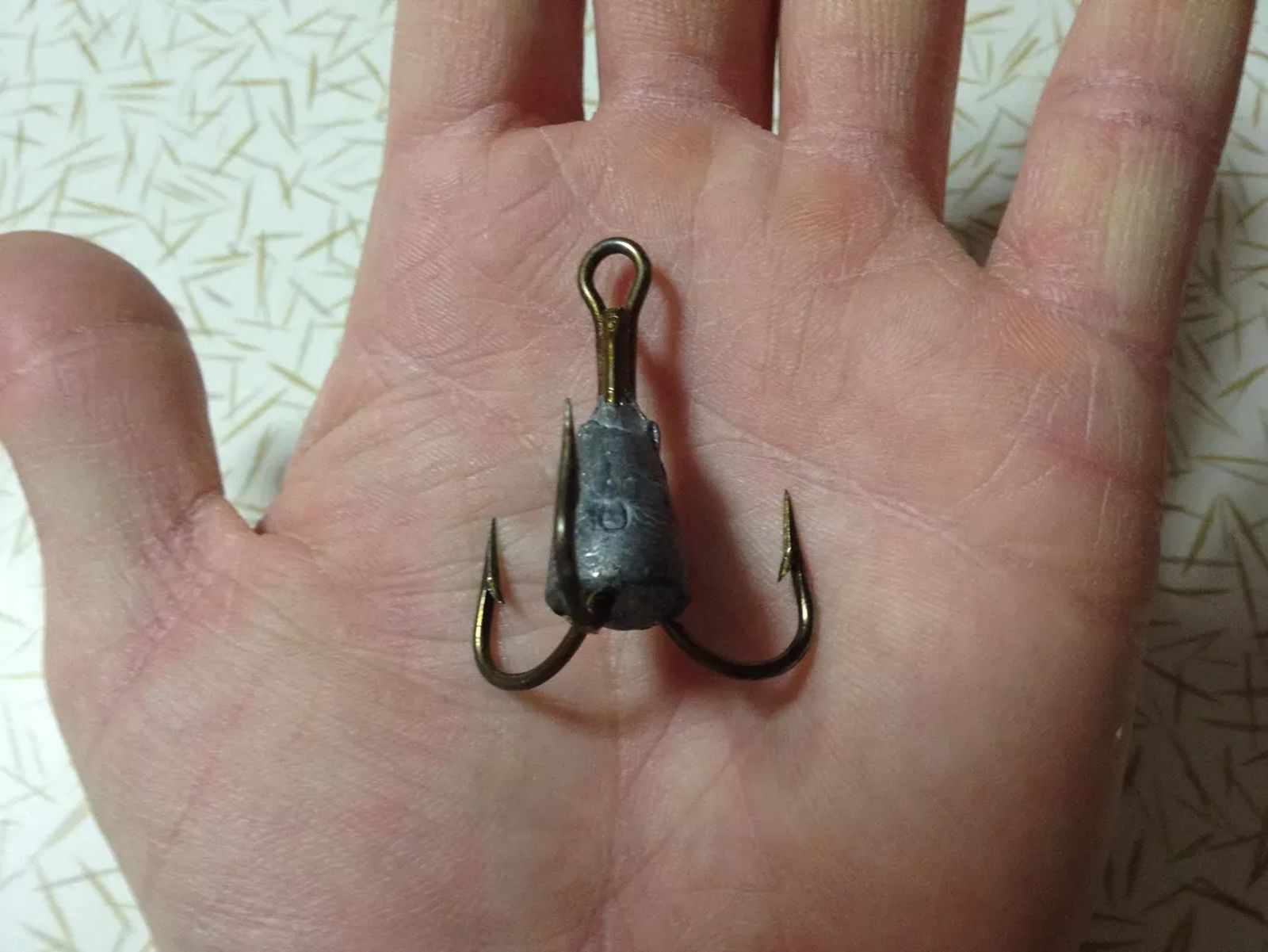 Time to fish
The fish will be coming through nearly all day long, but the best time to catch them is in the morning.  It seems that they are the most active for the first few hours after sunup, and then they will slow down a bit.  This doesn't mean you can't stick around all day, but if you want to catch a few first thing in the morning, and then head back to town, nobody will blame you.  Keep in mind that the time of year matters too.  And it is getting toward the end of the best time to fish for salmon.  These fish spawn as the waters get cold, and when the lake first freezes over is actually the best time to get out there and see what you can pull up.  Through December and into the first part of January the fish will be active, however, they will start to slow down as winter wears on.  So if you want to catch some salmon, you have a couple more weeks of good fishing.
I had to learn to fish for salmon by trial and error.  In fact, the first time I tried at Deadman's Basin all we caught was a single sucker fish.  The rest of the time we just froze our extremities off.  If you want to snag a few of these fish that taste great, just follow the key points that I have outlined for you.  It's pretty easy to do, and when you get into a school of them it is really exciting.  Just make sure that you have prepared for winter and have plenty of warm clothes; follow all the legal rules around fishing, and leave a comment if you do make it out there and have good luck.

by Scott Sery
Scott is a writer, outdoor enthusiast, beer snob, and woodworker. When he is not out exploring all of the wonders around Billings, he loves to sit down for a frosty brew at one of the many great breweries we have available to us. You can read about most of his adventures, and many of the fine brews he has sipped right here. Find out more about Scott at ScottSery.com