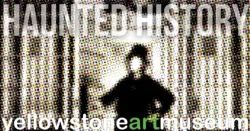 Haunted History Ghost Tour
Did you know that the YAM is a certified haunted building by Black Mountain Paranormal Research?
The YAM will once again be hosting Haunted Museum Tours every Thursday in October.
This is your only chance throughout the entire year to catch a glimpse of the original jail cells, solitary confinement, and the areas in which the original gallows were built. Come learn about the YAM's history as Billings first county jail. Tour intensity varies with group age.
Availability is limited and must be paid for in advance. No children under five. Admission is $15 for not-yet-members and free for members. Tour times are 6-7 p.m. and 7-8 p.m. Call 406-256-6804 or stop in during regular business hours to book your time slot.
Dates and Times
Thursday, October 3, 2019 – 6:00 PM to 7:00 PM
Thursday, October 3, 2019 – 7:00 PM to 8:00 PM
Thursday, October 10, 2019 – 6:00 PM to 7:00 PM
Thursday, October 10, 2019 – 7:00 PM to 8:00 PM
Thursday, October 17, 2019 – 6:00 PM to 7:00 PM
Thursday, October 17, 2019 – 7:00 PM to 8:00 PM
Thursday, October 24, 2019 – 6:00 PM to 7:00 PM
Thursday, October 24, 2019 – 7:00 PM to 8:00 PM
Thursday, October 31, 2019 – 6:00 PM to 7:00 PM
Thursday, October 31, 2019 – 7:00 PM to 8:00 PM