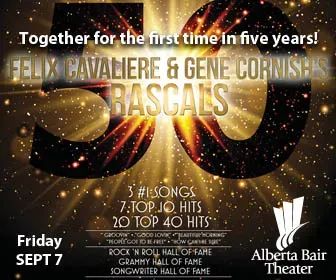 Felix Cavaliere & Gene Cornish's RASCALS at the Alberta Bair
Three #1 Hits Grammy Awarded
Two legendary founders of The Rascals are teaming up for the first time in five years - Felix Cavaliere and Gene Cornish cite the fans and love of their timeless songs as reasons for collaboration. Rock & Roll Hall of Fame Inductees, Grammy Hall of Fame, Vocal Group Hall of Fame members and Songwriter Hall of Fame, The Rascals are widely considered the best 'blue-eyed soul' group to come out of the 1960s and their music the soundtrack of a generation. The Rascals have 17 Top 20 hits, seven Top 10 hits, and three No. 1 hits that include "Groovin'," "People Got To Be Free" and "Good Lovin'."
"I had an epiphany while performing in Hawaii last year," Cavaliere said. "It's not about me - it's about the fans. It's about the music. I spoke with Gene and he agreed that we can't take any of this for granted anymore."
Cornish, who first worked with Cavaliere and future Rascals singer, Eddie Brigati, in Joey Dee & The Starlighters in 1964, echoed Cavaliere's feelings.
"There's something magical that happens when we're on stage together," Cornish said. "We're going to celebrate these songs for as long as the fans allow us to and give the fans a chance to see us perform live."
Joining them on this new journey is hall of fame drummer, Carmine Appice. The Brooklyn-born iconic drummer's resume includes Vanilla Fudge, Cactus, Rod Stewart, Beck Bogert & Appice, Ozzy Osbourne and Pink Floyd.
"Gene and I both thought there's no way we can replace our brother Eddie, and Dino expressed that he didn't want to do it," Cavaliere said. "We both thought of Carmine at the same time."
During his first phone call with Cornish, Appice wasted no time saying "I'm in."
"I grew up watching The Rascals on Ed Sullivan, I'm a huge fan," Appice said. "These songs are the soundtrack to so many peoples' lives. I'm looking forward to sharing the music with life-long Rascals fans, and to new generations of fans."
SHARE
COMING SOON
SEP 07
Felix Cavaliere & Gene Cornish's RASCALS
SEP 22
Billings Symphony presents Tchaikovsky's Violin Concerto
SEP 26
Little River Band
SEP 28
Love Letters
OCT 04
Dates and Times
Friday, September 7, 2018 – 7:30 PM