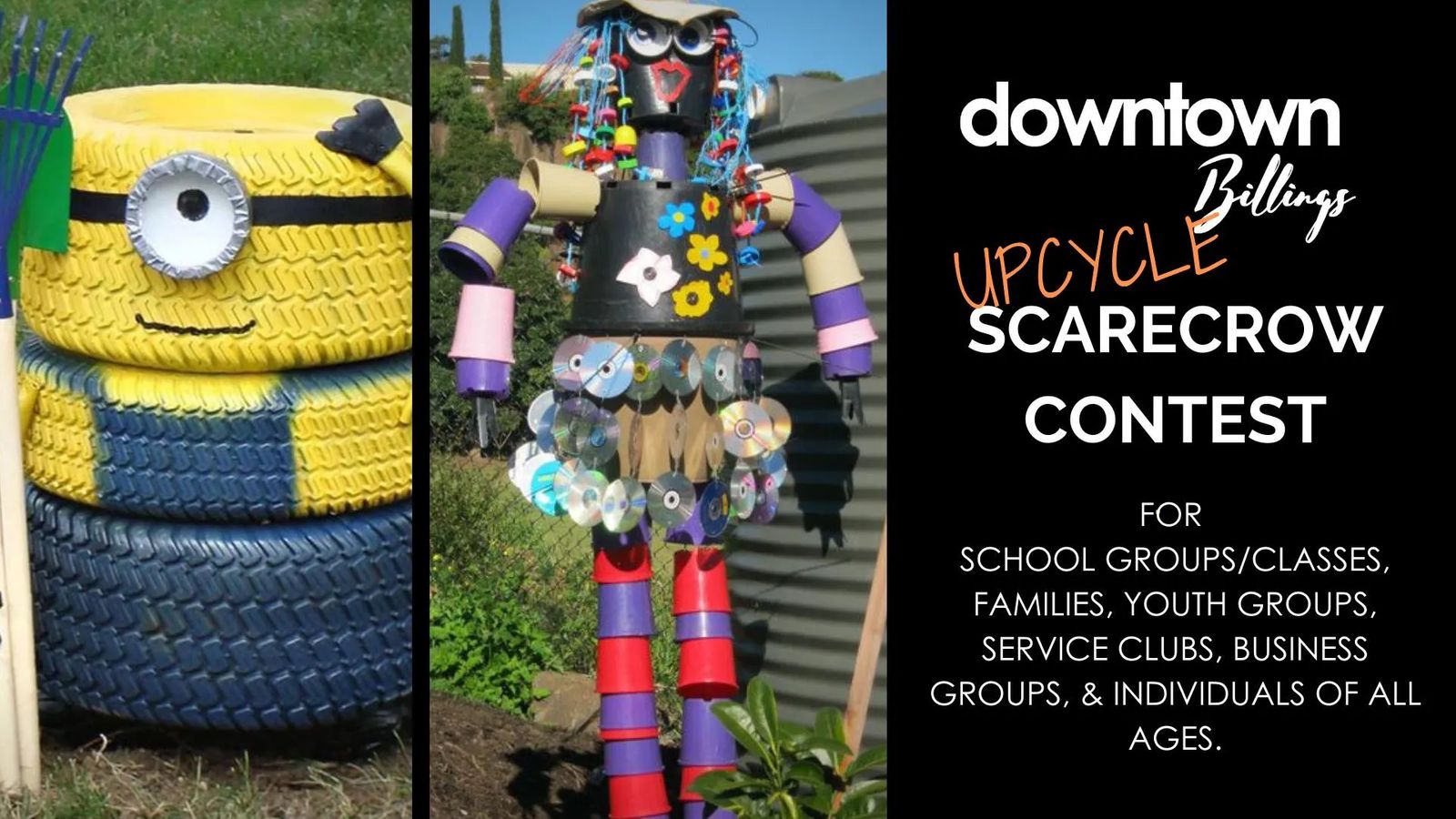 Downtown's Upcycle Scarecrow Contest
This fall contest offers you a chance to demonstrate your recycling/upcycling smarts and creative skills and win CA$H for your organization, class or yourself!
Downtown's first ever Upcycle Scarecrow Contest is open to all Billings local school groups/classes, families, youth groups, service clubs, business groups, and individuals of all ages.
Winners will be judged on originality, artistry and the creative use of recycled materials.
IMPORTANT DATES:
(1) Scarecrow Submissions due: Wednesday October 14 and Thursday, October 15
(2) Voting/Public Viewing: Friday, October 16 - Thursday, October 22
EVENT SUBMISSION FORM AVAILABLE AT: https://downtownbillings.com/event/downtown-upcycle-scarecrow-contest/
EVENT RULES & DETAILS:
1) All Scarecrows & submission forms must be delivered to the Downtown Billings Alliance (DBA) office on Wednesday, October 14 or Thursday, October 15 between 9am and 4pm. 116 N. 29th St. suite A
2) All scarecrows must be constructed of at least 80% recycled, reclaimed, and/or reused materials. Materials like glue, nails, string, or other means of attaching items will count toward the allowable 20% new materials.
3) All scarecrows must be designed so that they will stand upright and supplied with the materials necessary to display them in an upright manner.
4) Construction must be durable as each scarecrow will be relocated from the DBA office to a different downtown location for public display.
5) The scarecrows will be on display Friday, October 16 through Thursday October 22. The display location will be determined by downtown Billings and will be shared the week of the event.
6) Public voting will take place on the Upcycle Scarecrow Event page https://downtownbillings.com/event/downtown-upcycle-scarecrow-contest/ October 16 - 4pm October 22.
7) Scarecrows must be between 4 - 6 feet tall when standing upright. Commercially made scarecrows are not allowed.
8) All designs must be in good taste and appropriate for viewing by the public and families. They must be absent of adult, political, and religious themes. No frightening, scary, violent, gruesome, or bloody entries accepted.
9) The First place winner will win $200 and the 2 runner up scarecrows will win $100 each
10) Winners will be contacted and then announced on Downtown Billings Social media & shared with members of the Billings media on Monday October 19.
11) Scarecrows must be picked up & re-claimed from the DBA office on Friday, October 23 between 9am and 3pm or Monday. October 26 between 9am and 4pm. All Scarecrows not reclaimed by 4pm on Monday October 26th will be discarded.
Downtown's Upcycle Scarecrow Contest
Wednesday, October 14, 2020
3:00 PM— 10:00 PMUTC
Downtown's Upcycle Scarecrow Contest
Thursday, October 15, 2020
3:00 PM— 10:00 PMUTC