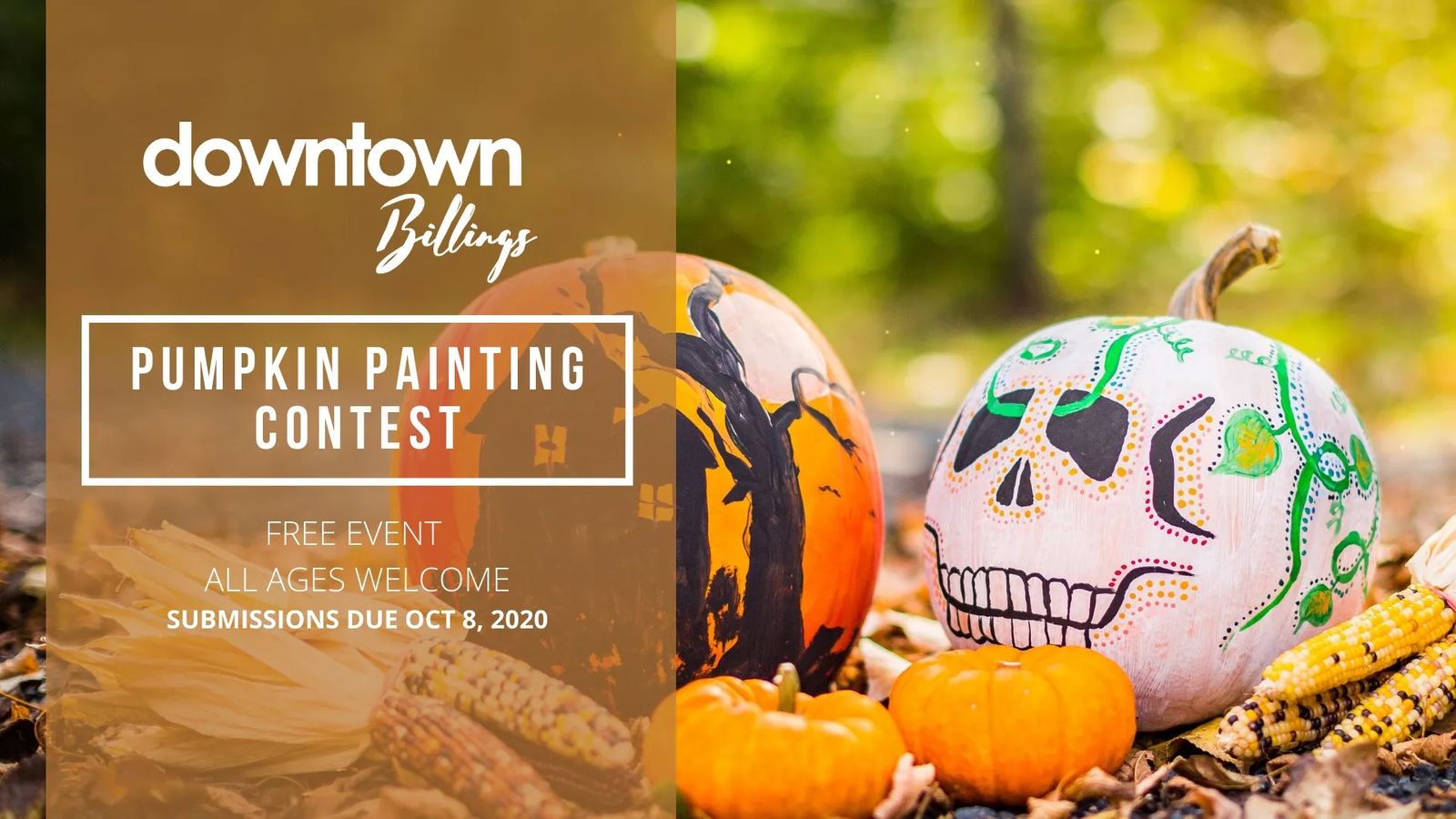 Downtown Pumpkin Painting Contest
This contest will put your artistic and creative abilities to the test! Participate in this FREE community event for a chance to win a Downtown Billings Gift Card.
Design your pumpkin to be as silly or scary as you like and let our community decide who's created the most genius gourd!
IMPORTANT DATES:
(1) Submissions due: Thursday, October 8
(2) Voting/Public Viewing: Friday, October 9 - Thursday, October 15
EVENT SUBMISSION FORM AVAILABLE AT: https://downtownbillings.com/event/downtown-pumpkin-painting-contest/
EVENT RULES & DETAILS
Submission Broken into 3 Age Categories:
- PreK-3rd Grade
- 4th Grade-8th Grade
- HS-Adult
1) All decorated pumpkins & submission forms must be delivered to the Downtown Billings Alliance (DBA) Office on Thursday, October 8, 2020 (9am and 4pm). 116 N. 29th St. suite A
2) Submitted pumpkins will be on display for the public to view Friday, October 9th through Thursday, October 15th. The display location will be determined by downtown Billings and will be shared the week of the event.
3) Public voting will take place at a link on the Pumpkin Painting event page https://downtownbillings.com/event/downtown-pumpkin-painting-contest/ October 9th through 4pm on October 15th.
4) You may use Paint, stickers & other craft materials to decorate your pumpkin.
5) Please use pumpkins no larger than 36" in circumference.
6) Your design can include the minimum of 1 or maximum of 3 pumpkins.
7) All designs must be in good taste and appropriate for viewing by the public and families. They must be absent of adult, political, and religious themes. No frightening, scary, violent, gruesome, or bloody entries accepted. (the DBA reserves the right to deny inappropriate or offensive submissions).
8) The winner of each age group will be the pumpkins with the most votes in their age category.
9) The 3 Winners will be announced on Downtown Billings Social media & shared with members of the Billings media on Monday, October 19.
10) The winner in each age division will win a $40 Downtown Billings Gift Card.
11) You may pick up your pumpkin from the DBA office: Friday, October 16th (9am - 3pm) or Monday. October 19 (9am - 4pm).
12) All pumpkins not reclaimed by 4pm on Monday October 19th will be discarded.
Test Event
Tuesday, January 1, 2030
5:00 PM— 12:00 AMUTC