Discover Adventure with Ice Climbing
Discover Adventure with Ice Climbing
originallly posted December 2012
Ice Climbing is actually quite prevalent among outdoor enthusiasts and is gaining popularity worldwide.  In order to give it due recognition, I want to dedicate an entire post to it.  While those in the climbing community know all about ice climbing, there are many who barely even know the sport exists.
Basically speaking, one uses specialized equipment (ice axes and crampons) to scale frozen waterfalls.  Theoretically it sounds pretty easy, but when it comes down to it, the process is quite a bit more difficult than the theory.  Ice screws need placed, ropes need managed, crampons need fitted, and one wrong step at the base and you can go for a slide; one wrong step at the top and you may not return from your trip.  That said, if you do not know what you are doing, go with someone who is experienced who can, quite literally, show you the ropes.
Where to Ice Climb Near Billings
There are a number of places near Billings to enjoy ice climbing.  The valleys just outside of Red Lodge host Silver Falls and Rock Creek Falls.  Moving one valley westward and one can find numerous climbs in the East Rosebud drainage, including the world famous California Ice.  Continuing on to West Rosebud the Spillway coming off of Mystic Lake makes for some fat ice that sets up early in the season.  For those interested in a little bit further of a drive, Hyalite Canyon south of Bozeman and The South Fork canyon outside of Cody, Wyoming both host amazing ice climbing festivals (in December and February, respectively).  In both of these areas world class climbing can be found, as well as some of the best climbers in North America.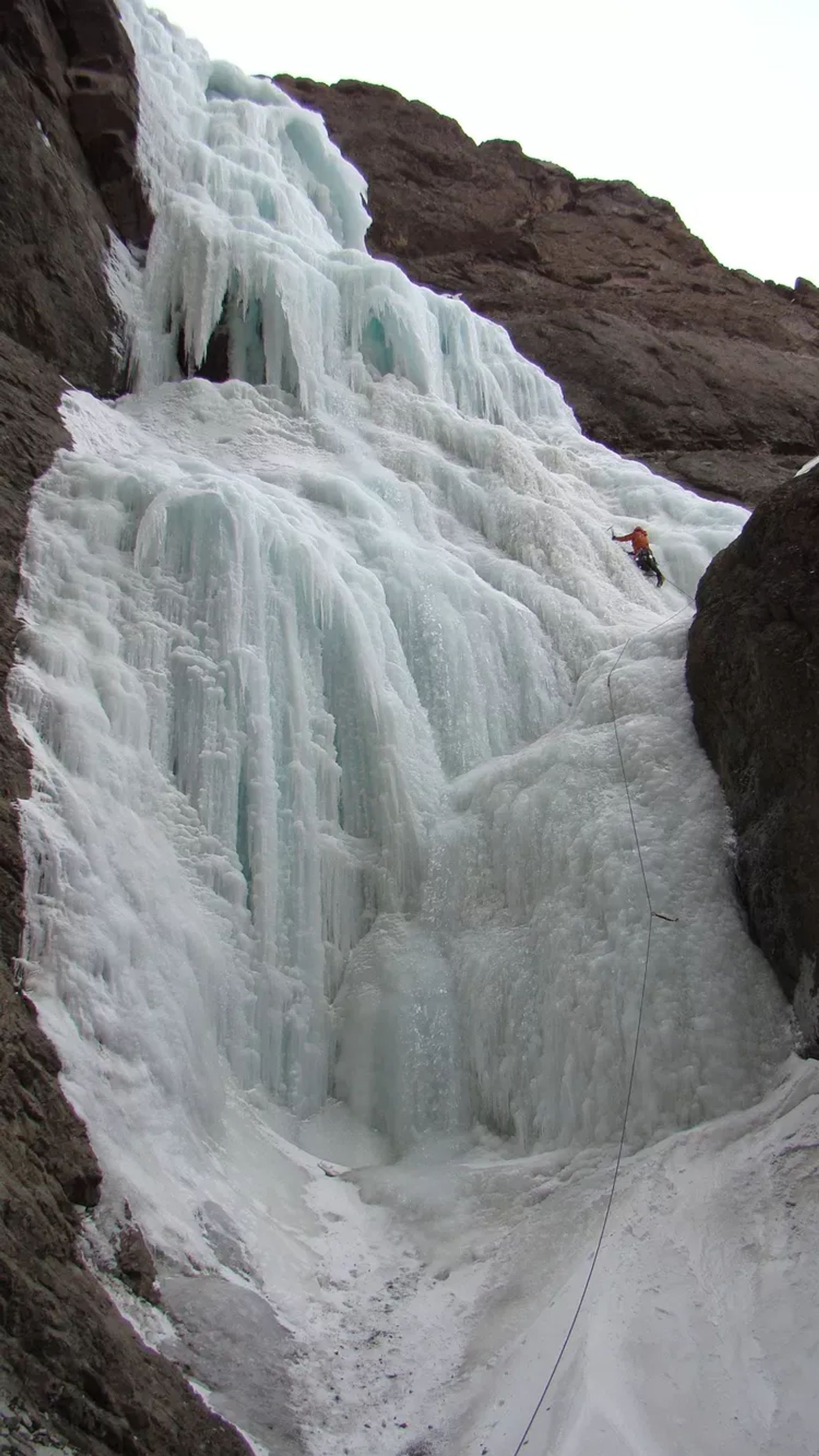 Why Would Anyone Do This?
On the surface ice climbing looks like an easy adventure.  But factor in freezing temperatures, hikes carrying packs full of metal gear, and often snow deeper than a person's waist, one might ask, "Why would anyone do this?"  The answer is simply the spirit of adventure.  Getting out there and experiencing a sport that a very small percentage of the population would ever even imagine is one of the greatest feelings imaginable.  Combine that with a fantastic hike through the wilderness, the joy of getting exercise, and the excitement of scaling hundreds of vertical feet, and those who have that adventure bug cannot help but experience the thrill of the ice.
If you want to go, there are two stores in Billings that will be able to tell you what you need to know about ice climbing: The Base Camp and Steep World. Both have experienced climbers working for them, and both will be able to sell or rent you the proper gear needed.  There are plenty of day trips that can be taken from Billings, but a word of caution: this sport is not for amateurs.  Anyone who does want to test their mettle should find an experienced ice climber willing to help them learn.  Without proper training, this sport can easily claim the lives of the unsuspecting.  If you do want to learn how to ice climb, find a partner, and get out there and enjoy the ice.

by Scott Sery
Scott is a writer, outdoor enthusiast, beer snob, and woodworker. When he is not out exploring all of the wonders around Billings, he loves to sit down for a frosty brew at one of the many great breweries we have available to us. You can read about most of his adventures, and many of the fine brews he has sipped right here. Find out more about Scott at ScottSery.com