Cross Country Skiing: Billings, Red Lodge, Yellowstone National Park
Cross Country Skiing: Billings, Red Lodge, Yellowstone National Park
Originally posted January 2014
Winter can be wearisome but it can also be exhilarating when done right!
Cross Country Skiing is a fantastic answer to the winter blahs question in Billings, Montana. An all-ages sport, it's something you can do over your lunch hour at a local park or a weekend excursion to Yellowstone National Park. It can also be a cost-effective winter exercise and pastime.
I purchased my setup from The Base Camp for under $200 at the end of season when they sell their rental equipment. Once you have the gear, there is an abundance of free terrain to roam and enjoy.
New to the sport?
I suggest you rent and give it a whirl before buying. I've rented from The Base Camp ($15-$20 per day: skis, boots, poles), Sylvan Peak Mountain Shop in Red Lodge ($15 a day: skis, boots, poles), and you can rent at the Bear Den Ski Shop in Mammoth Hot Springs and Old Faithful in Yellowstone for $20 per day.
(Photo courtesy of Simon Bierbach.)
Need instruction?
This is not a hard sport to pick up. Learn technique and practice a bit and you will be up and gliding quicker than you think! Ring up The Base Camp and Sylvan Peak for leads on private teachers. The Nordic Center in Red Lodge, run by the Beartooth Recreational Trails Association, has a list of private instructors and conducts group classes. The ski shops in Yellowstone National Park do the same.
Wondering what to wear?
The key is breathable layers and protect the holes in your head from harsh conditions. I've found light merino wool or a poly/merino wool blend under water resistant or waterproof pants paired with a down jacket or a waterproof jacket work well. You will get sweaty and it will be necessary to wick away that moisture and even shed layers without freezing. I often use goggles when it's snowing and very cold and use sunglasses in all other conditions.
Where to go in Billings?
Yellowstone River Parks Association has a collection of natural parks all around our area that, while not groomed trails, are perfect to traverse while getting some sunlight and fresh air in your lungs! Norm's Island is often my favorite choice.
Local parks such as Pioneer and Veterans are nice for Nordic Skiing as are the bike and walking trails all around town.
Red Lodge is full of fun trails and roads to ski such as The West Fork of Rock Creek.

The Nordic Center is 15km of groomed trails that range from easy to more challenging with flats, hills, and valleys. It's a $5 fee to access the area and it supports the upkeep.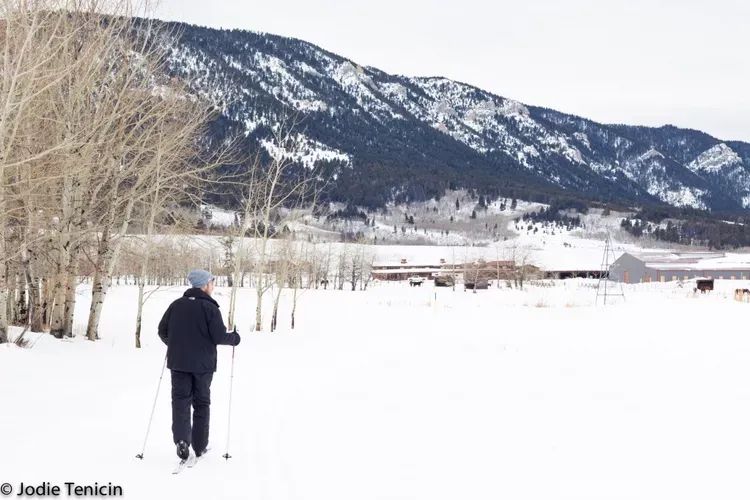 Yellowstone National Park is a joy to ski! I have absolutely loved skiing Mammoth Hot Springs and the Lamar Valley, accessed by the North Entrance through Gardiner, Montana. Wild animals, geothermal features, and breathtaking scenery provide a backdrop for a magical experience.
Stop in at the Bear Den Ski Shop for trail reports and info (and rentals and instruction as I mentioned previously.)
You can also do snowcoach drop-offs near Mammoth's Terrace Loop Drive, putting you a few miles out from Mammoth. The ultimate is doing the two night, three day excursion to Old Faithful via Snowcoach and touring the geysers and hot pools within minutes of clicking into your skis.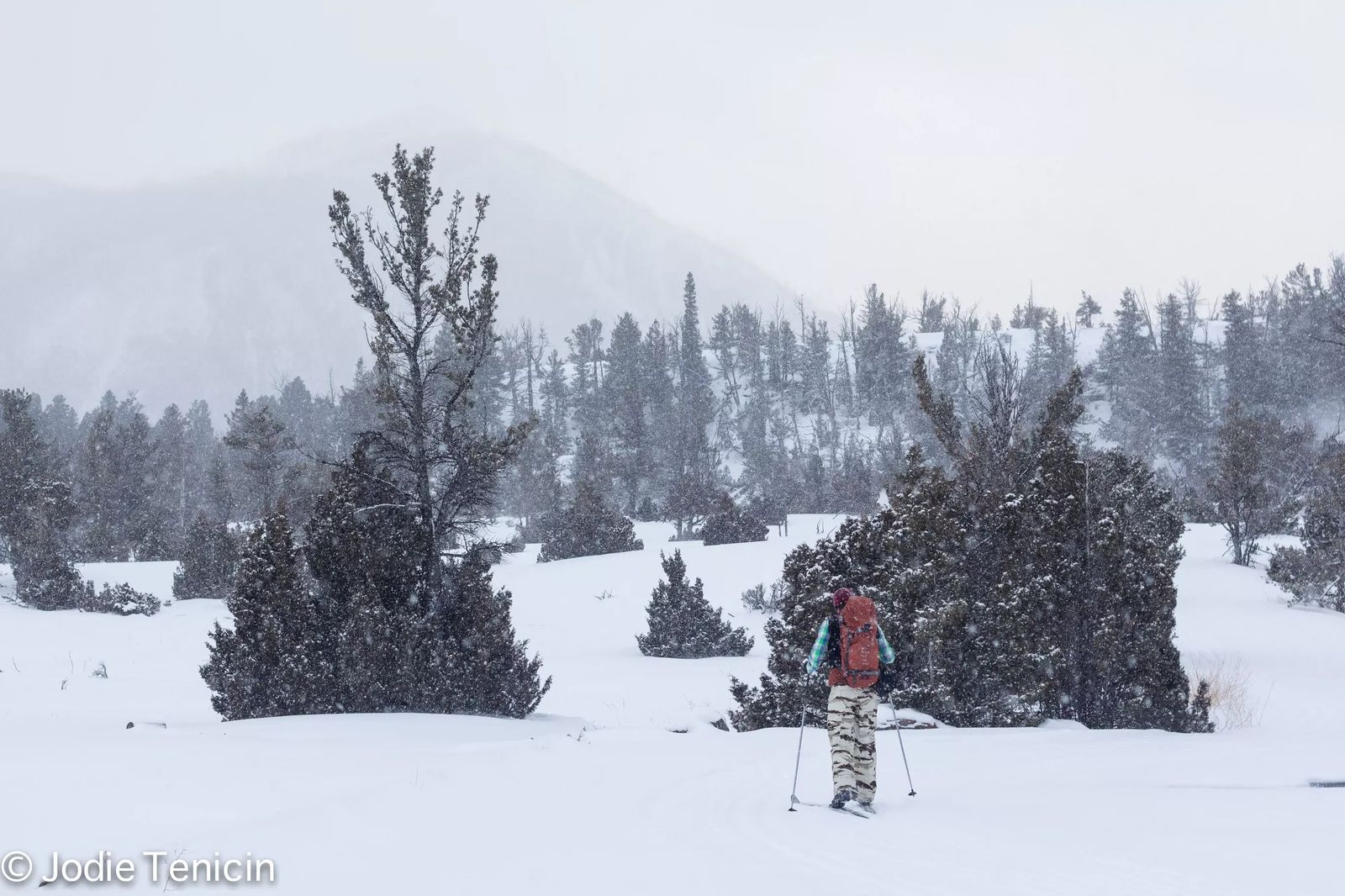 by Jodie Bierbach
Jodie pursues a life filled with fishing, yoga, mountain trails, great relationships, making the community a better place, good books and the occasional nap. She is a licensed massage therapist, has a Theology degree, takes some photos and writes a few things. Her most important accomplishment is enjoying life. JodieCreates.com