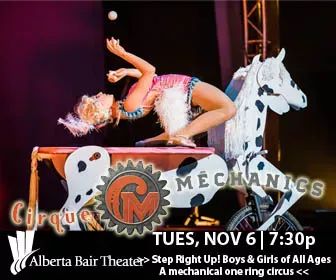 Cirque Mechanics at the Alberta Bair Theater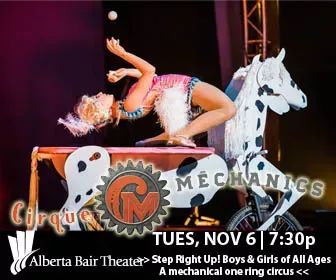 At the center of every circus rests a 42 foot ring full of thrills, laughs, and excitement. 42FT - A Menagerie of Mechanical Marvels, is the latest invention from the creative minds of Cirque Mechanics. The company dares us to leap into the circus ring and experience the timelessness of this evolving art form. The show's unique mechanical interpretations of the traditional, and its story full of the lore of the historic one-ring circus, create a welcoming place, like a big top, where we can be amazed. The action showcases a galloping mechanical metal horse and a rotating tent frame for strongmen, acrobats and aerialists.


Cirque Mechanics signature style is wrapped in acrobatics, mechanical marvels, and a bit of clowning around. 42FT follows the great successes of Birdhouse Factory, Boomtown, and Pedal Punk.
Dates and Times
Tuesday, November 6, 2018 – 12:30 PM
Tuesday, November 6, 2018 – 7:30 PM