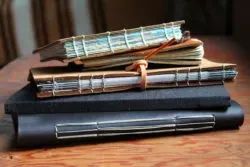 Book Binding with Jodi Lightner @ the YAM
Saturday, Feb 16, 2019 // 10:00-4:00 // 12 spaces
Cost: Members $60.00 // Non-members: $80.00
Supply fee: $25.00 paid directly to the instructor
Learn book binding techniques for handmade sketch books and journals. You will explore both sewing and gluing processes to make at least 2 personalized books.
Jodi completed her MFA degree at Wichita State University in 2010. She teaches Painting and Drawing as an Assistant Professor at MSU-Billings.
If you are having problems registering on online please call the Front Desk, 256-6804, Tuesday-Sunday, to register.
Dates and Times
Saturday, February 16, 2019 – 10:00 AM to 4:00 PM