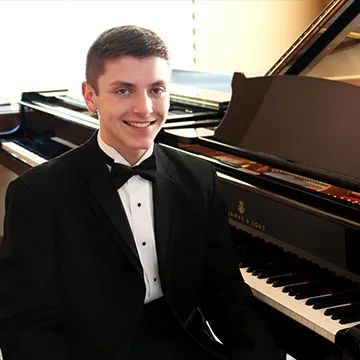 Billings Symphony Orchestra and Chorale Presents: Rachmaninoff
The symphony season ends with one of the finest pianists of his generation and the last great Russian composer, Sergei Rachmaninoff
Featuring the return of MASO winner, Tanner Jorden playing Rachmaninoff's Piano Concerto No. 2, with special side-by-side performance with the Billings Youth Orchestra.
Tanner Jorden
16-year-old Tanner Jorden's current teacher, Dorothea Cromley, is the former Professor of Piano at Montana State University–Billings. In 2015, the Billings native began participating in—and winning—competitions locally and internationally. He competed in the Los Angeles International Liszt Competition in November 2016.
Tanner won the state Music Teachers National Association (MTNA) competition in 2016, 2017 and 2018, receiving honorable mentions in the Junior and Senior divisions at Northwest regionals. In January 2019, he won the Northwest regional competition and competed in the National MTNA competition in March 2019. In January 2017, he received first place in the Junior division of the Montana Association of Symphony Orchestras (MASO) Concerto Competition, and in April of that year performed a debut recital at MSU–B as a Connections student. Tanner made his orchestral debut with the Great Falls Symphony in February 2017, and has since performed with the Billings, Helena, Glacier and Northwest College (Powell, WY) Symphonies. In January 2019, Tanner again received first place in the 15th biennial MASO Young Artist Competition, this time in the Senior division.
Rachmaninoff's Piano Concerto No. 2
Rachmaninoff's second piano concerto was the first piece he composed after his long bout of depression and writer's block. It was his great comeback that became a smash hit, bringing Rachmaninoff back to his former self. Dedicated with gratitude to Dr. Dahl, the Piano Concerto No. 2 premiered on November 9, 1901, with Rachmaninoff performing and his cousin, Alexander Siloti, conducting, and is considered by many to be the greatest piano concerto ever written.o
Rachmaninoff's Symphony No 2. In E Minor
After the disaster of his first symphony, Rachmaninoff was hesitant to begin composing again. The success of his Piano Concerto No. 2, however, instilled him with confidence, but not so much that he was ready to let the world know he was back at it. He wrote the Symphony No. 2 in secrecy for about a year, when word of his newest composition leaked out in the press. He confessed to a friend: "I have composed a symphony. It's true! … I finished it a month ago and immediately put it aside. It was a severe worry to me and I'm not going to think about it anymore." But think about it he did, and the hard work and turmoil paid off. A year later, Rachmaninoff conducted the premiere in Saint Petersburg in January 1908, with great, reassuring success.
Billings Symphony Orchestra and Chorale Presents: Rachmaninoff
Sunday, April 19, 2020
12:05 AM— 12:45 AMUTC