Bar Breakfasts: The 2nd Shift
Bar Breakfasts: The 2nd Shift
Over the past couple months, we've gotten to check out some breakfast spots around Billings that I never even knew had breakfast. I think one of my favorite things about each of the bars we've sat down at has been the relationships you witness between the staff and the people who frequent there.
That was the case when we stopped at the 2nd Shift, located at 934 U.S. Hwy 87 E, Billings, MT 59101.
It was Sunday morning, and the place was packed with people whether it be sitting at the bar (where we decided to sit), the more casual tabletop dining area, or trying their luck at one of the machines in the casino. Each area was bustling with activity. The two waitresses running around working still found time to talk to each guest, and have a friendly conversation with the people who were obviously regulars as they knew a large number of them by name. This is something you don't get very often at your chain breakfast places; I think that's a perk when you venture out and try some of these local joints.
We sat down and were promptly asked what we would like to drink, so I figured I'd try out a Bloody Mary, and Megan decided to get an Irish crème coffee. Both drinks were mixed well and were an excellent start to our lazy Sunday.
We started looking over the menu and were impressed with the value and selection they had for breakfast, which included all the favorites like omelets, French toast, and your traditional eggs and bacon type breakfast plates.
I decided to go with a three egg omelet with ham, bacon, peppers and pepper jack cheese. You get to pick three ingredients to start and then can add as many as you like for 50 cents each, so go nuts and throw in everything but the kitchen sink! Megan decided to order the country fried steak, which just happened to be on special this Sunday. Each of our meals came with hash browns and toast, and the country fried steak included eggs as well.
As we sat and chatted a bit and waited for our food, we looked around and started to really dig the atmosphere! It was definitely a bar experience with that cool low-lit ambiance you expect at a casino. People were laughing all around and enjoying their time either playing pool, watching TV on one of the many to choose from, or of course trying to get a little richer at a machine in the casino. We just happened to see someone win a cool $1200 while we were there, so maybe this will be your new lucky spot!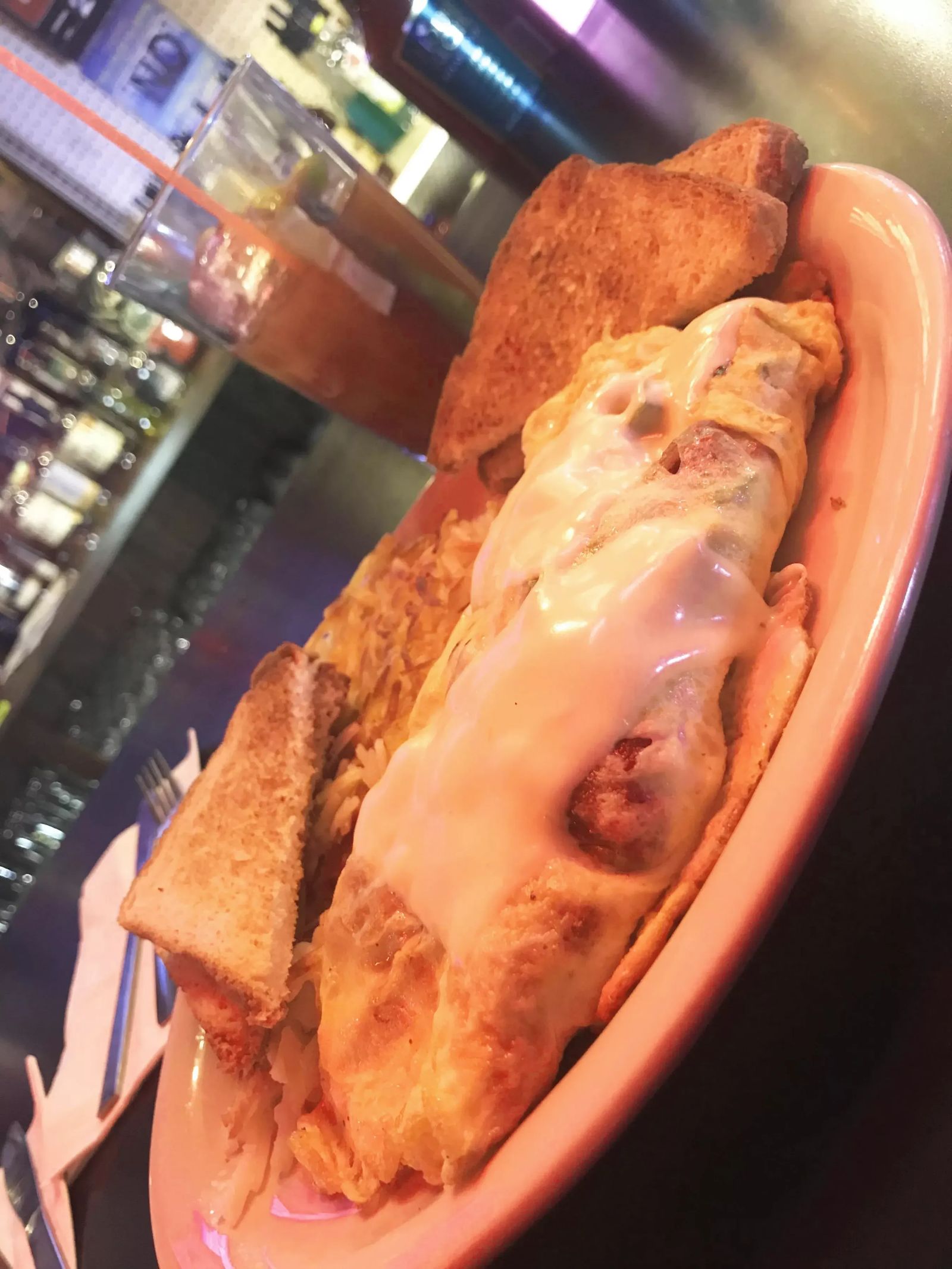 Our food arrived and it was everything we had hoped. The omelet was big and stuffed full of toppings and cheese; seriously, I can't stress enough that if you love your omelet cheesy, this is the place for you. There was cheese filling the inside plus a couple of slices on top so each bite included gooey goodness. The hash browns were crispy where they were supposed to be and tender everywhere else. Megan sat happily next to me chowing down on her gravy covered country fried steak hardly saying a word, which is a sure-fire indicator that the food is excellent. The gravy was super creamy and delicious, and the steak was the perfect level of crispy country fried. Needless to say, we both left full and happy.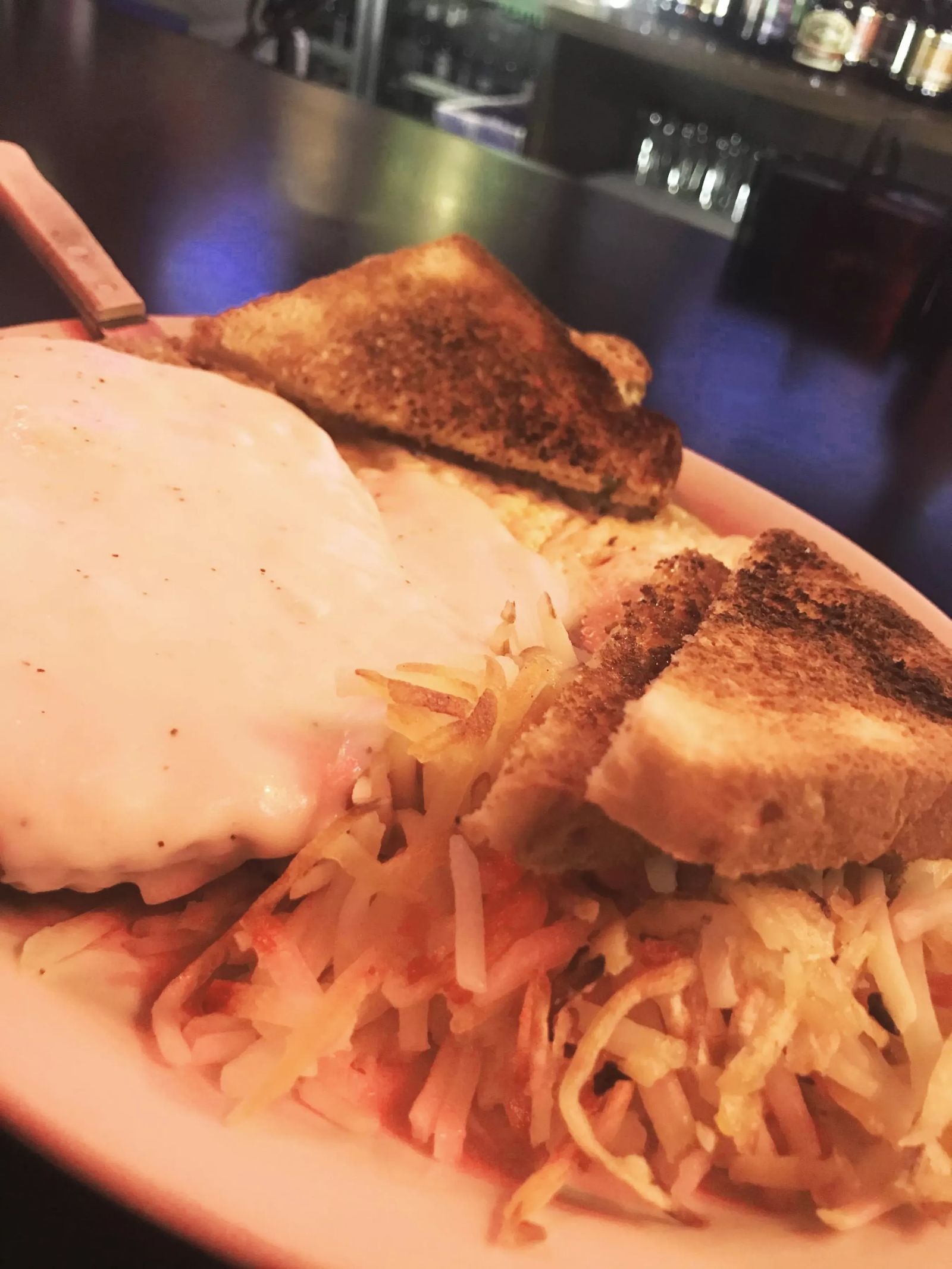 At the end of our meal after a little chatting, we were told next time to try out the steak and eggs or the breakfast burrito.
There will be a next time, and I think I'll have to give the breakfast burrito a go, and just maybe I can convince Megan to go with the steak so I can steal some of hers.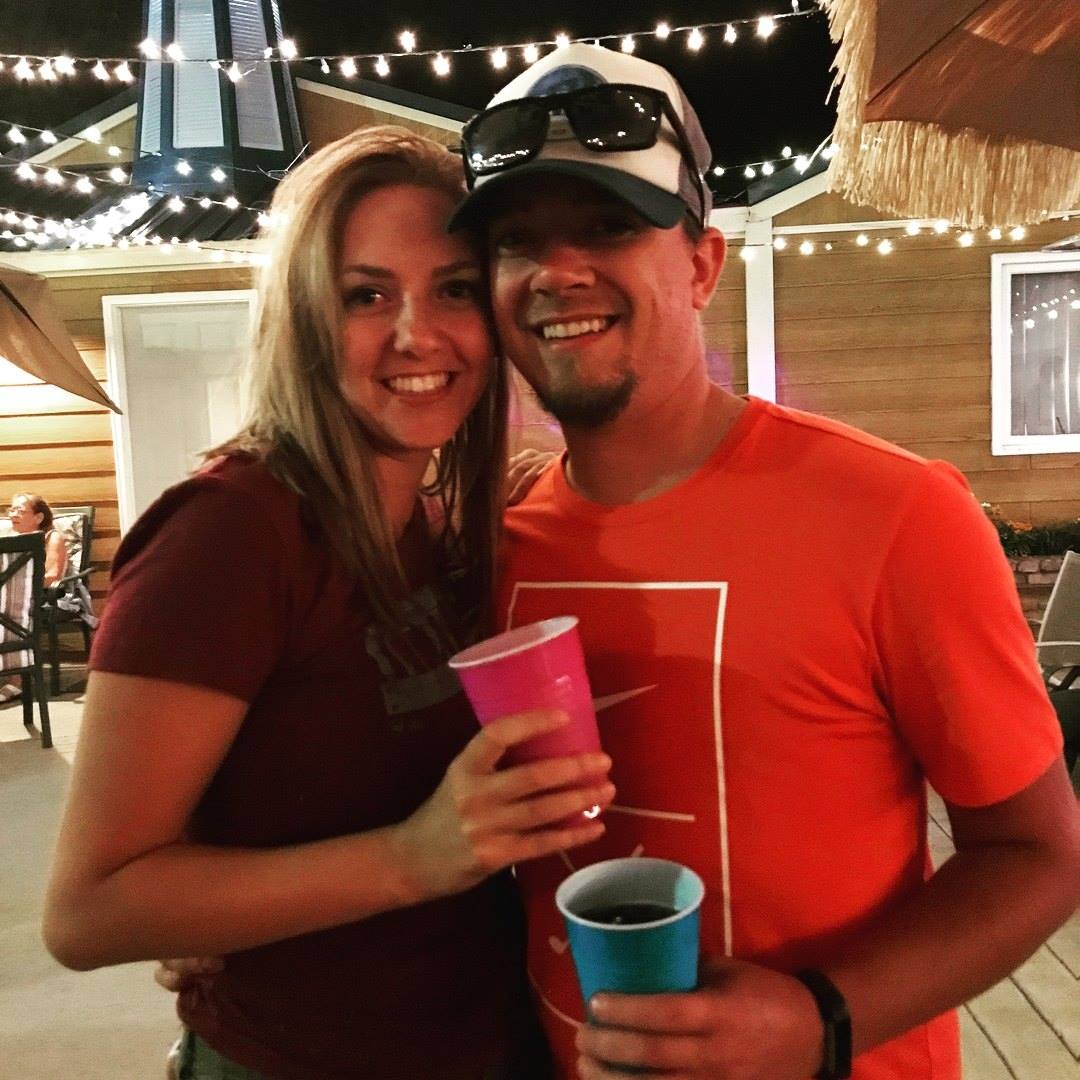 FoodVentures with Megan and Kirk
Megan and Kirk are a couple who enjoy taking in new and exciting adventures together - like exploring a nearby trail, trying out new microbrews, taking in live events and trying tasty bites around town.