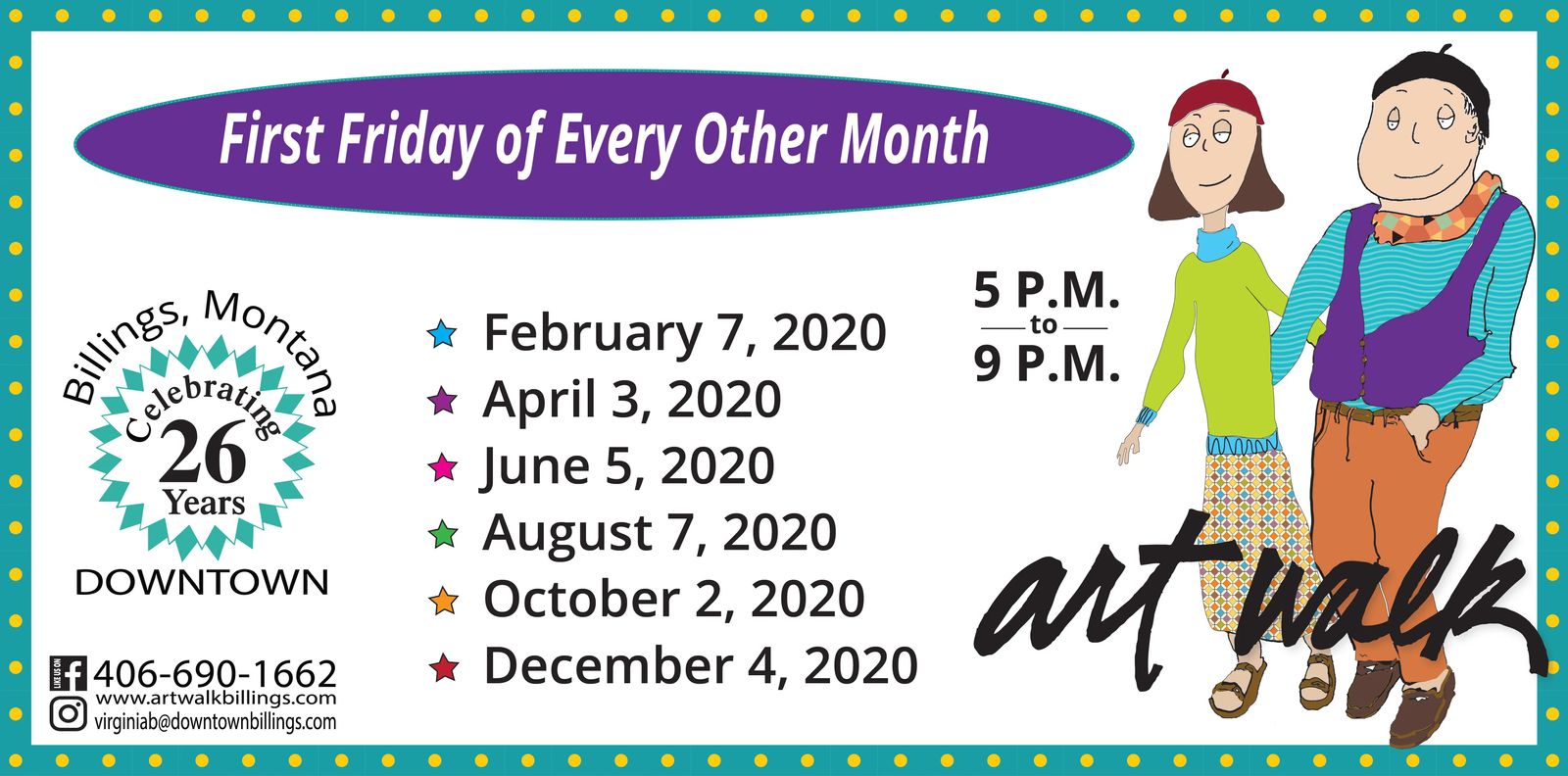 The August ArtWalk Will Go On!
ArtWalk Downtown Billings will not host its regularly scheduled event in downtown Billings on Friday, August 7th from 5 – 9 p.m. due to concerns about COVID19. However, the ArtWalk will go on!
Selected ArtWalk Season Members will host art exhibits at their downtown locations from August 7 – August 28 during regular business hours or as otherwise specified. Information on the extended viewing period, gallery notes, images and other details can be found on this website, on Facebook@billingsartwalk and on individual Season Member websites and Facebook pages. Please back often for updates throughout August.
Scroll down on this homepage to our three loops: Uptown, Skypoint and Historic. Once on the various loops, scroll across to locations within the respective loops and click for site-specific information. A mobile friendly on-line map will be posted on the ArtWalk website after August 2, 2020. No maps will be printed. We are on Facebook and Instagram @billingsartwalk.
ArtWalk Downtown Billings is a popular and established cultural and community event that benefits the economic and social fabric of our community. We are committed to abiding by the COVID19 safety guidelines issued by the Billings/Yellowstone County Health Department.
No complimentary food or beverages will be served at Season Member locations. Social distancing is required. Please wear face masks per the Montana Governor's mandate when you are inside. Visitors are encouraged to come individually or in small groups and to bring their own hand sanitizer. Hand sanitizers will be available at all locations. In some instances, appointments are required.
If you are feeling ill, exhibiting any symptoms of COVID19 or if you have been recently exposed to COVID19, please stay home. You may be asked to sign a guest register in case contact tracing is required at a later date.
For more information on the Extended August ArtWalk, please contact: Virginia Bryan, Director, phone/text: 406-690-1662, email: virginiab@downtownbillings.com.
ArtWalk Downtown Billings
Friday, October 2, 2020
11:00 PM— 3:00 AMUTC
ArtWalk Downtown Billings
Saturday, December 5, 2020
12:00 AM— 4:00 AMUTC