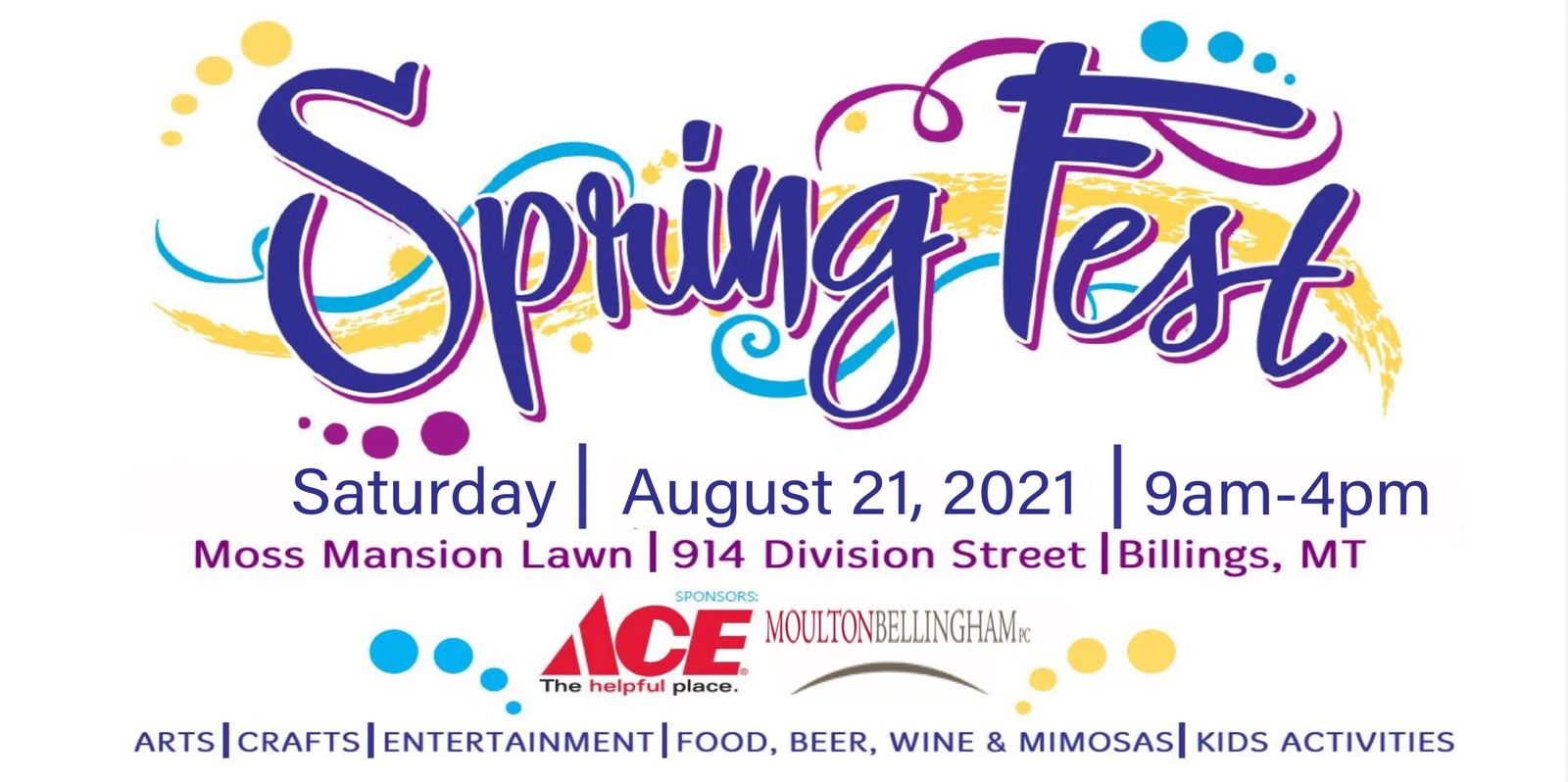 Moss Mansion SpringFest
Aug 21, 2021
32 YEARS OF ART & CRAFTS AT THE MOSS
On Saturday, August 21st, the Moss Mansion will celebrate 32 years of its juried arts and crafts fair. Located on the beautiful lawn of the Moss, SpringFest delivers a day of shopping, live entertainment, delicious food and fun activities for kids.
The day begins with a delicious pancake breakfast at 8:30 a.m. Then from 9 a.m. to 4 p.m. shoppers will delight as they explore over 50 artists' booths featuring handcrafted items such as jewelry, leather goods, metal sculpture, photography, pottery, paintings, and more.
A variety of foods including tacos and burgers, plus beverages including mimosas, Bloody Mary's, wine and locally brewed beer are on hand to fuel your day of shopping. And, for anyone with a sweet tooth, there's kettle corn, homemade baked goods and ice cream!
Watch artists demonstrate their work or take in the sights and sounds of performers at three stages – the veranda, driveway and courtyard.
Little ones will also find fun things to do in the children's area complete with games, face painting, sno-cones and cotton candy.
Admission to SpringFest is free! The Moss Mansion, located at 914 Division St., Billings, MT, will be open for self-guided tours from 10am – 4pm at regular tour prices, plus the gift shop will also be open.
Thank you to our sponsors ACE Hardware and Moulton Bellingham , PC. All proceeds from sponsorship, artist booth fees, donation jars and food and drink sales benefit Moss Mansion's operations and ongoing preservation projects.
SPRINGFEST ENTERTAINMENT 2021
VERANDA
8:30 John Adams
10:00 Second Avenue Stompers
12:00 The Mandela Effect
1:30 Texana
3:00 Brad Welbes
BACK COURTYARD
8:30 Russ Engesser, Accordion
11:00 Dennis Nettiksimmons
1:15 Johnny Walker, Latin Guitar
2:45 Dallas Martin
DRIVEWAY
10:30 Claddagh Academy of Irish Dance
12:00 Marie Smith and the Sam Woodis Trio
2:00 Wildwood Cloggers
Come celebrate art and culture at the Moss Mansion with a great day of outdoor shopping, food and fun. Over 50 vendors fill the grounds with festive sights and sounds featuring artists and artisans from around the region. Live music, performances, artist demonstrations, food and drink, and kids' activities start at 9:00 am (pancake breakfast at 8:30 am) and last through the afternoon in the shade of the trees. Admission to the grounds is free; museum tours begin at 10:00 am at regular prices (attend the festival and find a coupon good for the day).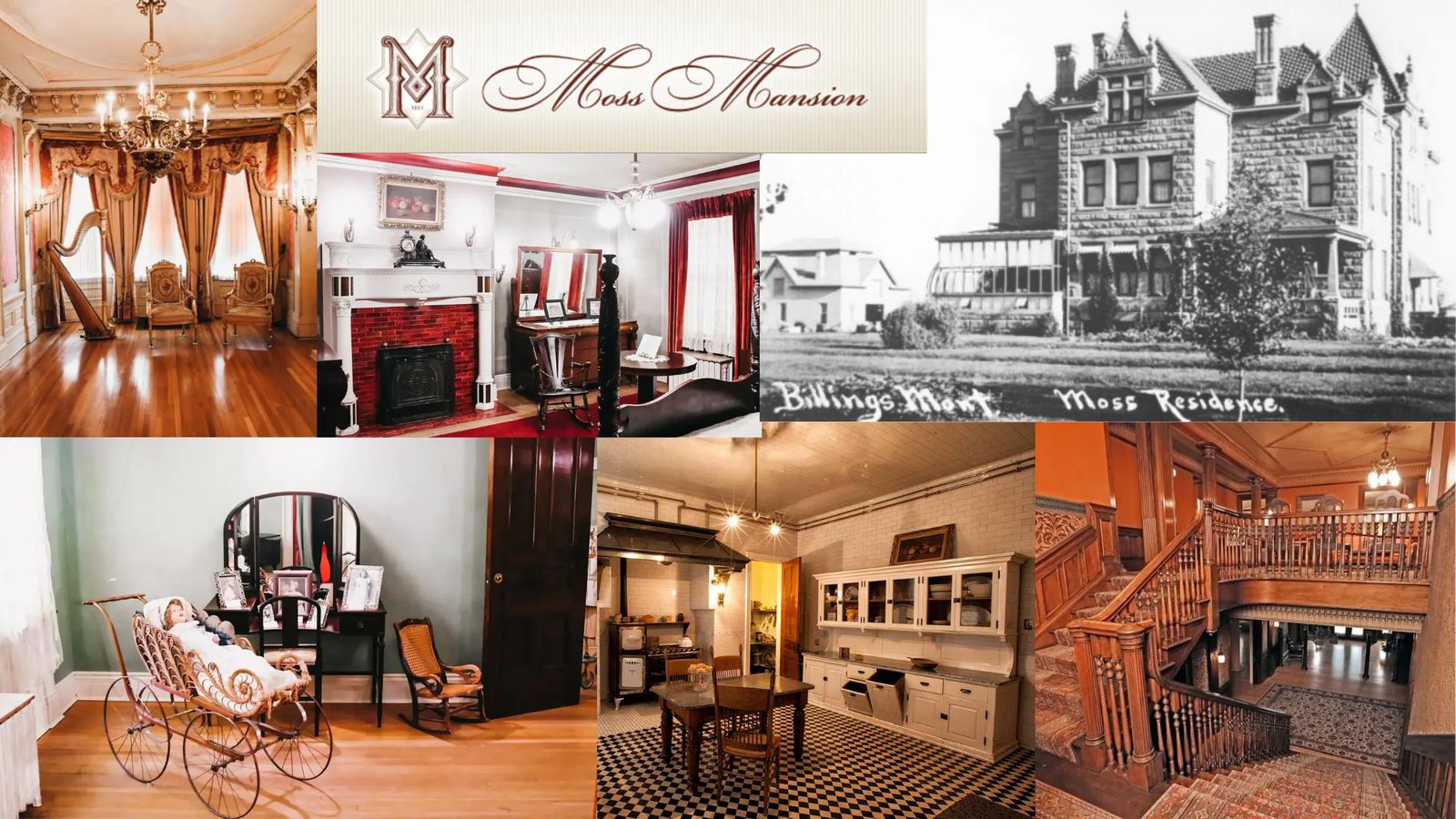 Never Been To The Moss Mansion? YOU NEED TO GO!!!
The Moss Mansion Museum is a turn-of-the-century home, designed by New York architect Henry Janeway Hardenbergh and built in 1903. Listed on the National Register of Historic Places, today The Moss is a cultural center that celebrates the influential entrepreneurial accomplishments of Preston Boyd (P.B.) Moss and the ongoing legacy nurtured by wife, Mattie and daughter, Melville. From social events to fundraisers, from daily tours to educational partnerships, every visit is an opportunity to experience some aspect of this legacy. You are invited - come make history with us!
Melville Moss, the middle of five siblings, resided in the home until the mid-80's and the house and its original fixtures remain intact. Modern day visitors marvel at the home's amenities including heated indoor plumbing on each floor, an electric bell system for the servants, and an early rotary telephone among other impressive feats of technology for the period. The home represents early Billings development and culture but also interprets the inner workings of the family through various letters and other documents preserved in Moss Mansion Museum archives. It is truly incredible to see all of the original items still reside in the home; making it truly unique amongst historic homes throughout the U.S.
For more information on visiting the Moss Mansion itself click here.