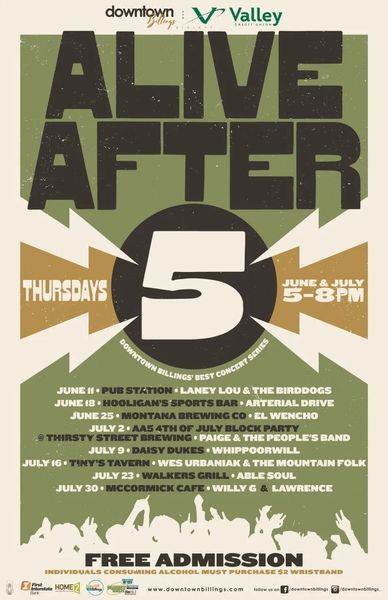 Alive After 5 2020 in Downtown Billings:
The Downtown Billings Alliance (DBA) and Valley Credit Union present the 2020 Alive After 5 summer concert series. The eight-week series will open with Laney Lou and the Bird Dogs on Thursday, June 11th from 5pm - 8pm at the Pub Station, 2502 1st Avenue North.
Laney Lou and the Bird Dogs bring "foot stompin' folk" to the stage with them. They are an energetic Americana-Folk band that infuses four-part harmonies, engaging songwriting, and The band consists of Lena (Laney) Schiffer on vocals/guitar/percussion, Matt Demarais on vocals/banjo/dobro, Ethan Demarais on bass, Brian Kassay on fiddle/mandolin/harmonica, and Josh Moore on vocals/guitar. The band won Bozeman Magazine's Best Bluegrass Band 4 years in a row and continues to impress, having just recently performed in the Pub Station Ballroom on March 20th.
The concert series takes place at a different downtown location Thursday evenings from 5:00 pm to 8:00 pm, starting with the June 11th concert and continuing through July 30th. The success of the concert is due heavily to the community's attendance and the help of the season sponsors; Valley Credit Union, First Interstate Bank, Century 21 Hometown Brokers, Home2Suites, Better off in Billings, and Desert Mountain Broadcasting. Alive After 5 is a weekly outdoor summer concert series coordinated by the DBA, a nonprofit organization whose mission is downtown vitality and economic development.
Admission is free to the public, however, those 21 and older wishing to consume alcohol will need to purchase a wristband for $2.
Each concert will have a special shaded V.I.P. area with seating, tables, free ice-cold water, and easy access to one of the event bar locations. Each week a limited number of $10 V.I.P wristbands can be purchased either in person at the DBA office located at 116 N. 29th Street or by calling the DBA office at (406) 294-5060 each week leading up to the Thursday concert. Any remaining V.I.P. wristbands will be sold on a first-come-first-serve basis each week on site at Alive After 5.
Alive After 5 2020 Summer Line-up
June 11
Pub Station
2502 1st Ave N.
Laney Lou and the Bird Dogs
June 18
Hooligan's Sports Bar
109 N. Broadway
Arterial Drive
June 25
Montana Brewing Co.
113 N. Broadway
El Wencho
July 2
Thirsty Street Brewing Co.
3008 1st Ave. N.
July 9
Daisy Dukes
222 N. Broadway
Whippoorwill
July 16
Tiny's Tavern
323 N. 24th St.
Wes Urbaniak and the Mountain Folk
July 23
Walker's Grill
2700 1st Ave N.
Able Soul
July 30
Magic City Blues &
McCormicks Cafe
2419 Montana Ave.
Willy G